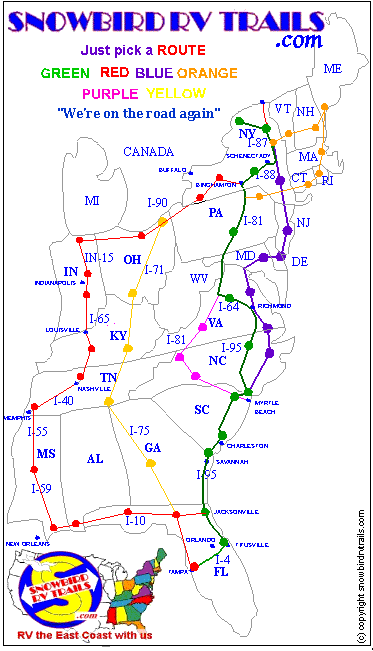 Clicking on RV ROUTES takes you to our map pages where you will find useful, first-hand information, photos, mileages, prices and more to help you plan ahead.

ON THIS WEBSITE:

RV ROUTES Some of our North and South route maps, with photos, campgrounds & reviews

PLANNING IT Tips, tricks and some places to find your answers

CAMPGROUNDS we've visited by State, City, and Attractions

WORKAMPING What it's about & the FREE
places to find the jobs

FRATERNAL Organizations with camping spaces for its members

OPEN 4 SEASONS Campgrounds open all year in the Northeast

SNOWBIRD EMAILBAG Comments, questions, and answers

NEWEST BLOG But what are we up to now?

DINING REVIEWS Our own opinions of some restaurants by State

_____________________________

Email Niki and Jack
snowbirdrvtrails@gmail.com
We are always open to questions, comments, and suggestions and we do answer our mail.
We're all about RVing, Trip
Planning, Workamping &
Enjoying Retirement

We are RVing Snowbirds - Niki, Jack, K.C. and B.B. We travel North to do a little Workamping in the Summertime and South to someplace warm and sunny for the cold months.

We've retired from a combined 50+ years in the customer service field and for the past 5 years we've joined the other road warriors to rediscover our America one stopover at a time.

We plan our trips North and South with different routes and campgrounds each time and set a leisurely pace for getting from here to there. We look for the best routes and best values for our retirement $$$ in campgrounds, restaurants, and sightseeing,

We spend at least 2 nights in each stopover (20 - 30 campgrounds each year) so we can discover a little of what makes each place special (and they all are).

Wherever we stop we have 2 questions. "What is your favorite local Mom -&- Pop restaurant that has good food?" Second question - "What is your favorite place to show family and friends when they come to visit?" You will be truly surprised when you choose to follow some of their suggestions.

Whenever we stop we take photos, write about our impressions, and post the mileages, costs, facts, and figures and other interesting things we find. We post trip reports on our Snowbird RV Trails Blog as we go and then post a summary and map on our website here after completing a trip.

We Workamp Summers because it's a great way to meet all of the campers and also for the "free" campsite and other amenities. The shorter working hours leave plenty of time for day trips and sightseeing in the area. In the Fall, as the leaves start turning, we head South to warmer "Winter" days and more exploring and the other fun things we like to do.

We are glad you stopped by and invite you to look around our website. If we can help you with a route, restaurant, or stopover, send us a note. If you would like to come on board and travel with us for a few miles, just click on "follow" on our Blog.

Your comments are always welcome and perhaps one day we will meet down the road. Until then safe travels and enjoy your journey,

Jack, Niki & "The Kids"