---
Connect with Snowbird RV Trails






for some route ideas, restaurants, campgrounds, tips and suggestions
---
March/April 2014

Planning our next trip for May-

We are always planning the next trip. Even as we are firming up plans for this Spring trip North we are discussing ideas for our Fall trip back South. To us the journey is the destination. There is so much in this great Country to see and do.

We begin by deciding the "must-sees" between our starting point and final "Workamping" Summer destination. This time we definitely want a few days in Myrtle Beach, SC, a stopover in Andy Griffith's "Mayberry" (Mt Airy, NC), and also to visit a huge book sale in Lancaster, PA.

Next we research the mileages, campground reviews, and other sights we might like to see that will become part of our route. You'll find all of the tools we use on our "Planning It" page. We look at the reviews for the half-price campgrounds and choose them when they sound decent and fall along our "flight path" and/or are near things we want to see. How bad are the half-price campgrounds? In our thousands of road miles so far we have only found 2 we positively did not like. (Always pay attention to the reviews.)

We shoot for an average of 3 hours travel time each day, which puts us into a new campground by mid-afternoon giving us some daylight to explore our surroundings. We also decided long ago to plan at least 2 nights at each campground.

Upon arrival we have 2 standard questions of our new campground hosts - "What is the favorite local 'Mom and Pop Restaurant'?" and "What is the place to visit that local people are most proud of?" You'll be amazed at what you will find!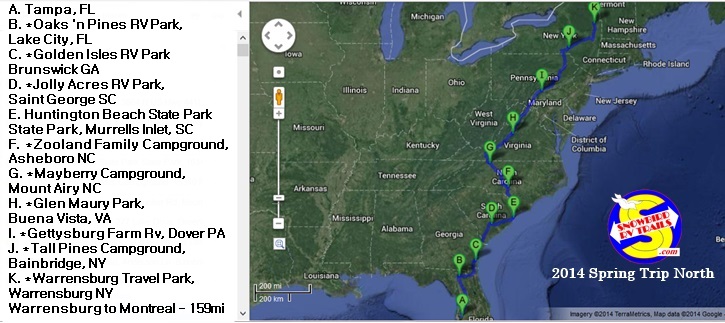 Trip Plan (revised 3/18/140):
2014 SPRING ROUTE TAMPA TO MONTREAL
We are currently researching this new route and continue to add amenities, directions, and our shortcuts to reviews and local information.
An asterisk (*) and a PA indicates a Passport America half-price campground.


Tampa to Lake City, FL 3hrs/172miles


B. *Oaks 'n Pines RV Park (PA/$18)


3864 N.US Hwy 441Lake City, FL 32055 (386) 752-0830
Amenities: PT (Pull-Thru), 30/50Amp, FHU (Full Hook-Up), wifi, cable
Passport America:
Reviews:
Website:
Directions: I-75 to I-10 East: Exit 303 on I-10 at Hwy. 441, exit off I-10 and go North on Hwy. 441 for 200 feet. Entrance is on the left. Going North on Hwy. 441, pass under I-10, 200 feet on the left.

Lake City, FL to Brunswick, GA 2hrs/124miles


C. *Golden Isles RV Park (PA/$16)


7445 Blythe Island Hwy,Brunswick GA, 31523 (912) 261-1025
Amenities: PT, 30/50Amp, FHU, wifi, cable

Brunswick, GA to St. George, SC 3hrs/166miles


D. *Jolly Acres RV Park (PA/$16)


289 Horne Taylor Road, Saint George SC 29477 (843) 563-8303
Amenities: PT, 30/50Amp (+$2), fhu, wifi, cable

St. George, SC to Murrells Inlet, SC 3hrs/171miles


E. Huntington Beach State Park State Park ($36.96 - 5 Nights w/fees)


16148 Ocean Hwy, Murrells Inlet, SC 29576
Amenities: 30Amp, water, dump station, beach

Myrtle Beach, SC to Asheboro, NC 3.5Hrs/170miles


F. *Zooland Family Campground (PA/$15.75)


3671 Pisgah Covered Bridge Road, Asheboro NC, 27205 (336) 381-3422
Amenities: PT, 30/50Amp, FHU, wifi

Asheboro, NC to Mt Airy, NC 1.5hrs/79miles


G. *Mayberry Campground (PA/$16.75)


114 Bunker Rd, Mount Airy NC, 27030 (336) 789-6199
Amenities: PT, 30/50Amp, FHU, wifi, cable

Mt Airy, NC to Greenville, VA 2.5hrs/150mi


H. *Glen Maury Park (PA/$17.50)


101 Maury River Drive, Buena Vista, Virginia 24416 540-261-7321
Amenities: FHU (22 sites have sewer)
Must mention PA at the time of reservation.

Buena Vista, VA to Dover, PA 4Hrs/239miles


I. *Gettysburg Farm Rv, An Encore Resort (PA/$22.50)


6200 Big Mount Rd, Dover PA, 17315 717-292-7191
Amenities: PT, 30/50Amp, FHU, wifi, cable

Carlisle, PA to Bainbridge, NY 4hrs/244miles


J. *Tall Pines Campground (PA/$16.50-$24)


Anderson Ln, Bainbridge, NY 13733 (607) 563-8271
Amenities: PT, 30/50Amp, FHU, wifi, cable
Call ahead but do not reserve.

Bainbridge, NY to Warrensburg, NY 4hrs/240miles


K. *Warrensburg Travel Park (PA/$25-$37.50)


Lake George Region, 136 Schroon River Rd, Warrensburg NY, 12885
Amenities: 30Amp, FHU, wifi, cable

Warrensburg to Montreal - 2.5hrs/159miles

Your questions and suggestions are always welcome. You are invited to Email us
---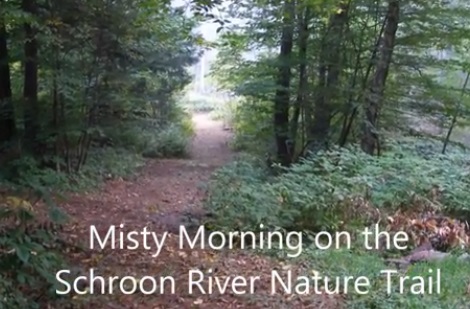 Join us for an early morning hike
along the Schroon River in the Adirondacks
Trail Begins Here

---
Newest Blog Update on Wordpress
Click for our newest posting or adventure and then click "follow" when you get there for updates as we post them. We only post when we find something, someone, or someplace of interest to share. We'd be happy to have you hop aboard and join us for a few miles on our Snowbird RV Trail.
---
---
From our 2013 Files

Creature Comforts vs that old sewer system!
Are you tired of fighting with the big slinky sewer hose and the challenge of trying to match your system to the difficult dump sites you encounter? Are you hesitant to hook up the electric macerators you see advertised? We definitely were and found an easier and much more painless solution. (We've no connection with this manufacturer. These are just our findings and opinions.)
---
A Visit to the Pottersville Methodist Church Chicken BBQ Supper
Grab your ticket and join us as we discover great food and good fellowship at an old-fashioned Church supper. It's just the way they've done it in Adirondack Mountain small towns for a 100 years.
---
An Independence Day Journey through Vermont
Combining a visit through the picturesque Vermont countryside, old-time small town celebrations, book sales and a ferry trip across Lake Champlain.
---
Good Sam Rally in Syracuse, NY
Four days of fun, food and togetherness with a few thousand close friends.
---
We spent the Summer "Workamping" in the
Adirondack Mountains of Upstate New York.
---
Your comments are always appreciated on any of our topics. If you find our "Blog" interesting, click the "Follow" button on the blog page to receive an email whenever we update. We always post daily trip sheets and photos when we go on the road.
---