Need an RV route, campground or restaurant suggestion? Want help planning the next trip? Would you like more information about Workamping and Free job sources? We are learning everyday and happy to share what we find.


We are all about RVing, Trip
Planning, Workamping and
Enjoying the Snowbird Life!

RV ROUTES North and South RV Routes we've traveled with maps, photos, campgrounds & reviews

PLANNING IT Tips and sources to find some answers to help plan your next RV trip.

CAMPGROUNDS Economical Parks and local attractions on RV routes by State and City.

WORKAMPING Our experiences and Free sources we've found for hundreds of current Workamping jobs.

FRATERNAL Clubs and organizations with campsites for their members.

OPEN 4 SEASONS Northeast and New England campgrounds open year around.

SNOWBIRD EMAILBAG We invite your questions and comments and we'll throw in our own two cents.

DAILY BLOG Things to do and places of interest we find in our RV travels.

DINING REVIEWS Let's talk restaurants - good & bad - along the Snowbird RV routes.

Quick-Click Index
for a listing of all our RVing Maps, Articles,
Reviews, Photos and Videos

___________________________________________________________

Welcome Aboard!
We are Your Hosts on this trip - Niki, Jack, K.C., B.B. and Stanley



We invite you to join us as we explore new RV routes, find great campgrounds, do some
serious day tripping and expand our North/South & East Coast RV route maps

More About Niki, Jack and Snowbird RV Trails
SNOWBIRD RV TRAILS
"ON THE ROAD" TO DATE

RV MILES

CAMPGROUNDS

36,296

177

Our Goals - New Routes, Discoveries & More Fun Each Year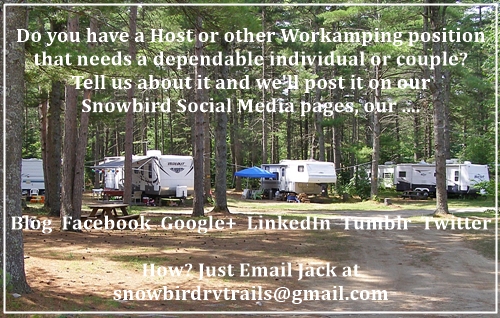 Email Jack at snowbirdrvtrails@gmail.com


---

and some other ideas to make your RVing easier, safer and more fun
___________________________________________________________

What's a Snowbird RV trip like
and is it something I might like to do?

Find maps, stopovers,costs and reviews on our latest trips-

Spring 2016 Snowbird Trip North with Map & Stopovers
Our 2016 Spring Trip along a new route North
from New Port Richey and Florida's West
Coast through Indiana to the Northeast.

Fall 2015 Snowbird Trip South with Costs & Reviews
Our 2015 Fall Trip South took us on the route
favored by many RVing Snowbirds as the
"BEST NORTH/SOUTH RV ROUTE"
from Canada & New England to Florida
and the Gulf Coast.

Our newest Snowbird Southern RV Route begins on Oct 14th!
The Adirondack Mountains to New Port Richey, Florida
1,500+ miles, 14 days with 7 two-night stopovers
Hop aboard and follow our latest adventures at

Niki & Jack's Snowbird RV Trails Blog







VISIT OUR
"QUICK-CLICK INDEX"
for all of our
Routes, Maps, Articles,
Videos from the Road, Photos/Albums,
Campground & Restaurant Reviews
by State, Webcams and More
---

Check some additions we have found useful for
our own RV and see if they might work for you


.


____________________________________________________________

Stay connected with Niki, Jack and Snowbird RV Trails



Click your choice and follow our "trip-tested" RV routes,
restaurant reviews, as well as campground ideas, tips, photos,
facts, figures and suggestions. "Follow" us on Facebook and
Wordpress for our current adventures.

____________________________________________________________


Share Snowbird RV Trails with your friends and family

.

_____________________________

Advertisements
_____________________________

_____________________________







Our Home/Office on the Road





Have

a question, suggestion or comment about
our site, travels or RVing in general?



Send Jack & Niki a note to




snowbirdrvtrails@gmail.com


We'd love to hear from you!
_______________________________________________






Entire Contents


(c) Copyright Snowbird RV Trails 2016
All Rights Reserved