Clicking on RV ROUTES takes you to our map pages where you will find useful, first-hand information, photos, mileages, prices and more to help you plan ahead.

ON THIS WEBSITE:

RV ROUTES Some of our North and South route maps, with photos, campgrounds & reviews

PLANNING IT Tips, tricks and some places to find your answers

CROSS REF CHART Cross reference by State-City- Campground & Attractions

WORKAMPING What it's all about & where to find the jobs

FRATERNAL Organizations with camping spaces

OPEN 4 SEASONS Campgrounds open all year in the Northeast

OUR EMAILBAG Comments, questions, and answers

NEWEST BLOG But what are we up to lately?

DINING REVIEWS Our own opinions of some restaurants by State

_____________________________

Email Jack and Niki
snowbirdrvtrails@gmail.com
We are always open to questions, comments, and suggestions and we do answer our mail.


It's about RVing, Trip Planning,
Workamping & Retirement

We started with a plan

For us there are at least 3 schools of
thought on RVing and trip planning

One plan is no plan. Starting out with perhaps a final destination in mind but not really any thought to any stops along the way. Perfect for the adventuresome spirit having no shortage of resources.

Another RVer might be totally destination oriented and only interested in arriving at that destination as quickly as possible, often making only the same tried and true overnight stops as they had in previous years. It, too, has some merit but not for those who want to see some of this great Country that they have missed while working all those years.

We (your hosts, Niki, Jack, and The Kids) are in a third group that likes to combine a bit of both. Sure we have a final destination in mind but are in no real rush to get there. For us the trip is the fun but half that fun is planning the next trip. We plan new routes with new campgrounds and take the time (at least 2 nights in each campground) to sample the favorite restaurants suggested to us by the locals and also to explore any nearby "must-see" attractions they are especially proud of.

Our retirement resources are not unlimited so our pre-planning helps us find the best values for our retirement $$$.

Want some good RV route suggestions North and South?

Are there any half-price campgrounds that are any good?

How about some good local restaurant suggestions by State?

We are pursuing the answers and invite you to hop aboard if you have similar interests. We chronicle each trip on our blog as we travel with mileages, facts, photos, and costs. Maps and summaries of each trip are posted on this website with more photos and campground and restaurant reviews, along with a ton of resources for planning your own trips.

Interested in learning more about work camping? We have "Workamped" the past few Summer seasons and love it! You'll find (arguably) the most comprehensive listing of free sources for all types of campground jobs also on this website.

All that said, we invite you to look around our website, sign-up to follow our travel blog if you like, or follow us on Facebook, LinkedIn, or Google+. You'll also find many more photos on our Pinterest pages.

Travel safe, have fun, and we hope to meet you down the road,

Jack, Niki, K.C. & B.B.
Welcome Aboard-




Your Hosts - Niki, Jack, K.C. & B.B.
---
Connect with Snowbird RV Trails






for some route ideas, restaurants, campgrounds, tips and suggestions
---
What's New?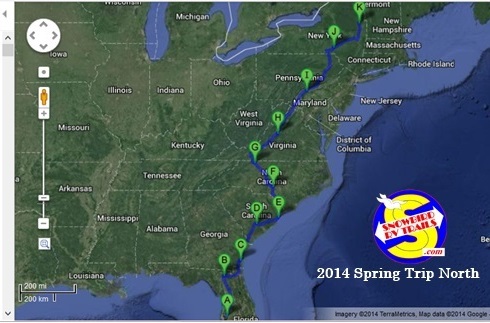 Trip Plan Spring 2014:
Our New Journey Begins May 1st
We've had a great Winter stay near Tampa in the Sunshine State and now it's time to pack up and head back up North to begin our Summer Season of Workamping in the Adirondack Mountains of Northern NY State.

We have previously outlined how we go about preparing a new route and what stops we have planned. This trip there will be stopovers at 10 campgrounds in 7 States and we plan for about 22 days to reach our destination. We are retired and have entered the "no rush" mode of travel.

Each trip we try new routes, visit new campgrounds, find great local restaurants, interesting sights, and meet new people. Always looking for the best routes and discovering America along the way. We post the facts, figures, photos, and findings on our Blog as we go. If you would like to hop aboard and travel a few miles with us just visit our Blog at http://snowbirdrvtrails.wordpress.com/, then click "Follow" and we'll keep you posted.

Have you ever wondered what Workamping is really like and whether you might enjoy it? We will be posting about it all Summer long with photos of the good, the bad, and yes, the ugly on occasion which really keeps our life interesting.

Stop over and pull up a lawn chair. We'll have the campfire going and the coffee pot on. Your comments are always invited.
---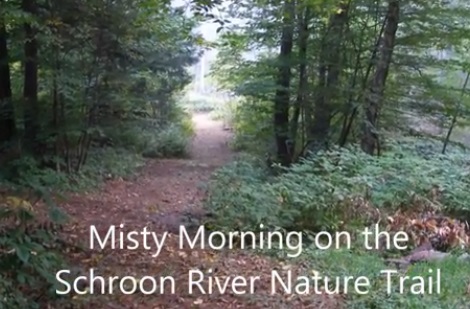 Join us for an early morning hike
along the Schroon River in the Adirondacks
Trail Begins Here

---
Newest Blog Update on Wordpress
Click for our newest posting or adventure and then click "follow" when you get there for updates as we post them. We only post when we find something, someone, or someplace of interest to share. We'd be happy to have you hop aboard and join us for a few miles on our Snowbird RV Trail.
---
---
From our 2013 Files

Creature Comforts vs that old sewer system!
Are you tired of fighting with the big slinky sewer hose and the challenge of trying to match your system to the difficult dump sites you encounter? Are you hesitant to hook up the electric macerators you see advertised? We definitely were and found an easier and much more painless solution. (We've no connection with this manufacturer. These are just our findings and opinions.)
---
A Visit to the Pottersville Methodist Church Chicken BBQ Supper
Grab your ticket and join us as we discover great food and good fellowship at an old-fashioned Church supper. It's just the way they've done it in Adirondack Mountain small towns for a 100 years.
---
An Independence Day Journey through Vermont
Combining a visit through the picturesque Vermont countryside, old-time small town celebrations, book sales and a ferry trip across Lake Champlain.
---
Good Sam Rally in Syracuse, NY
Four days of fun, food and togetherness with a few thousand close friends.
---
We spent the Summer "Workamping" in the
Adirondack Mountains of Upstate New York.
---
Your comments are always appreciated on any of our topics. If you find our "Blog" interesting, click the "Follow" button on the blog page to receive an email whenever we update. We always post daily trip sheets and photos when we go on the road.
---
__________________________________________

. . . You'll find the Snowbird RV Trails Team
on CB Channel 13. If we cross paths,
give us a shout . . .
__________________________________________

---
We're On the Road again . . .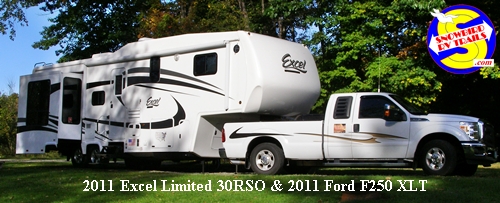 2011 Excel 30RSO, 32', 3 slides, 4-Season 5th Wheel towed by our
2011 Ford F-250 XLT Super Duty, 6.2L V8, 385hp, & 4.3 Locking Axle
Have a question, suggestion, or comment for us?
Email Jack & Niki
snowbirdrvtrails@gmail.com


---
What do we do in our sparetime?
Glad you asked. We publish some other webpages on topics we have really come to love. You're invited to have a look.



Myrtle Beach Snowbirder




R

eviewing the best attractions, restaurants & hotels along the Grand Strand with information about shows, ticket prices, maps, webcams, and photos

.



Tampa Bay Snowbirder
Planning a beach vacation? All the things to see and do in the Tampa Bay Area. Information about attractions, shows, ticket prices, maps, webcams, and photos.

ABC PreSchool Learning Time
Kids can learn to write their ABC's, their numbers and how to tell time along with a special friend.

ABC Toon Center Theme Park for Kids
Our original cartoon, story, and game website for young children and the young at heart.

The Adirondack Northwoods Bookshop
The place to find out-of-print art, outdoor, sport, and Adirondack books.

Entire Contents
(c) Copyright Snowbird RV Trails 2014
All Rights Reserved

TO TOP OF PAGE

"We just can't wait to get on the road again . . ."