SNOWBIRD RV ROUTES
E

ach interactive map outlines a route we have taken with our RV, (probably more than once), as we try to determine the "best" route, with great campgrounds that we can look forward to visiting like old friends.





We do enjoy the trip as much or more than the destination so we plan the stops for only a half day's drive and normally a stopover of two nights at each.





We normally arrive in the early afternoon and have plenty of time for talking with hosts and neighbors as well as time to explore the area.



You may notice we dine out a lot which is just a preference of ours to really get a "taste" for that area.



Many of our maps allow you to click a "dot" which will give you all kinds of info about the campground including photos, price, amenities, directions, local sights, and a link to each campground's website.
.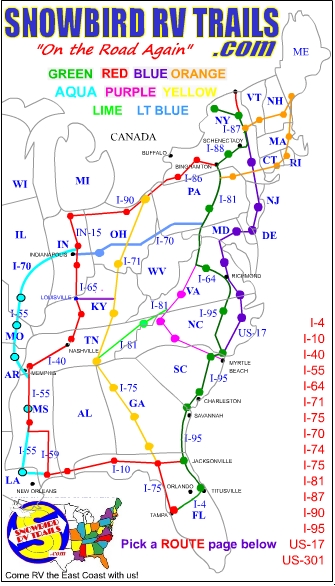 FIND ALL COLORED RV
ROUTE LINKS BELOW

Each is a tried and true route we have planned, followed and found it a good one.

We take our time and try to limit travel days to 200 - 250 miles between stopovers. 75% of our stopovers are at Passport America, 50%, RV parks and campgrounds. If we like them we post them.

Each of our maps and trip sheets lists mileages between stops, interesting things to see, restaurants, photos and our own honest reviews of what we find.

Niki and I had mentors and a lot of help when we started this RVing adventure. We vowed to pass along to others what we have learned perhaps to make it easier for them.

Thus, you will find all kinds of info on our website from tips and free apps for planning a safe trip to discussing what work camping is all about and where to find jobs and a whole lot in between!