Pecan RV Park, Jacksonville, FL
1. Jacksonville, Florida
*Pecan Park RV Resort
650 Pecan Park Rd, Jacksonville, FL 32218
Phone: (512) 396-0070
I-95, Exit 366
One of the nicest Passport RV Parks on the route! This Park has 70' x 40' level concrete pull-through sites that will accommodate the biggest, big rigs easily. The campsites have full hookup, a picnic table, and free WiFi.

Who could ask for more, the weekend Pecan Park Flea & Farmer's Market is as close as walking through the opening in the fence that surrounds the RV Park.

A Budweiser Brewery Tour (and tasting!) at
111 Busch Drive, Jacksonville, FL
is only 6.5 miles away. Tours start every 45 minutes from 10:00 am to 4:00 pm. We strongly recommend a visit if you have the time.
Also nearby:
Jacksonville Zoo - 11.4 miles
370 Zoo Parkway, Jacksonville, FL
Amelia Island Plantation - 11.9 miles
42 Beach lagoon Rd, Fernandina Beach, FL
Directions to Pecan Park RV Resort:
I-95 – Exit 366 (Pecan Park Road) – Head west less than ¼ mile on the left side.
Pricing subject to change,
always call ahead

For more Info:

Park Website

Our Review, Directions, Video and Alternates
_____________________________________________________________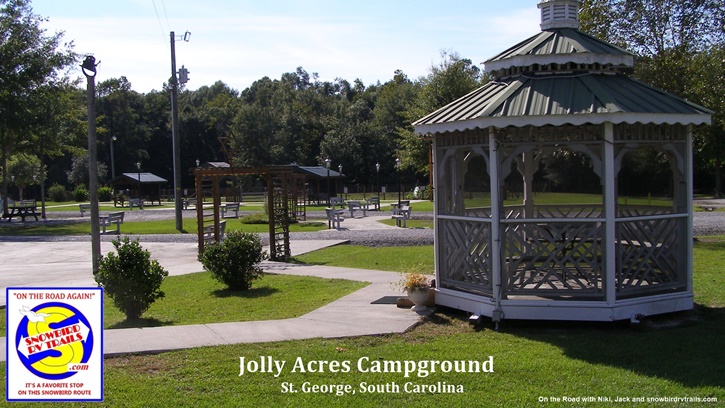 Jolly Acres Campground in St. George, South Carolina

2. Saint George, SC
(212 Miles from Jacksonville, FL)
*Jolly Acres Campground
289 Horne Taylor Road
Saint George, SC
Open Year-round
Phone: 843-563-8303
I-95, Exit 77

Located 6 easy miles off I-95 - we like it because it is out in the country - clean, quiet, peaceful and run by nice, friendly people. Becky owns the place and is always making improvements. She also raises champion Boxer dogs. They have pull-throughs, 30 Amp, good water, a dump station, propane and laundry facilities. Jolly Acres is usually nearly filled to capacity with Snowbirds during the Winter months but call ahead and Becky can normally fit you in for a night or two.

Other reasons we like this stopover is the Pilot/Flying J Truck Stop and two very good restaurants in Town:

"Shug's Southern Soul Cafe," 5792 Memorial Blvd, Saint George, SC 843-563-2300
Owned and operated by Chef Noah Coleman and his wife. They know how to properly prepare the really good down-home Southern staples. They are open for lunch from 10-3 and for dinner from 5pm to 10pm but closed Sunday through Tuesday. There are daily specials. We both order the BBQ chicken special which comes with rice and collard greens. All cooked just right and oh so good. Niki says the sweet iced tea is just as good as she makes it. Desserts are made on the premises and we each tried a piece of cake – lemon for Niki and the chocolate cake for Jack. Delicious! A great meal for $30.59 with drinks and tip.

"Skynyrd's Grill & Sports Bar," 129 Motel Drive, St. George (843) 563-4112.
Cozy sports bar restaurant with multiple TVs and a Jimmy Buffet atmosphere. Inside and outside seating with a pretty good-sized menu. Their burgers and sides get very good reviews. We ordered a shrimp and an oyster Po-Boy- one with a side of mac & cheese and the other with a side of "chippers" (homemade potato chips). The food and the service both were good enough to rate our 4 stars

Our Review, Directions and Video

Be sure to phone ahead to any "open year-round" campground to be sure they are open and have a space for you.

_____________________________________________________________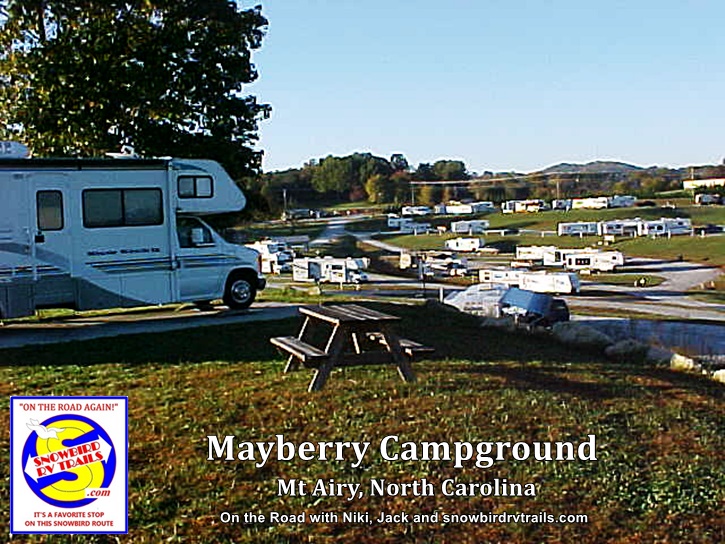 Mayberry Campground in Mt Airy, North Carolina

3. Mount Airy, NC
(266 miles from St. George, SC)
*Mayberry Campground
114 Bunker Rd
Mount Airy, NC 27030
Open Year-round
Phone: 336-789-6199
I-74, Exit 11

Mayberry Campground is located on a part of the former 2,000 acre farm belonging to Chang and Eng Bunker, famous Siamese twins of the 1800's. The twins – forever conjoined – had a prosperous farm as well as 2 separate and prosperous families. They married 2 sisters and had 21 children between them. They kept 2 separate homes, alternating 3 days at each home.

Mayberry Campground has over 100 gravel sites with both back-ins and pull-throughs, full hook-ups, 30 and 50 Amp, free WiFi and free TV cable at every site. There are 2 catch-and-release ponds (no fishing license needed) and the Bunker homestead on the property that features tours on some weekends.

We have enjoyed dinner at "The Copper Pot," 123 Scenic Outlet Lane, Mt Airy (336) 352-4108. Real Southern home-cooking served by cheerful ladies with North Carolina accents so thick you almost need an interpreter. Good food and Great people – the feeling is real hometown friendliness.

We also tried a new lunch spot suggested by the campground and backed by many good reviews on the Net. It's called "Little Richard's Smokehouse BBQ," 455 Frederick St, Mt Airy (336) 783-0227. We like BBQ and have sampled it in nearly every State East of the Mississippi. This place is our new favorite for BBQ done right. Tender and juicy – slow cooked over hickory coals for 16 hours and truly finger lickin' good. The sides are homemade as well. For sides we both tried the mac & cheese and turnip greens accompanied by a large basket of hush puppies. They have a soft drink – new to us – called "Cheerwine" which is cherry flavored and also tasty as were the warm blackberry cobblers we had for dessert with vanilla ice cream (of course!).

We can also recommend Tlaquepaque Mexican Restaurant & Grill at 2123 Rockford Street. It's a small restaurant with a talented chef. Both of our meals, traditional Mexican combos, were really delicious.

There is much to see and do in Mt Airy, the birthplace of favorite son - Andy Griffith.

Visit Andy Griffith's "homeplace" at 711 East Haymore Street. Less than a mile away you'll find "The Snappy Lunch" still making the "famous pork chop sandwiches". It's next door to "Floyd's Barbershop" and "Opie's Candy Store." Just a little farther down Main Street you'll find "Wally's Garage" and "The Courthouse" with a recreation of the jail set office and cells we remember from The Andy Griffith Show. That's also the place to sign-up for an "Andy Griffith Squad Car Tour" of Town in a vintage Mayberry Police Car like Barney and Andy drove.

Not far away you'll find the "Andy Griffith Theatre" and the Andy Griffith Museum where they have hundreds (perhaps thousands) of artifacts and memorabilia from Andy's career on stage, TV and in the movies and as a singer and comedian. The Museum's lower level has an exhibition of material from Eng and Chang's life as well.

Our Review, Directions and Video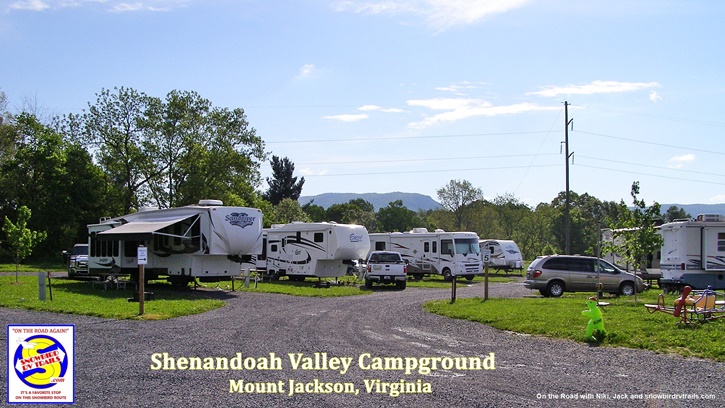 Shenandoah Valley Campground in Mount Jackson, Virginia

4. Mt. Jackson, VA
(233 Miles from Mt. Airy, NC )
*Shenandoah Valley Family Campground
168 Industrial Park Road
Mt. Jackson, Virginia 22842
Open Year-round
Phone: (540) 477-3080
I-81, Exit 269

A convenient stopover just off I-81. The sites are gravel pull-thrus with 50A and FHU. They will honor Passport America for one night only - and not on weekends - and no other club's discount if you plan to stay more than the one night. They have a small cafe on site but we've not used it.

The campground is convenient to Shenandoah Caverns, a local weekend flea market and the Route 11 Potato Chip Factory which we have enjoyed visiting. We have also made a day trip from the campground to travel part of the Blue Ridge Parkway and a visit to the Shenandoah National Forest. It makes an interesting loop starting East of New Market and exiting the Blue Ridge Parkway at Front Royal and then back to the campground.

There is a smaller gas station at this Exit but a larger Truck Stop at Exit 267. The Denny's at Exit 267 serves pretty good food.

Our Review, Directions and Video

Be sure to phone ahead to any "open year-round" campground to be sure they are open and have a space for you.
_____________________________________________________________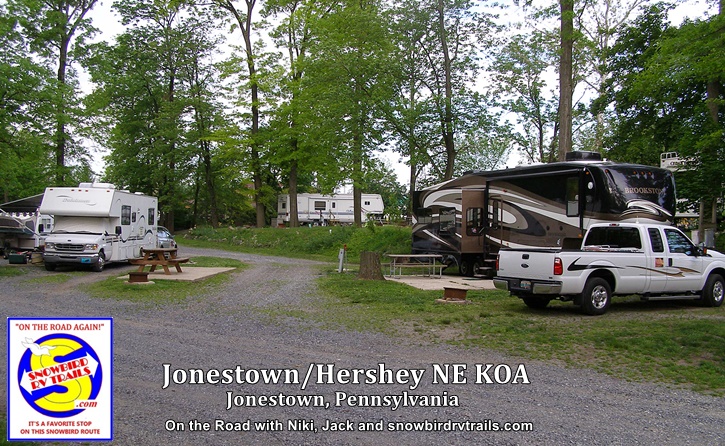 Jonestown-Hershey KOA in Jonestown, Pennsylvania


5. Jonestown, PA
(211 miles from Oneonta, NY, 326 miles from Alexandria Bay, NY, 496km from Niagara Falls, Canada)
Jonestown/Hershey NE KOA
11 Lickdale Road
Jonestown, PA 17038
Open Year-round
Phone: 800-562-2609
I-81, Exit 90

We overnight at this campground regularly mainly because it is so convenient to I-81. The price is more than we usually like to pay but throw in the amenities like free cable, fair WiFi and a decent cafe that will deliver lunch or dinner to your door and it works for a night.

Each site is a pull-thru with concrete pad and full hook-up (FHU). It's an easy drive to visit Hershey Park from this campground or they do offer a free shuttle bus ride (Summer Season) to Hershey Park when admittance tickets are purchased from their office.
There is also a large truck stop for fuel at this Exit.

Our Review, Directions and Video

Always phone ahead to any "open year-round" campground to be sure they are open and have a space for you.

_____________________________________________________________

Companion list to this Route


INTERSTATE REST AREAS ALONG THIS ROUTE




Canada, New England and Upstate New York to Florida



Find Trip Summaries with typical costs on our Home Page.
_____________________________________________________________