Niki and I have a need to be able to access the Internet pretty much on a 24/7 basis. As you know, many campgrounds and RV parks advertise "Free WiFi" - and they do have it - but being able to access it is quite another matter. Maybe the fine print says "access it from the office porch or activity center" or maybe it's a question of where you are in the campground in relation to the main transmitter or repeater stations.

We thought there had to be a better way and did a little research - actually a lot of research - and finally settled on this Ideaworks Long-Distance WiFi Antenna after reading through many of the 200+ reviews.

We received the package promptly from Amazon (as usual). It contains a CD with the program that allows the antenna to "talk" with your computer and is easily uploaded. Next step is to plug in the cable from the antenna into one of your USB ports and you will see the selection drop-down list where you normally access an outside source. Click on the campground signal and you are good to go.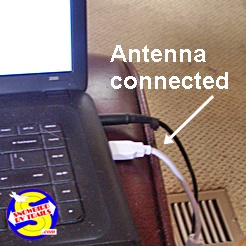 It is just that simple. With the long cord you can position the antenna wherever you get the best signal. The antenna comes with a stand and also a bracket for mounting on the wall if you wish. It is waterproof and can be set up outside. We keep it on its stand so we can move it around and point it towards the strongest signal.
What I have found is it will greatly enhance any weak signal you can pick up but if there is no signal showing without the antenna then there will probably be nothing to enhance.


You can see from the "Before and After" photos what the antenna does for our current campground location. If we can answer any questions from our experience, send us an email and we'll try to answer you.

We are - Jack and Niki of Snowbird RV Trails - since 2010
We thank you for stopping by!
Email us a question or comment:
snowbirdrvtrails@gmail.com
Visit us on our informal Facebook page: https://www.facebook.com/OurSnowbirdRVTrails
See our Index of articles, routes and reviews:
http://www.snowbirdrvtrails.com/quickclickindexnew.htm