ALABAMA
Robertsdale, AL Porky's BBQ (10/12 $28.38)***
22379 State Highway 59 S, Robertsdale, AL 36567 (251) 947-7675
Good little BQ joint that we have heard is now closed?
(Return to top of page)

DELAWARE
Bethany Beach, DE
Matt's Fish Camp Restaurant(5/13 $65.)*
28635 Coastal Hwy, Bethany Beach, DE 19930(302) 539-2267
Slow service, so-so food, and expensive for the privilege of being ignored. We'll not be back.

Lewes, DE
Bob Evans Restaurant (5/13 $15.96)***
18492 Coastal Hwy(at Postal Ln.), Lewes, DE 19958 (302) 645-0871
Like any franchise, the food is pretty much the same but the help make the difference in a good or bad experience. Reliable food and good service at this Bob Evans.
(Return to top of page)

FLORIDA (Separate Page)

GEORGIA
Brunswick, GA


Zachry's Seafood & Steak (5/14 $38.69)**
415 Palisade Dr., Brunswick, GA 912- 265-9080
Zachry's Seafood Restaurant not more than a mile from the campground
and from I-95 Exit 29. It was worth the trip to find it! Niki declared the shrimp & oyster plate as good as it gets. The seafood was lightly breaded, juicy and cooked just right. A good helping, and with other Southern sides plus the hushpuppies she nearly swooned over, it was well worth the price ($17). Jack had the shrimp hoagie and said it was one of the best he has
had in a long time

Jekyll Island, GA
The Rah Bar (5/14 $32.19)***
370 Riverview Drive, Latitude 31º, Jekyll Island, GA 31537 912-635-
3800
Lunch at "The Rah Bar"on the wharf at the Jekyll Island Club. Sitting on the dock of the bay was a real treat. We both had the shrimp salad croissants which were very good. We ordered a slice of "homemade" key lime pie to share but returned it after deciding it had no relation whatsoever to any key lime pie that we know and love.

Perry, GA
Cracker Barrel, (10/13 23.72)***
1343710 Shandon W, Perry, GA
When you are on the road, especially going through new territory, you sometimes could use a friend. For RVers it's usually that next Flying J for
fuel or a tried and true restaurant at dinnertime. Cracker Barrel fills the bill
for road weary travelers looking for a smile, a pleasant atmosphere and reliable food. This one is just off I-75, Georgia Exit 135. Just look for all of the Cadillacs and seasoned citizens and you'll be there.

The Swanson (10/13 $32.17)**
Carroll St, Perry, GA
This was recommended to us but we will not pass the kudos along. Jack
had the baked chicken with cornbread dressing and gravy. It looked great but was way too salty. Niki had the vegetable plate (choice of 3 side dishes) and says the veggies had little taste. The restaurant is a quaint, restored,
early home downtown but the food we tried did not live up to their "Famous for home-cooking and Southern charm". Maybe we caught them on a bad day?

Rossville, GA
Sara Lee, (10/13 6.94)***
Mack Smith Rd, Rossville, GA
It's hard to ignore a Sara Lee retail store that's just across the road from
your campground! Such is the case with this store within walking distance of the Chattanooga Holiday Trav-L-Park we stopped at in Rossville, GA. Not great for our diets but our taste-buds didn't complain.
(Return to top of page)

INDIANA
Bedford, IN
Cheesecake Factory (10/12 $52.12)****
1251 US Highway 31 N, Greenwood, IN 46142 317-887-8440
Always very busy which says a lot! Over 200 items to choose from so it's much more than just cheesecake though the cheesecake will make you want to come back. Expensive maybe but you are getting what you are paying for.

Empress Court (10/12 $24.51)***
1102 James Avenue (Next to J.C. Penny), Bedford, IN 47421 (812) 275-8338
Tucked in a strip mall. Offers a daily buffet, full menu service, carry out, delivery or catering. It has very good food and an attentive staff.

Golden Corral (10/12 $28.42)***
1521 James Ave, Bedford, IN (812) 275-0311
We have visited Golden Corral's all around the Country. Some good, some bad. This is definitely one of the good ones. The place was clean, the service attentive, and the food was hot, tasty and well presented. In fact we went here twice on a recent visit and we left happy both times.

Steak & Shake Bedford, IN*
1015 James Ave, Bedford, IN (812) 275-5616
Frozen milkshakes - not hand prepared when ordered? That's what we
were served at this one! Their claim to fame are their shakes. We
complained and the replacements were no better. We won't be back.

Bloomington, IN
Cracker Barrel (10/13 $22.43)***
380 N Jacob Dr, Bloomington, IN 47404
What can you say about Cracker Barrel. Us old-timers love it and you seldom see a sparse parking lot unless they are closed. The waitstaff is almost always cheerful, friendly and attentive. The food is just like Momma used to make (kinda). You can usually always count on a good meal at a decent price and in a nice, though normally noisy, atmosphere. This CB is
no exception.

Greenwood, IN
Bob Evans (10/13 $20.68)***
159 Marlin Dr, Greenwood, IN
We are BE fans and usually gravitate towards one if we are camped in the vicinity. We have our favorites from the menu and find they taste the same whether in Indiana or Florida. We do find that the service varies greatly
from place to place and do tell it like we find it. Service and food here are both good.The Bob EvansClub emails coupons good at all of their restaurants.

Jonathan Byrd's Cafeteria (10/12 $27.91)***
100 Byrd Way, (Exit 99 off I-65), Greenwood, IN 46143-9724 317-881-8888
Food was just average and probably not a good value based on the price. They do have an afternoon Senior Discount.

Margarita's Mexican (10/13 $25.65)***
1675 W Smith Valley, Greenwood. IN
Reviews for this restaurant seem to run hot and cold. The day we were
there our servings were huge, prepared well and served hot. Our waitress was friendly and attentive. Probably is the best Mexican restaurant in the area.

Indianapolis, IN
Long's Bakery (10/12)*****
2301 E Southport Rd, Indianapolis, IN 46227 (317) 783-1442
Several locations in the Indianapolis area and they all rate 5 stars. Baked goods, desserts and doughnuts that take desserts to a higher level. Don't
miss an opportunity to stop by one of their shops.
(Return to top of page)

KENTUCKY
Mt Vernon, KY
KFC (10/13 $19.61)**
Richmond St, Mt Vernon, KY
The Colonel knew what he was doing and it has endured. You either like it or not but you can pretty much count on the same taste from those secret recipes at every store. This appears to be a clean KFC and the help is cheerful and friendly.

Renfro Valley Rest (10/13 $26.50)**
2380 Richmond ST, Mt Vernon, KY
They shoot for the flavor of down-home Southern cooking but their aim is faulty. We thought the overuse of salt to give the dishes some flavor really shows that the cook can't! You're probably better off with the KFC just up the road.
(Return to top of page)

MAINE
Freeport, ME
1912 Cafe (5/12 )$18.15**
95 Main St, Freeport, ME 04032 (207) 865-6660
Attached to L.L. Bean. Log cabin atmosphere. Specialty soups, sandwiches and wraps. Expensive and not really filling or satisfying.

Sacco, ME
Traditions Italian Restorante (5/12 $37.50)***
162 Main St, Saco, ME 04072 (207) 282-6661
Pretty decent Italian food for non-Italian owners. Pleasant atmosphere. We felt it a little pricey but the food was good.
(Return to top of page)

MARYLAND
Greensboro, MD
La Delizia Pizza (5/13 $26.69)***
322 N Main St, Greensboro, MD 21639 (410)482-8224
Not many restaurants to choose from in Greensboro so we took a chance and found that this place makes pizzas and Italian dishes that are very good and a local favorite.
(Return to top of page)

MASSACHUSETTS
Wareham, MA
Lindsey's Family Restaurant (5/12 $38.98)***
3138 Cranberry Hwy, East Wareham, MA 02538 (508) 759-5544
Put simply, Seafood Bisque and Lobster Rolls to die for! Friendly courteous service and the freshest seafood.
(Return to top of page)

MISSISSIPPI
Bay St. Louis, MS
200 North Beach Restaurant (10/12 $33.07)***
200 N Beach Blvd, Bay St Louis, MS 39520 (228) 467-9388
Across the Blvd from the waterfront near the Bay Bridge. Great view, nicely renovated and an extensive menu, poboys, sandwiches and all types of seafood. The chef runs hot and cold on his dishes, Hopefully you'll be lucky.
This area was totally devastated by the hurricanes of recent years but they are coming back strong! Take the Beach Blvd South towards the Casino to see the depth of the destruction.

Silver Slipper Buffet (10/12 $14.79)****
5000 South Beach Boulevard, Bay St. Louis, MS 39520 866-775-4773
The Silver Slipper Casino is a magnet whenever we are headed East or
West on I-10 along the Gulf. Why? It's in a quiet area, on a Gulf beach, and one of our favorite campgrounds is nearby, Bay HideAWay. The Casino has a 35 pad RV Park right on the Gulf nearby and they do take reservations. On our last few visits we found the Casino also has offered a reduced rate buffet day for Seniors. A great location - we come for the buffet and stay to play a few slots.

Tony's Family Rest (10/12 $32.73)**
720 Hwy 90 Bay St. Louis, MS 39520 (228) 466-5151
Excellent burgers and steaks at reasonable prices.

Coldwater, MS
Subway (10/12 $12.84)
33 Campground Dr, Coldwater, MS 38618 (662) 622-5907
Convenient and within walking distance if you are staying at Memphis South Campground, (Exit 271 off I-55). Family-owned, nice people and they
make a great sub. The campground is also the best we have found in the area.
(Return to top of page)

NEW HAMPSHIRE
Claremont, NH
BJ Bricker's (5/12 $34.98)**

200 Washington St, Claremont, NH 03743 (603) 543-3221
Good, cheap, lunch buffet but dinner is not a great value.

Imperial Buffet and Lounge (5/12 $28.70)***
154 Washington St, Claremont, NH 03743 (603) 542-8833
One of the best Chinese buffets we have ever visited. In fact we stayed 2 nights in the area and had dinner here both nights. As with any buffet, the bigger the crowd the fresher the food.

Epsom, NH
Epsom Pizza (5/12 $19.00)**
940 Suncook Valley Highway, Epsom, NH 03234
Best pizza in Epsom!
(Return to top of page)

NEW JERSEY
Atlantic City Boardwalk
Tommy's Seaside Grill and Pizza (6/13 $24.37)***
1523 Boardwalk, (between NY and KY Avenue), Atlantic City, NJ (609) 347-7194
It was our first time on the Boardwalk and were apprehensive about what
e thought would be canned or frozen, thrown together and nuked for our dining pleasure. Guess what? We found both the service and the food to be top notch and the prices reasonable.

Galloway, NJ
Napoli Pizza Grill (5/13 $30.18)***
319 East Jimmie Leads Rd, Galloway, NJ 08205 (609) 748-8585
If you are a fan of the old fashioned tomato pie pizza you will be happy to know it's alive and well in Galloway. This place was recommended by our campground host and we thoroughly enjoyed the food.

Lindy Hops Ice Cream Parlour (6/13 $7.99)****
401 S Pitney Rd, Galloway, NJ 08205 (609) 652-6020
Best home-made ice cream and water ice in the area. Many flavors to choose from. If you're in the mood you might also want to order an apple, pumpkin, Ginger Snap Molasses, or Harvest Moon ice cream pie!
(Return to top of page)



NEW YORK (Separate Page)

NORTH CAROLINA
Asheboro, NC
David's Restaurant (5/14 $26.86)***
709 South Fayetteville St, Asheboro, NC, 27203 (336) 683-0000
7 miles from Zooland Family Campground. They offer daily lunch and dinner specials. All come with soup or salad and dessert. We both chose the daily special which was Chicken Primavera. The plates came piled high with fettuccine in an Alfredo sauce with tender chunks of chicken and several vegetables mixed in. It was very good and more than enough to bring the excess home for another meal.

Dixie III Restaurant (5/14 $19.49) ***
715 E Dixie Dr, Asheboro, NC 27203 (336) 625-8345 All dinners were in the $7 to $10 range. Niki chose a vegetable plate and Jack chose spaghetti with homemade sauce. With our iced tea, butterscotch delight desserts, and tip the bill was under $20. You could tell this was a favorite restaurant among the locals as everyone knew everyone else. One
of the better meals we have had on this trip.

Bayboro, NCC
Mayo's Seafood Restaurant (5/13 $47.26)***
210 Vandemere Rd., Bayboro, North Carolina 28515 (252) 745-4663
Good daily specials. Steak, BBQ, seafood baskets & platters. Friendly service and the food is prepared well.

Camden, NC
Track 1 Restaurant (5/13 $25.25)****
143 Us Highway 158 W, Camden, NC 27921(252) 338-0081 it by, but once you're inside the food and service more than make up the difference. Definitely one of our best meals in NC.Daily Lunch Specials like Homemade BBQ & Cheddar with Fries, Pork Roast, Livers & Gizzards, and Marinated Grilled Chicken Breast with Teriyaki Sauce. Dinner specials as well.

Mt. Airy, NCC
The Copper Pot (5/14 $22.51)**
123 Scenic Outlet Ln, Mount Airy, NC 27030 336-352-4108 ice cream.

Tlaquepaque Mexican Restaurant & Grill (5/14 $22.99)****
2113 Rockford St, Mt Airy, NC 27030 (336) 789-4050
We had a late lunch at Tlaquepaque (we can't pronounce it either!). It's on the main highway going into town. A small restaurant with a talented chef. Both of our meals, traditional Mexican combos, were really delicious, as were the warm tortilla chips and homemade salsa brought to our table when we sat down. The total bill including coffee, a cerveza, and tip was $22.99

Nags Head, NC
Kelly's Outer Banks Restaurant(5/13 $59.46)*
2316 S Croatan Hwy, Nags Head, NC 27959 (252) 441-4116
The food and the service did not add up to good value for the price. Skip it, there are many other restaurants locally to choose from.
(Return to top of page)

New Bern, NC
Sting Ray Cafe (5/13 $30.49)***
520 S Front St, New Bern, NC 28562 (252) 638-2280 and the hush puppies were great.

The Pepsi Store -The Birthplace of Pepsi-Cola (5/13 $7.50)****
256 Middle Street, New Bern, NC 28560 252-636-5898 and Pepsi souvenirs and memorabilia.

OHIO
Bellville, OH
Der Dutchman Restaurant (10/13 $34.27)***
720 Ohio 97, Bellville, OH 44813 have the "Country Breakfast Buffet" from 7-11am everyday..

Conneaut, OH (I-90, Exit 241)
Beef & Beer Restaurant (9/14 $26.14)****
57 E Under Ridge Rd, Conneaut, OH 44030 a lunch or dinner break, this is the place. It's just off the exit and on the hill across from the Love's Truckstop.

Marengo, OH - I-71, Exit 1400
Farmstead Inn Restaurant (9/13 $26.47)**
618 Ohio 61, Marengo, OH 43334 is just so-so. Their aim is for Amish/PA Dutch type homecooking but they are a little off target.

Zanesville, OHH
Bob Evans (10/12 $30.17)****
450 Underwood St, Zanesville, OH (740) 452-6106
3 locations in Zanesville. We like Bob Evans as a rule and tend to seek them out whenever we are staying nearby. The food is predictable and likable but the service varies greatly from place to place. This is one of the good places. Join the BE Club and receive coupons emailed often.

Oriental Super Buffet (10/12 $18.17)***
445 Underwood St, Zanesville, OH 43701 (740) 588-9898
Great selection, so plenty to choose from. Typical Chinese buffet but larger. Try to snag a local BOGO coupon.
(Return to top of page)

PENNSYLVANIA
Annville, PA
Funck's Restaurant (5/12 $48.07)***
1805 Fisher Ave, Annville, PA 17003 (717) 865-2764
We found some good home cooking and PA Dutch classics like Chicken Corn Rivel, Baked Tomato Crock, French Onion Crock. Along with the usual salads, burgers and sandwiches. It is pricey.

Lancaster, PA
Silver Spring Family Restaurant (5/14 $37.75)***
3653 Marietta Ave., Lancaster, PA 717-285-5974 flavor choice, topped with ice cream and whipped cream. Suggestion:
Order only one but with 2 spoons. It's just that big, as Jack soon found out.

Lititz, PAA
Oregon Dairy Country Restaurant & Buffet (10/12 $22.85)****
2900 Oregon Pike, Lititz, PA 17543 (717) 656-2856 with many contemporary favorites. Featuring two private dining rooms, The Parlor and The Meadowsť. Nice atmosphere and good food.
(Return to top of page))

SOUTH CAROLINA
Myrtle Beach
Angelo's Steak & Pasta (5/14 $56.35)***
New address:2311 S Kings Hwy, Myrtle Beach, SC 29577 (843) 626-2800
Our last dinner in Myrtle Beach is usually at Angelo's, another favorite of ours. It's a favorite for golfers as well; after a day of chasing the little white ball nothing beats a really good steak and Angelo's serves close to 100,000 of them each year!
It' a favorite with us whenever we are in Myrtle Beach. Great steaks, good service, and a small but delicious Italian buffet served cafeteria style.

Bob Evans Restaurant (5/13 $30.07)***
3384 Waccamaw Blvd, Myrtle Beach, SC 29579(843) 236-5702
we cannot find a local to suggest their favorite restaurant. The service does vary from store to store and they are friendly and attentive at this location. Join the BE Club online for weekly coupon savings. (No they do not pay us to say that.)

East of Chicago 5/12 $17.59)***
3901 N Kings Hwy # 1, Myrtle Beach, SC 29577 (843) 448-3335
A fun, family place with pretty good pizza. We are told it is now closed.

Fuddruckers (5/13 $15.50)***
2101 N Kings Hwy, Myrtle Beach, SC(843) 946-6887
Great burger plates cooked and dressed to your specs. Feel a little wild? Try Buffalo, Elk, Wild Boar or Ostrich burgers. What else can we say? They do make a tasty burger.

K&W Cafeteria 5/12 $21.12)****

7900 N Kings Hwy, Myrtle Beach (843) 449-1442
Good prices and a wide choice of well prepared Low Country dishes. Courteous service, clean, comfortable atmosphere. We always enjoy a visit.

Maggi D's Fine Italian Cuisine (5/14 $43.96)****
407 Seaboard St, Myrtle Beach 29577 843-213-1041
We took our local friends', Patrish and Wally's, suggestion to have dinner at Maggi D's Italian Restaurant near the Coastal Grand Mall in Myrtle Beach. Exceptional service cheerfully prodded on by the jovial owner. We enjoyed the Chicken French and the Spaghetti & Meatballs. A piece of lemon cake for dessert topped off the meal nicely.

Rioz Brazilian Steakhouse (5/14 $66.14)***
took Niki out to the Rioz Brazilian Steakhouse in Myrtle Beach. Neither of us is a big meat eater so we had just the salad bar which offers some 35 items that you don't normally find on an average salad bar. The atmosphere is noisy and chaotic but we both enjoyed our meal. "The Kids" treat was thoroughly enjoyed by the two of us.

In 2012 we tried the full dinner. We found it a bit pricey but worth the visit
at least once. It's truly a dining experience. A huge salad bar together with
the endless variety of carved meats delivered table side make it a dining "happening".

St George, SC (I-95, SC Exit 77))
Georgio's (5/14 $38.79)**
5945 W Jim Bilton Blvd, St George, SC 29477(843) 563-9030 recommended to us for dinner. They had a nice, fresh salad bar, but the Chicken Parm and Alfredo entrees we ordered were nothing special for a dinner tab of $39 with tip. We would have done just as well by choosing
the Pizza Hut next door (maybe better!)

Shug's Southern Soul Cafe (5/14 $30.59)****
5792 Memorial Blvd, Saint George, SC 29477 843-563-23000 Acres RV Park. Owned and operated by Chef Noah Coleman, who knows how to properly prepare the really good down-home Southern staples. They are open for lunch from 10-3 and for dinner from 5pm to 10pm. There are daily specials and a buffet served on Sundays. We both ordered the BBQ chicken special which came with rice and collard greens. All cooked just right and oh so good. Niki says the sweet iced tea is just as good as she makes it. Desserts are made on the premises and we each tried a piece of cake – lemon for Niki and the chocolate cake for Jack. Delicious! A great meal for $30.59 with drinks and tip. We will definitely make it a point to
stop when we are on this route again.

Surfside Beach, SCC
120 Item China Buffet (5/14 $27.17)**
1700 U.S. 17 Business, Surfside Beach, SC (843) 828-1111
It was our favorite Chinese in the Myrtle Beach area at one time. Clean, bright, airy, with a great selection and a good price. Perhaps it is under new ownership but the food quality has slipped.

Bubba's Fish Shack (5/12 $41.72)***
16 S Ocean Blvd, Surfside Beach, SC 29575 (843) 232-9798
Pretty good seafood but not sure if the quality matches the price.
(Return to top of page)


TENNESSEE
Dickson, TN
Camino Real Mexican Rest (10/12 $29.11)****
444 Highway 46 S, Dickson, TN 37055 (615) 441-9911
Delicious Mexican food prepared properly and served in a friendly family atmosphere.

Sisters Restaurant 7am-2pm (10/12 $20.30)****
207 E Rickert Ave, Dickson, TN 37055 (615) 441-4737



best. There is a daily rotation of 2 meats and 6 sides for under $7 lunch or $10 dinner. There is usually a line as the locals and business people know where to go. Owned by two black sisters who know what they are doing in
a kitchen. We guarantee you'll love this one! Check out the weekly
Thursday turkey and dressing day.

East Ridge, TN (I-75, TN Exit 1))
Portofino's Greek & Italian (10/13 $52.56)****
6407 Ringgold Rd, East Ridge, TN
Ahh, a new favorite Greek/Italian place to add to our list. Niki had the Chicken Florentine and Jack had the Spaghetti Portofino. The food and the service were superb. People do drive from miles to come to this restaurant. It's a favorite spot for locals to celebrate birthdays and other special events. It's also very close by Exit 1 off I-75 in Tennessee.

Hurricane Mills, TN
Loretta Lynn Kitchen (10/12 $18.99)**
15366 Highway 13 S, Hurricane Mills, TN 37078-2347 931-296-1122
Just off I-40, Exit 143 and high on a hill. $10 buffet or order from the menu. Simple down-home Southern fare, some items fresh made some from a can. Of course there's a LL gift shop as well.
(Return to top of page)

VERMONT
Arlington, VT
Chauncey's Family Restaurant (6/14 $25.45) **
5403 Vermont 7A, Arlington, VT 05250
Phone:(802) 375-1222 to us. We waited ... and waited and finally Jack had to go track down a waitress to enter our order. It took forever to come and was barely warm when it arrived. Service in a good restaurant is as important as the food to
us. We would give this place one star but for the food had great taste - if it wasn't served cold. Just our opinion.

Middletown Springs, VTT
Sissy's Kitchen (7/16 $23.66) ****
10 West St, Middletown Springs, VT 05757
(802) 235-2000 This is worth a side trip whenever you are anywhere near this part of the Green Mountain State! This small portion of their menu gives a better idea of what you'll find:
THE STECCA (REUBEN) - CORNED BEEF, SWISS CHEESE, SAUERKRAUT AND RUSSIAN DRESSING, BBQ PULLED PORK WITH COLESLAW, CHICKEN SALAD WITH TOMATO SANDWICH, PROSCIUITO, MOZZARELLA AND PESTO, ROAST TURKEY BREAST (STONEWOOD FARM), LETTUCE, MAYO AND TOMATO, VERMONT HAM WITH HONEY MUSTARD, TOMATO, RED ONION AND SWISS, THE BENE WRAP - SUN DRIED TOMATO PUREE, BLACK OLIVE
TAPENADE, SPINACH, HUMMUS, BLACK BEANS, ROASTED
RED PEPPERS AND CHEDDAR CHEESE, THINLY SLICED RARE ROAST BEEF (VERMONT FAMILY FARM) WITH BOURSIN CHEESE SPREAD, LETTUCE AND RED ONION.
Be sure to save room for one of their unique, mouth-watering desserts made fresh daily..

Rutland, VT
Ninety Nine Restaurant & Pub (8/16 $26.84)*
315 S. Main Street, Rutland, VT 05701 (802) 775-9288
We last stopped here in 2014 and had a 3-Star, 3-course chopped sirloin dinner. The sirloin was overcooked but otherwise a tasty lunch. This time we "splurged" on the 3-course lobster special ($17.95) - a mistake. Our waiter was lax, inattentive, unfriendly and probably in the wrong profession - an "It's just a job!" attitude. The shrimp was rubbery - the lobster moreso - to the point of being difficult to cut. The stuffing over-seasoned. My drink was not served until after the salad course. No coffee refill until the end of the meal. The manager apologized and did not charge for one meal. Overall a very bad experience and we will find a better establishment when next in Rutland.

Palms Restaurant (5/14 $50.81)**
38 Strongs Ave., Rutland, VT 05701 802-747-6100 Good flavor but burnt and they were aghast that we would find fault with their food. Poor reaction from the owner/manager plus the singed food rate
it not a good value for the price.

Vergennes, VT
The Bridge Restaurant (6/13 $24.77)***
17 Vermont 17, Vergennes, VT 05491 (802) 759-2152
Folks travel from miles around for limited seating but very good home-cooked foods, soups and salad plates. A favorite place with locals and tourists alike. Where you can often find local farming couples discussing weather and crops with their neighbors.

Weston, VT
The Bryant House (5/12 $38.63)**
657 Main St, Weston, VT 05161 (802) 824-6287
Stands beside the Vermont Country Store. Country home refurbished as a restaurant. Inattentive service and not the quality of food one would expect for the price. Our visit was at lunchtime.
(Return to top of page)



VIRGINIA
Ashland, VA
Applebee's (5/13 $40.39)***
101 S Carter Rd, Ashland, VA 23005 (804) 798-2334
AApplebee's has good food as a rule and though a little on the expensive side our opinion usually comes down to the service received. On this day we found the service slow and unattentive but if you are an Applebee's food fan you probably will enjoy your visit here.

China Star Restaurant (5/13 $23.95)*
9531 Kings Charter Dr, Ashland, VA 23005(804) 550-1505
The food was average at best. We didn't see many locals eating there which usually tells us a lot. We won't be going back.

Guido's Italian (5/13 $51.06)****
9563 Kings Charter Dr, Ashland, VA 23005(804) 550-9009



Next time do your taste buds a favor and pay Guido's a visit. They open at 4pm on Saturdays. We arrived a little early (before the waitstaff) but the
chef ushered us in, made us comfortable, took our orders and checked on
us several times even after the wait staff came on duty. To say the food is even better than the service would not be an exaggeration! One of our favorite dining spots in Virginia on the road. Try it and we think you'll like it.

New Market, VA
Southern Kitchen (5/14 $45.87)*9576
S Congress St, New Market, VA 22844 (540) 740-3514 at the tables along the walls. We didn't really enjoy the food that much and
it is rather pricey. Again, we don't complain about price if the food quality and service merit it. This place is not a good value. However we do recommend a frozen custard stand also in New Market on US-211 just as you start out of town toward the Blue Ridge Parkway. They have a hot fudge brownie creation that you won't soon forget!
(Return to top of page)
.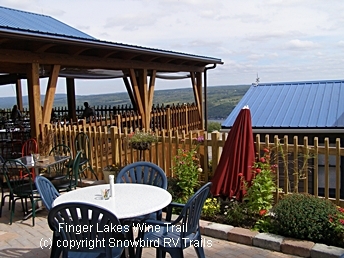 Bully Hill Winery, Hammondsport, NY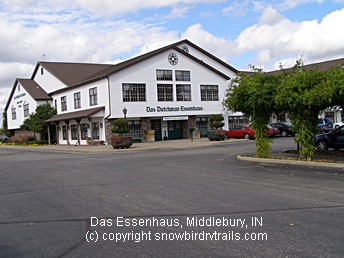 Essenhaus, Goshen, IN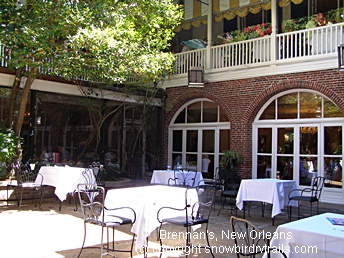 Brennan's, New Orleans, LA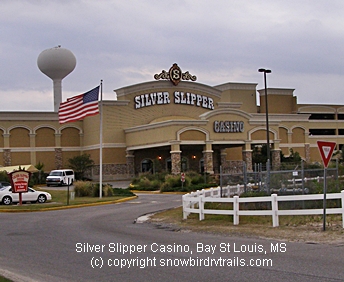 Silver Slipper, Bay St Louis, MS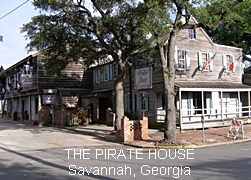 The Pirate House, Savannah, GA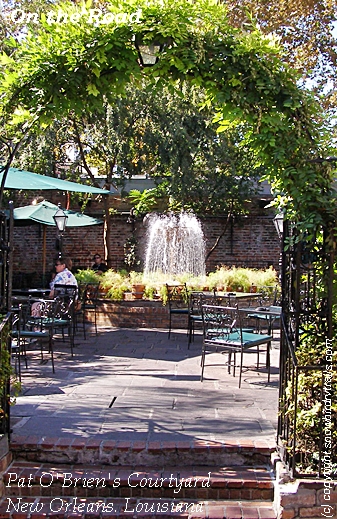 Pat O'Brien's, New Orleans, LA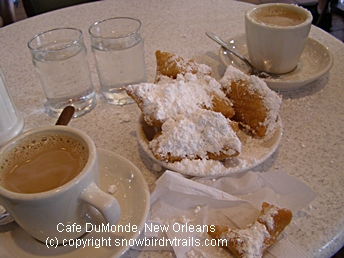 Cafe DuMonde, New Orleans, LA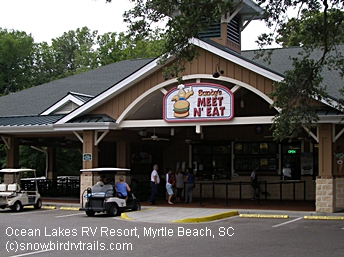 Ocean Lakes, Myrtle Beach, SC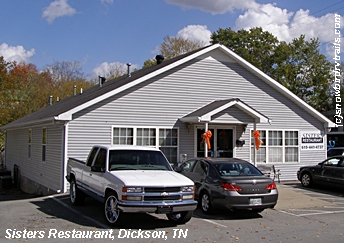 Sisters Restaurant, Dickson, TN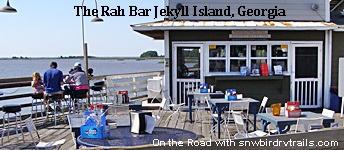 The Rah Bar, Jekyll Island, GA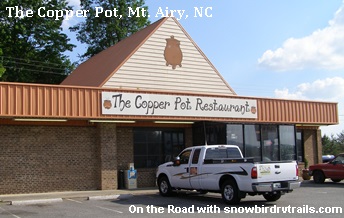 The Copper Pot, Mt Airy, NC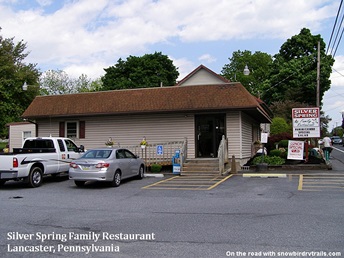 Silver Spring Restaurant, Lancaster, PA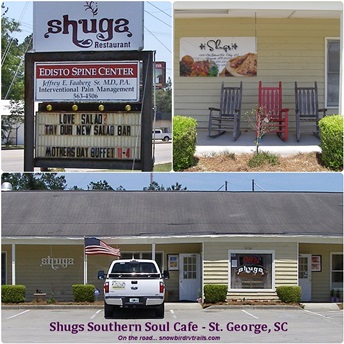 Shugs Southern Soul, St George, SC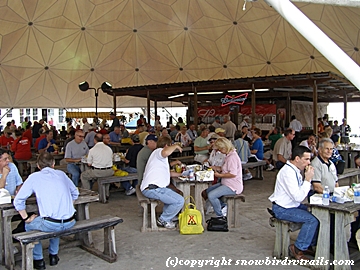 Florida RV Super Show, Tampa, FL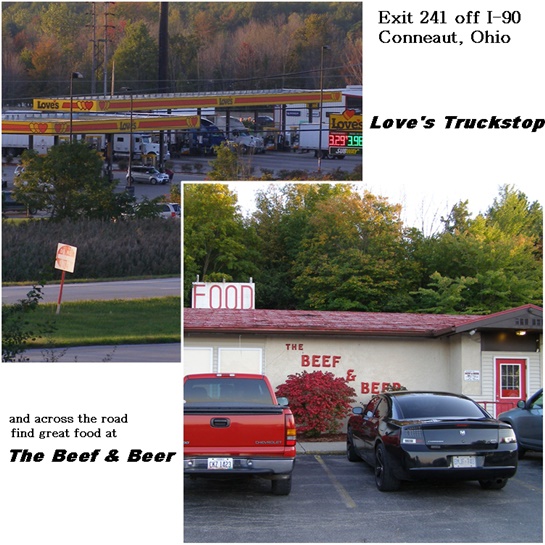 The Beef & Beer, Conneaut, OH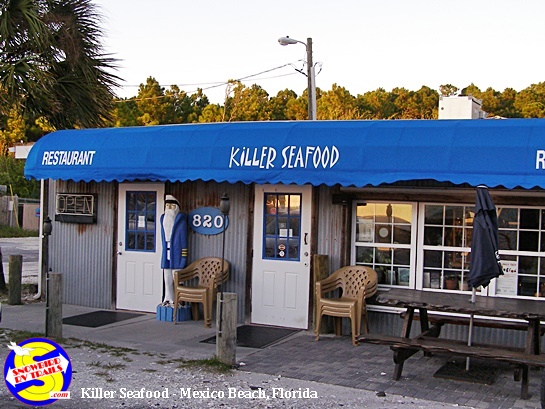 Killer Seafood, Mexico Beach, FL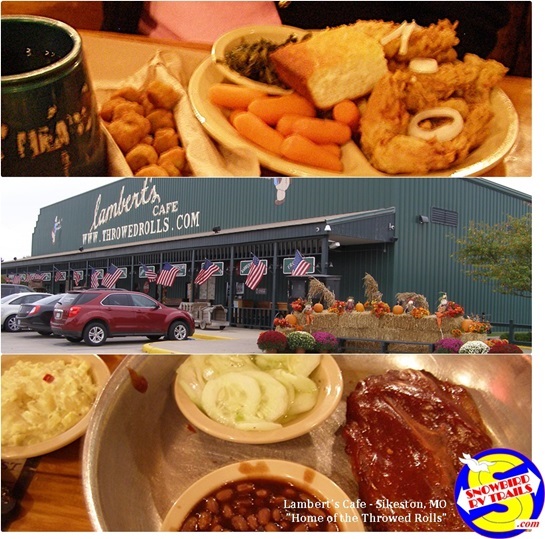 Lambert's Cafe, Sikeston, MO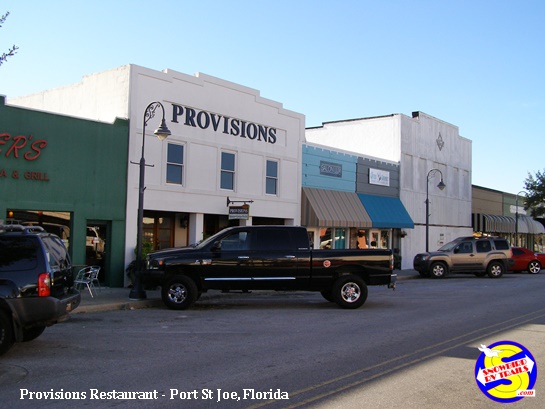 Provisions, Port St Joe, FL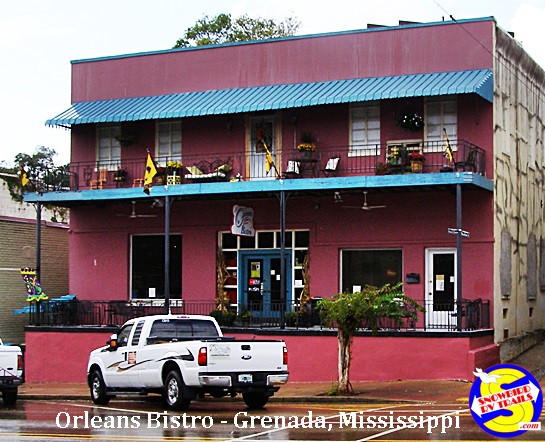 Orleans Bistro, Grenada, MS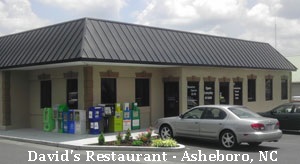 David's Restaurant, Asheboro, NC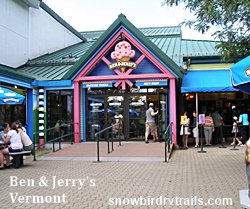 Ben & Jerry's Factory, Waterbury, VT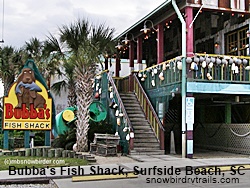 Bubba's Fish Shack, Surfside Beach, SC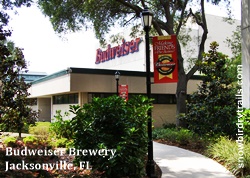 Budweiser Brewery Tour, Jacksonville, FL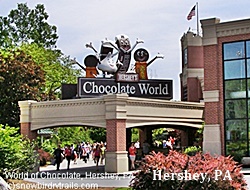 Chocolate World, Hershey, PA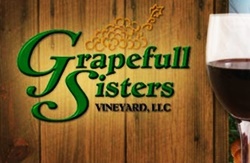 Grapefull Sisters Winery, Tabor City, NC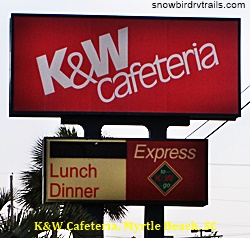 K&W Cafeteria, Myrtle Beach, SC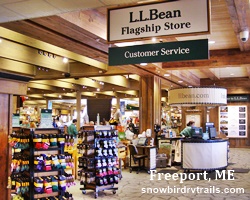 L.L. Bean Flagship Store, Freeport, ME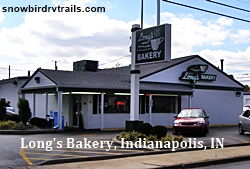 Long's Bakery, Indianapolis, IN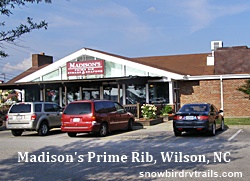 Madison's Prime Rib, Wilson, NC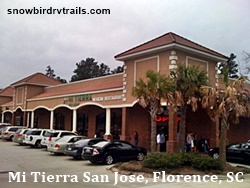 Mi Tierra San Jose, Florence, SC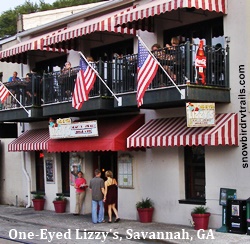 One-Eyed Lizzy's, Savannah, GA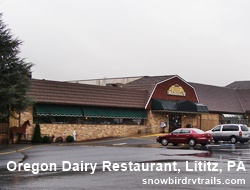 Oregon Dairy Restaurant, Lititz, PA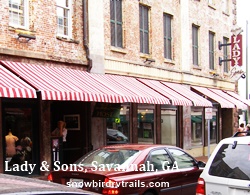 Paula Deen's, Savannah, GA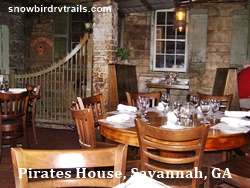 Pirates House, Savannah, GA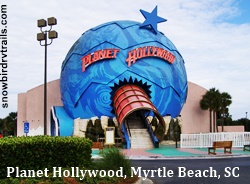 Planet Hollywood, Myrtle Beach, SC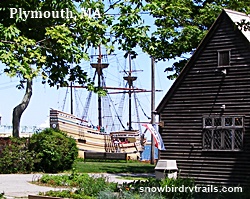 The Mayflower, Plymouth, MA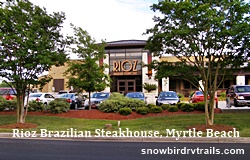 Rioz Brazilian, Myrtle Beach, SC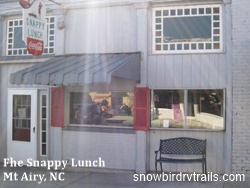 Snappy Lunch, Mayberry, NC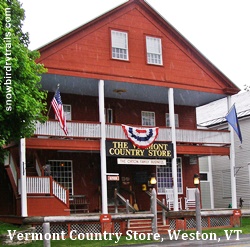 Vermont Country Store, Weston, VT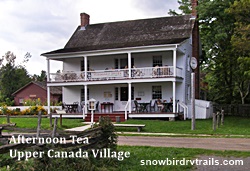 Afternoon Tea in Upper Canada Village