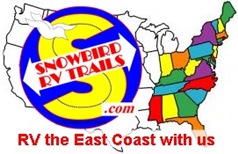 .
We're all about RVing, Trip
Planning, Workamping &
Enjoying Every Journey

We've the following pages ready for your mobile use:
BEST EAST COAST RV ROUTE SOUTH FROM CANADA & NEW ENGLAND TO FLORIDA

BEST EAST COAST RV ROUTE
NORTH FROM FLORIDA TO CANADA & THE NORTHEAST

Rest Stops South on the Best East Coast RV Route

Rest Stops North on the Best East Coast RV Route

Trip Planning Aids

About Snowbird RV Trails
We travel North to do a little Workamping in the Summertime and South to someplace warm and sunny for the cold months. Trips North and South with different routes and campgrounds each time and set a leisurely pace for getting from here to there. We look for the best routes and best values for our retirement $$$ in campgrounds, restaurants, and sightseeing. We "road-test" some RV gadgets and we review everything with photos, costs and all of the pros and cons.

Your hosts,

Jack, Niki, K.C. & B.B.

Need an RV route, campground or restaurant suggestion? Want help planning the next trip? Would you like more information about Workamping and Free job sources? We invite you to hop aboard for a few miles as we visit new places, find friendly faces and enjoy life along the Snowbird RV Trails.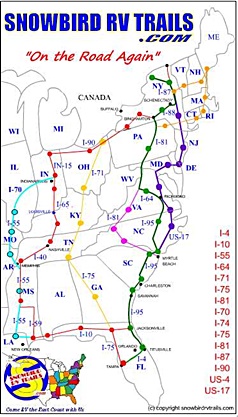 PLANNING IT
Tips and sources to find some answers to help plan your next RV trip
.


ROUTES
Our
East Coast RV routes, maps, photos and costs for Snowbirds and all RVers.
CAMPGROUNDS
Economical Parks with local attractions we've visited by State and City.
WORKAMPING
Our Workamp experiences
and free sources for
100's of current Workamping jobs.

FRATERNAL The organizations with RV campsites for their members.

OPEN 4 SEASONS Northeast campgrounds open All 4 Seasons

SNOWBIRD EMAILBAG We invite your question, comment or complaint and we'll throw our 2 cents in.

DAILY BLOG When we are on a new RV route or any interesting Day Trips we can share.

DINING REVIEWS Our unbiased Restaurant Reviews from the road by State & City



Have a question, suggestion, or comment?
Send Us A Note
we love to talk RVing!

RETURN TO HOME PAGE

Entire Contents
(c) Copyright Snowbird RV Trails
All Rights Reserved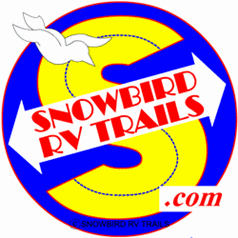 .