Need an RV route, campground or restaurant suggestion? Want help planning the next trip? Would you like more information about Workamping and Free job sources?

We are learning everyday and happy to share what we find.





Have

a question, suggestion, or comment?




Send us a note -



Email Jack and Niki




Welcome from Niki and Jack!



We are all about RVing, Trip Planning,
Workamping and just enjoying
the RV Life on the road!

Here's what you'll find on our website -
Just click a pic below...


An easy to find listing of our route maps, articles, reviews, photos and videos.

North/South RV Routes with maps, photos, campgrounds, reviews and costs. Atlantic to the Mississippi River.

Tips and many free resources to find your answers. How Niki & Jack plan our next RV trip.

Our visited campgrounds,RV Parks, local attractions by State & City.

Our Work Camping experiences

&

Free sources for

hundreds of current Host and Campground jobs.

Clubs and organizations with campsites for their members and often for others.

Four Season campgrounds in the Northeast & New England

open year around.

We invite your questions and comments and we'll always answer to the best of our ability.

Things to do, people & places of interest from our readersor we find in our travels by RV or the Internet.

We love Mom & Pop restaurants & we review them along the Snowbird RV routes as we find them.





Welcome Aboard!

We are Your Hosts on this trip - Jack, B.B. Stanley, Jasmine and Niki


The Armstrong's


Since 2009 we have ventured up and down the East Coast from New
England to the Gulf Coast and from the Atlantic Coast to the Mississippi.

We've enjoyed four different RV's - including a motorhome and three Fifth
Wheels - but never a Class B. We have corrected that oversight
with the recent delivery of our 2018 Roadtrek.

More About Niki, Jack and Our
Snowbird RV Trails Philosophy




Jack and Niki are Lifetime Members and
use Passport on average 75% of the time.

SNOWBIRD RV TRAILS
"ON THE ROAD" TO DATE

RV MILES

CAMPGROUNDS

40,896

195

Our Goals - New Routes, Discoveries & More Fun Each Year.
Hop aboard and join us won't you?


Are you looking for the best


FALL ROUTE SOUTH

FROM THE


NORTHEAST & CANADA ?
It's our New England & Canada to Florida and the Gulf Coast
with a Companion List of Rest Areas on the route

It's also our favorite choice for
"Best" Wintertime Route South
NO mountains! NO Eastern big cities!



This is our favorite Springtime




Snowbird RV Route North


to New England and Canada

Our other most requested route is our
Favorite "Loop" through the New England States
BUT WAIT! (Where have we heard that before?)
After 40,000+ miles we have found some favorite routes
to share with you. You'll find mileages, campgrounds, special
restaurants, our reviews and fun places to visit in our Trip Logs on
OUR ROUTES PAGE

For example we invite you to join us on a recent three week, 2,600 mile
circuitous loop that took us from Tampa, Florida through Georgia, Tennessee,
Kentucky, Indiana, Illinois, Missouri, Mississippi, Alabama and back to Tampa.
We had ten stopovers, some great dining and many new discoveries.
Hop Aboard!
HOW MUCH does it cost to be an RVing "Snowbird"?
We crunched some numbers for you from two recent trips.
These are actual costs for our 32' Excel 5th Wheel & Ford F-250.
A quick Snowbird trip North for the Summer and a leisurely trip back South for the Winter.
All costs always subject to change of course.
Destination

A SUMMER SEASON
in The Adirondacks, Upstate NY
A WINTER SEASON
in New Port Richey, Florida

Route Miles

1,512 Miles North - 7 days
1,478 Towing & 34 Local Sightseeing
1,922 Miles South - 17 days
1,622 Towing & 300 Local

Gasoline Used

$415.
Average

9 mpg

Towing
$460. (better gas prices!)
Average 9 mpg Towing

Campgrounds

$223. = 6 Campgrounds
Three half-price campgrounds
$568. = 8 Campgrounds
Good Sam & Passport America

Restaurants

$177.
One main restaurant meal per day
$514.
One main restaurant meal per day
Destination
Site Rent

Seasonal (Memorial Day to Columbus Day) May to October @ $900.

6 Month Season - 186 Days
Nov 1st to Apr 30th @ $2,500.

Total Trip Cost

$816.

$1,565.

Expenses

June

July

August

Sept

Nov

Dec

Jan

Feb

Mar

Apr

Metered Electric

$54

$54

$54

$54

200kwh free each month in contract

Propane
30# Tanks

$24.

$24.

$18.

$12.

Hop Aboard and take the trip with us

Spring Snowbird Trip North from
Tampa to the Northeast via I-95,
I-26, I-77, I-81, I-84, I-87.
Fall Snowbird Trip South from the
Northeast to Florida via I-87, I-78,
I-81, I-40, I-75.

Find 18 different East Coast, North & South RV routes we
have taken with maps, mileages, rest stops, campground
stopovers & costs. All with Niki & Jack's reviews on the
Quick Click Index Page

___________________________________________________________
What is an RV road trip really like?
Is RVing something you might like to do?
We had the same questions when we started this adventure
so now we post our plans, route maps, campground and
dining reviews, costs and summaries of our trips on
this website to hopefully help you decisions.
You can find it all listed in
Our RV Life Index
___________________________________________________________

Niki & Jack's Tampa Bay Vacation and FL Suncoast Guide
It's our What to do - Where to go - Finding Cheap Eats, Fun Listing
for the Tampa Bay, St. Pete & Clearwater Beach areas -
our home base - the Suncoast of Florida!
While we are at it we invite you to join our Facebook page where
we just have fun sharing current events in our lives with
all our FB and RVing friends we enjoy on the Net-
Our Snowbird RV Facebook Page
nothing formal just things that come along that pique our interest
including Work Camping Opportunities when we receive them
and you're invited to join in and comment at will!
Making RV life easy and fun department!
We love gadgets that make our lives easier.
These are some we've actually added to our 5th Wheel RVs.
Niki and I are often asked what else we've added to our rig or what we
would suggest that makes RV Life easier and safer or just more fun....
RV Gadgets, Gizmos and
Other Useful Products

It's our "catalog" of items we've bought and
added to our own RVs over the years. All are
available from Camping World or Amazon.
____________________________________________________________
Stay connected with Niki, Jack and Snowbird RV Trails






Click your choice above and follow our "trip-tested" RV routes,
restaurant reviews, as well as campground ideas, tips, photos,
facts, figures and suggestions. "Follow" us on Facebook and
Wordpress for our current adventures.
Share Snowbird RV Trails with your friends and family



____________________________________________________________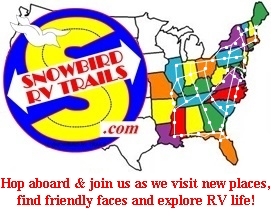 Have
a question, suggestion or comment?
Send us an email
Note for Jack & Niki
We'd love to hear from you
and we do answer every email
_______________________________________________