The Central New England and
WINTER OFF-SEASON ROUTE we'd use.
It avoids the mountains and all East Coast large cities!

From Canada take I-87 South towards New York City.

From New England take I-84W to I-87S to I-287S around NYC.

Then from I-87 use the right lane to take Exit 15 for NY-17S/I-287S.
Keep right to stay on I-287 S (for 45.6 mi).
Take NJ Exit 21B to merge onto I-78 W
toward Easton Pennsylvania (for 107 mi)
Take I-81S (connecting just North of Harrisburg.
Take I-81S to I-66 East below Winchester, VA
From I-66 pick up US-17S to I-95 at Fredericksburg, VA

1. New England Stopovers
Due to harsh Winters in the Northeast and most campgrounds water pipes being buried close to the surface there are few that remain open during the Winter months. What to do?

We have three suggestions for overnight Winter stops:

I-78 Rest areas along the Northeast route at
https://roadnow.com/i78/restareas
Most do not allow overnight parking but a few hours rest is all you
need normally and they will suffice. Be alert in rest areas after dark.

I-81 Pennsylvania Rest Areas
https://www.interstaterestareas.com/pennsylvania-interstate-81/
Overnight at aTruckstop
There is one Pilot Travel Center (Truckstop) at Exit 1 of I-84. Store:222,
400 Haynes Street Route 15, Sturbridge, MA 01566
https://pilotflyingj.com/stores/222
They do take reservations - Phone: (508) 347-9104
Find other Pilot/Flying J truckstops near you at
https://www.pilotflyingj.com/store-locator/
Our Off-Season listing of Campgrounds in the Northeast at
http://www.snowbirdrvtrails.com/offseason.htm
Always phone ahead to any "open year-round" campground
to be sure they are open and have a space for you.

Another option is Cracker Barrel Restaurants. They have great food and most are very hospitable to RVers.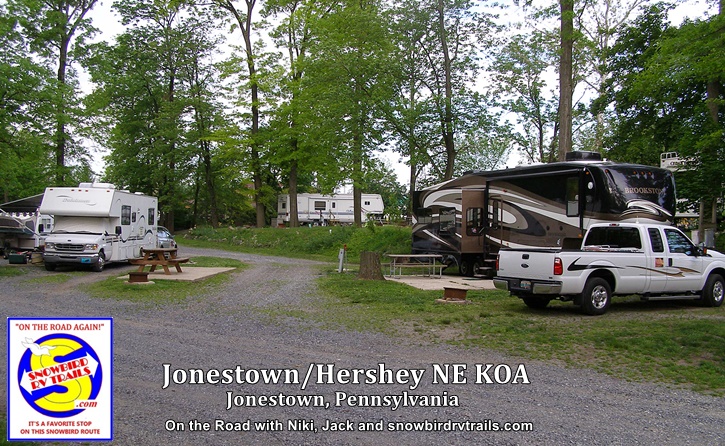 Jonestown-Hershey KOA in Jonestown, Pennsylvania

Our First 4-Season Overnight Campground - Jonestown, PA
191 miles from Newburgh, NY
267 miles from Hartford, CT
326 miles from Alexandria Bay, NY
496km from Niagara Falls, Canada
785km from Montreal, Canada

1.

Jonestown/Hershey NE KOA


11 Lickdale Road, Jonestown, PA 17038
Open Year-round
Phone: 800-562-2609
I-81, Exit 90

We overnight at this campground regularly mainly because it is so convenient to I-81. The price is more than we usually like to pay but throw in the amenities like free cable, fair WiFi and a decent cafe that will deliver lunch or dinner to your door and it works for a night.

Each site is a pull-thru with concrete pad and full hook-up (FHU). It's an easy drive to visit Hershey Park from this campground or they do offer a free shuttle bus ride (Summer Season) to Hershey Park when admittance tickets are purchased from their office.
There is also a large truck stop for fuel at this Exit.

Our Review, Directions and Video

Always

phone ahead to any "open

year-round" campground to be sure they are open and have a space for you.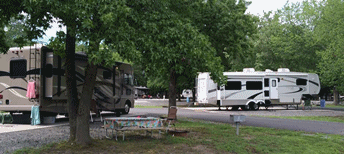 Kings Dominion, Doswell, Virginia



2. Doswell, VA
(261 Miles from Jonestown, PA )
Richmond North / Kings Dominion KOA
10061 Kings Dominion Blvd, Doswell, VA 23047
Open All Year
Reserve: 800-562-4386
Info: 804-876-3006
https://koa.com/campgrounds/richmond-north/
I-95, Exit 98


Be sure to phone ahead to any "open year-round" campground to be sure they are open and have a space for you.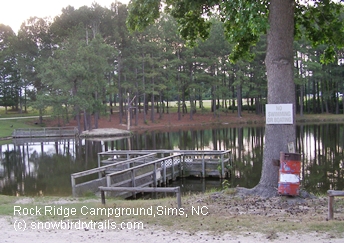 Rockridge Campground, Sims, North Carolina



3. Sims, NC
(167 miles from Doswell, VA)
Rockridge Campground
7030 Rock Ridge School Rd, Sims, NC 27880
Phone: (252) 291-4477
Open Year-round
I-95, Exit 116


See our review:

http://www.snowbirdrvtrails.com/rockridge.htm


Always

phone ahead to any "open year-round" campground to be sure they are open and have a space for you.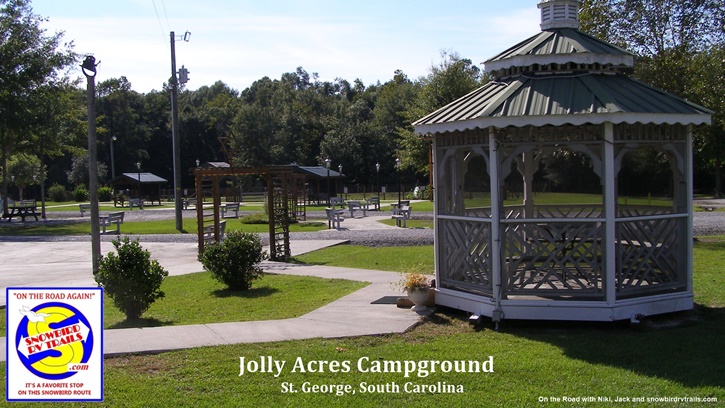 Jolly Acres Campground in St. George, South Carolina


4. Saint George, SC
(247 Miles from Sims, NC)
*Jolly Acres Campground
289 Horne Taylor Road
Saint George, SC
Open Year-round
Phone: 843-563-8303
I-95, Exit 77

Located 6 easy miles off I-95 - we like it because it is out in the country - clean, quiet, peaceful and run by nice, friendly people. Becky owns the place and is always making improvements. She also raises champion Boxer dogs. They have pull-throughs, 30 Amp, good water, a dump station, propane and laundry facilities. Jolly Acres is usually nearly filled to capacity with Snowbirds during the Winter months but call ahead and Becky can normally fit you in for a night or 2.

Other reasons we like this stopover is the Pilot/Flying J Truck Stop near the Interstate for easy refueling or a quick overnight stop if needed. There are also 2 very good restaurants in Town:

"Shug's Southern Soul Cafe," 5792 Memorial Blvd, Saint George, SC 843-563-2300
Owned and operated by Chef Noah Coleman and his wife. They know how to properly prepare the really good down-home Southern staples. They are open for lunch from 10-3 and for dinner from 5pm to 10pm but closed Sunday through Tuesday. There are daily specials. We both order the BBQ chicken special which comes with rice and collard greens. All cooked just right and oh so good. Niki says the sweet iced tea is just as good as she makes it. Desserts are made on the premises and we each tried a piece of cake – lemon for Niki and the chocolate cake for Jack. Delicious! A great meal for $30.59 with drinks and tip.

"Skynyrd's Grill & Sports Bar," 129 Motel Drive, St. George (843) 563-4112.
Cozy sports bar restaurant with multiple TVs and a Jimmy Buffet atmosphere. Inside and outside seating with a pretty good-sized menu. Their burgers and sides get very good reviews. We ordered a shrimp and an oyster Po-Boy- one with a side of mac & cheese and the other with a side of "chippers" (homemade potato chips). The food and the service both were good enough to rate our 4 stars

Our Review, Directions and Video

Be sure to phone ahead to any "open year-round" campground to be sure they are open and have a space for you.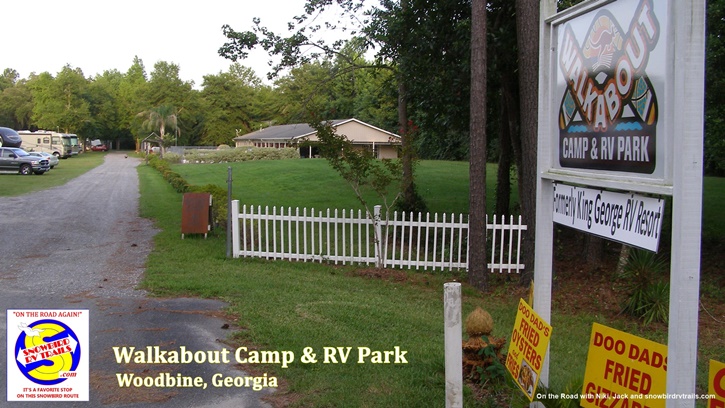 Walkabout Camp and RV Park in Woodbine, Georgia


5. Woodbine, GA
(188 miles from Saint George, SC)
*Walkabout Camp & RV Park
742 Old Still Road
Woodbine, GA 31569
Open Year-round
Phone: 912-729-4110
I-95, Exit 7

We have stayed at this campground before. The newest, young owners from "Down Under" had plans to make improvements and develop it into its full potential. The pace is slow. There is no drainage from the sites, grass covers the formerly gravel pads. We set up with rain water 2" deep on our site. I could not find the sewer as it was flush with the ground and also under water. The fire ants which I do remember from a previous visit attacked with a vengeance while I was setting up. They tend to make resultant life miserable for at least 3 or 4 days. The sites are so close you might have trouble extending your awning. The price is reasonable if you are a PA member but we will not be staying here again unless we hear they have made significant improvements.

We did order pizza - delivered to the campground. "Katie's Best Pizza" (912) 729-5550 makes a pretty good thin crust pizza 14" Deluxe @$19.07.

Better stopover choices (rather than Walkabout) would be Golden Isle RV Park, 7445 Blythe Island Highway, Brunswick, GA I-95, Exit 29 which is 24 miles before Woodbine - a good place to camp and take a day trip to Jekyll Island.

Our next choice would be Pecan Park RV Resort just off I-95 at Exit 366 in Jacksonville, FL. It's actually only 24 miles South of Woodbine, GA. It is a resort with concrete pads, grass, pool and next door to a weekend Flea Market. You might enjoy the Budweiser Brewery tour also not so very far away.

Our Review, Directions, Video and Alternates

Always phone ahead to any "open year-round" campground to be sure they are open and have a space for you.

Alternate Stopovers to Walkabout Camp & RV Park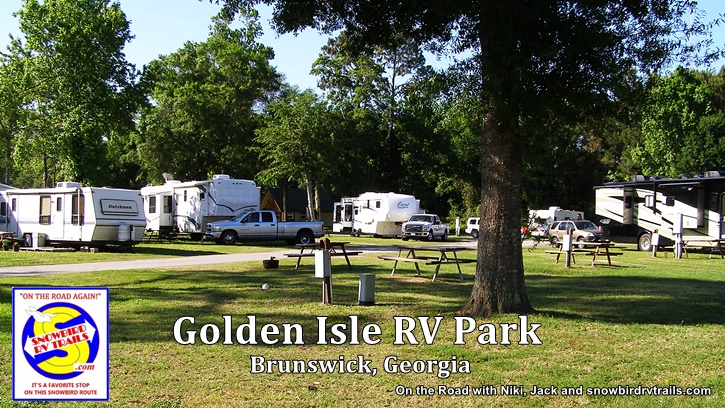 Golden Isle RV Park in Brunswick, Georgia


Brunswick, Georgia
(167 miles from St. George, South Carolina)
*Golden Isles RV Park
7445 Blythe Island Highway, Brunswick, GA
Phone: (912) 261-1025
I-95, Exit 29



Easy off/on I-95 and convenient for a night's stopover or longer and a visit to Jekyll Island which is close by

,

Our Review and Additional Info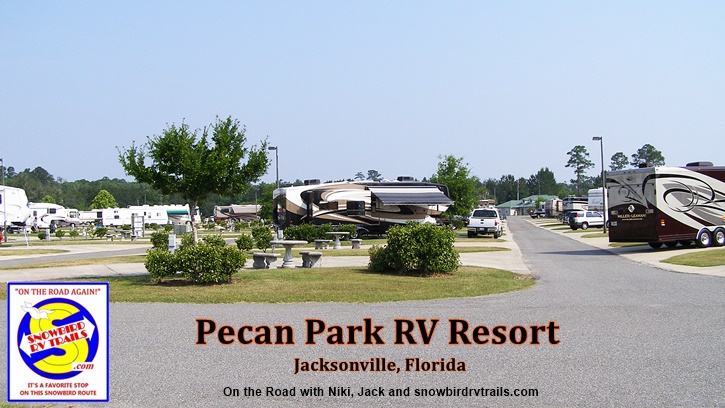 Pecan Park RV Resort in Jacksonville, Florida


Jacksonville, Florida
(212 miles from St George, SC)
*Pecan Park RV Resort
650 Pecan Park Rd, Jacksonville, FL 32218
Phone: (512) 396-0070
I-95, Exit 366

Our Review and Additional Info

(*) Indicates a Passport America Campground

and the road continues on - for instance -
Woodbine to Tampa (230 Miles)
Woodbine to Orlando (150 Miles)
Woodbine to Miami (355 Miles)
Woodbine to Fort Myers (325 Miles)

NOTE: We also have a listing - by State and Route -
of all REST AREAS heading South or North along this route:

List of Interstate Rest Areas Southbound
NY/Canada Border to Tampa, Florida

List of Interstate Rest Areas Northbound
Tampa, Florida to the NY/Canada Border



Other Overnight Options:

WALMARTS ALLOWING OVERNIGHT PARKING

CRACKER BARREL (Bus/RV accessible)