NEW YORK STATE
Chateguay, NY
Leonard's Cherry Knoll Restaurant (9/13 $38.34)*
5676 State Route 11, Burke, NY 12917 (518) 483-6688
The food barely makes it to so-so and beware of the cream pies, When
Jack doesn't finish a piece of pie there is a real problem.

Chestertown, NY
Main Street Ice Cream Parlor & Restaurant (7/13 $55.71)***
6369 Main St, Chestertown, NY 12817 (518) 494-7940
Early historic building. Best place in the area for entrees, sandwich plates
and ice cream treats. Often times there is a waiting line.

Crown Point, NY Gunnison Lakeshore Orchards Olde Farmhouse Bakery & Gifts

Route 9N & 22, Crown Point, NY 12928 518-597-9222
Gunnison has been in the area before and since the steamboats traveled
Lake Champlain. If you want great NY apples this is the place to stop and
if you want the best in homemade donuts, pies and cookies this is definitely the place to pull into. Niki says the "Fruit of the Forest" pies are always #1 on her list. Need a dessert for a Summer picnic? Any pie is sure to be a hit. The maple cookies are a big hit also.

Elizabethtown, NY
Halfway House (8/15 $32.45) **
7158 U.S. Rte 9, Elizabethtown, NY 518-873-2198
Good restaurants are few and far between on this Eastern edge of the Adirondacks. This place looked nice from the outside and we entered with no preconceived notions. The young lady waiting on us must have been new as she had to check with the bar or kitchen with any question we asked. She was cheerful and attentive. We asked about a cup of the "Special" soup of the day and were told "We don't do cups - only bowls". She checked with the kitchen and if we wanted a cup it would be a dollar less than the $6.50 for the bowl - we declined. The entrees on the menu were priced far beyond what a good "Mom & Pop" restaurant would charge so we ordered from the lunch sandwich menu - Coffee, Bud Light, Crabby Patty Sandwich w/sweet potato fries and the Reuben w/fries. The sandwiches were good (with the exception of a LARGE chunk of shell in Niki's Crabby Patty) but the wait was so long we almost paid for our drinks and left. The owner apologized as we were leaving and said that he had to fire his cook the day before and his wife was doing her best to fill in.

Granville, NY
AJs Fine Food and Spirits (7/13 $21.10)**
72 Quaker St Granville, NY 12832 (518) 642-3237
Highly recommended to us as a locally owned and very good Mom & Pop type restaurant, the kind we like to visit. More a bar with food than a great restaurant. When asked if the pasta sauce was homemade, the waitress had to ask the kitchen who said it was not. They did have a small but nice soup
& salad bar which came with the dinner entrees. The main feature of the restaurant was the 80 different beers they offered. If you are not a beer aficionado then you might skip the place though we were told that the
burgers were very good.

Hammondsport, NY
Bully Hill Winery Rest (9/14 $80.01)*****
8843 Greyton H Taylor Memorial Dr., Hammondsport, NY
One of very few 5 stars that we give. The scenic drive within sight of Keuka Lake and through the vineyards to get here from our Camp Bell Camp- ground is almost worth the effort in itself. The restaurant and winery sit on
the hillside above the Lake offering a spectacular view while you dine on
your choice of fabulous entrees. It's a pricey lunch but worth every penny. We make a point to stop here whenever we are going through the Finger Lakes Region.We both enjoy the house special, a large crabcake on a
larger Portabello mushroom with giant scallops on top, with sides of french fries, tossed salad, and marinated cucumbers. Each accompanied by a glass of Bully Hill wine. That's a Riesling for Niki and Estate Red for Jack.

Hudson Falls, NY
Sally's Hen House (6/14 $34.32)***
3978 State Rte 4, Hudson Falls, NY 12839 518-746-0040
(518) 636-3231
One of our favorites. Small country diner and a favorite with the locals. Home-cooked food. Large portions and Good prices. You cannot go
wrong ordering their Daily Special.

Ironville, NY
Penfield Homestead Museum (8/13 $20)**
50th Heritage Day 1964 - 2013
Old fashioned chicken BBQ incl half chicken, baked potato, corn on the cob, baked beans, roll & butter. Historic community off the beaten path located in Crown Point, NY. "Birthplace of the Electric Age". First Use of electromagnet in iron ore mining operation. They have an Annual Summer BBQ.

Keeseville, NY
Mac's Ice Cream Parlor & Diner (7/15 $19.75) **
Rte 9N (I-87/Exit 34), Keeseville, NY
In our quest for a better Michigan (after reacquainting ourselves onthis visit with a Gene's version), we stopped in Keeseville at Mac's on Rte 9N at
Exit 34 of the Adirondack Northway. We rate Mac's as 2 stars in our Michigan race. Though the bun was toasted nicely, the dogs were grilled to the point of black and burned. The sauce was more toward the chili side without any character of its own. (Hormel has a canned sauce that closely matches this one.) The fries were greasy. The soft ice cream in the sundaes was very good but we really can't remember when we had to pay 80 cents
extra for nuts on a sundae - though the cherry was free - I think.

Lake George, NY (I-87, Exits 20 & 21)
Barnsider Barbecue Restaurant (8/13 $28.45)***
2112 U.S. 9, Lake George, NY 12845 (518) 668-5268
We were looking forward to trying this place. Big selection of local micro-brewed beers. Jack tried 2 and gave up. The BBQ isn't very good either, BUT the waitress, cornbread, and macaroni salad were great. (You might
be better off going the Dickey's franchise a few miles down the road.

Giovanna's On the Lake***
384 Canada St, Lake George, NY 12845 (518) 668-5401
We sampled this restaurant as part of A Taste of Lake GeorgeŁ. Beautiful setting with a view of Lake George. The food was very good but they had just hired new help and they were doing poorly. We had a long wait but the wine helped.

Lake Placid, NY
Ashley's (8/12 $22.13)***
2726 Main St, Lake Placid, NY 12946 (518) 523-2540
Creative, Adirondack-themed fare. Definitely worth a visit for breakfast or lunch.

Latham, NY
Mr. Subb (8/14 $16.52)***
Latham Farms Shopping Center,
579 Troy Schenectady Rd # 219, Latham, NY
(518) 786-0824 Good soup and subs made fresh. Good value.

Lewis, NY
Lewis (Betty's) Family Diner (7/15 $30.51) **
234 Redmond Rd Lewis, NY 12950
(518) 873-2298
Located behind the truck stop just West of I-87/Exit 32. We were apprehensive when we walked in and saw several tables with the remains of half-eaten burgers and other meals but this is truly the Mom & Pop
restaurant of old and probably hasn't been renovated since opening day many years ago. The older lady waiting on tables was a pro - very cheerful and handling the crowds well. We both ordered the "Captain's Platter" which offered a variety of seafood with potatoes and slaw. The seafood was greasy and tasteless. You might travel a couple of miles farther West and patronize the small country store that offers homemade subs, fresh salads
and good soft ice cream.

.


North Creek, NY Izzy's Market & Deli (6/14 $30.89)***
282 Main Street, North Creek, NY 12853
Phone:(518) 251-3000
North Creek is the Northern terminal of the Saratoga & North Creek Railway. Izzy's is within walking distance of the train and a great place to enjoy soup, a sandwich and fresh bakery goods. Get there ahead of the crowd as the kids behind the counter become a little overwhelmed when the entire train group descends on them. Good food, friendly atmosphere - something like an old general store would be. Plattsburgh, NY
Dickey's BBQ Pit (07/15 $17.)***
71 Smithfield Blvd, Plattsburgh, NY 12901
(518) 324-2271
Everybody makes BBQ right? No, a lot of places make it wrong. Dickey's makes good, fresh BBQ with a choices of sauces and sides with a Southern twang. Free ice cream, too! We've visited them in the South and the North and we think it's about as good as it gets for BBQ and a franchise. If you
like it - you'll find the same good flavor wherever you visit them.

Hong Kong Jade Restaurant (7/15 $20.91) ***
Plattsburgh Plz Associates, 1 Plattsburgh Plaza, Plattsburgh, NY 12901
(518) 561-6688
Busy buffet. Good selection and prepared well. Be prepared for some rude patrons. Wait staff pleasant and attentive.

Port Henry, NY
Foote's Family (Miss Port Henry) Diner (8/15 $22.63) **
5 St Patrick's Place, Port Henry, NY 518-546-7600
Open for breakfast and lunch. We stopped in for breakfast. This is a unique diner - actually a 1927 Ward & Dickson dining car - one of the last in the country. It was once hauled from factory to factory by truck or horse team
in the Queensbury area. The breakfast portions are huge, in fact we could
not eat everything. The flapjacks were near perfect but the home fries were from yesterday's baked potatoes warmed up and lacked taste. The eggs were under-cooked and the toast under-buttered. The flies were swarming. The waitress was cheerful and efficient.

Gene's Michigan Stand (7/15 $21.51) ****
4201 NY Route 9N, Port Henry, NY 12974
518-546-7292
A Michigan is a hot dog with some class! Found primarily along the Champlain Valley in Northern NY to the Canadian Border. It's all in the sauce on the dog and it varies some from place to place. It's kind of like a chili dog but it isn't. It's kinda like a Coney but it isn't. You have to try one to taste the difference. We love them and think Gene's makes the best in the North Country.

Golden Palace Chinese Restaurant (8/13 $19.75)***
3266 Broad Street, Port Henry, NY 12974 (518) 546-7950
Small storefront eat in/take out. Extensive menu. Very good food. Locals tell us it is the only Chinese restaurant in the County certified by the County Health Department.


Pottersville, NY - I-87, Exit 26
Family Deli & Restaurant (9/14 $8.99)*
8012 State Route 9, Pottersville, NY
We ordered a cheese & pepperoni pizza to go last evening. The cheese came brown & black (as in burned), the pepperoni was black all around the edges, & the crust was not completely cooked (doughy) on the bottom. When I called & talked to the manager he told me he makes the pizzas & he'd made ours. No apology - nothing.

Pottersville Methodist Church Suppers (8/14 $20) ****
Rt. 9, Pottersville,, NY
You may have noticed that we are big fans of "Mom & Pop's" and homemade when it comes to eating out. For those reasons we try never to miss a Church Supper. You can take it from us that these people put on the best whether it's, BBQ, chicken & dumplings or roast beef and they do it several times each year. From the warm welcome when you arrive and pay your $10 to the friendly folk who greet you at the simple but well-appointed tables in the homey addition back behind the altar. The individual heaping plates are served to you as you eat family style with your neighbors. Good people - great food!

Stone Bridge Artisan Gallery & Ice Cream Stand (9/14 $8)****
8061 State Route 9, Pottersville, NY 12860
(518) 494-3899 (Summer Season only)
24 flavors of ice cream but we rate this place as having the best hot fudge sundaes in the Lake George & Schroon Lake areas of the Adirondacks.
Just off I-87 at the junction of Rte 9 and the road to "Natural Stone Bridge
& Caves". Great ice cream withthe taste of hot fudge in every bite.

Valero Gas & Pizza (9/14)****
38 Valley Farm Rd, Pottersville, New York
(518) 494-9660 Open 24 Hours
Valero Gas Station (formerly Mobil) partners with Nice n Easy to make really good pizza. Who ever heard of great pizza from a gas station? Try it once and you'll keep coming back. We think they make the best pizza along I-87, the Adirondack Northway. Just off Exit 26.

Queensbury, NY (Town of) (I-87, Exits 18 & 19)
Ambrosia (6/13 $35.55)**
518 Aviation Rd, Queensbury, NY 12804 (518) 636-5486
We had anticipated this new restaurant since they started building a year
ago. It occupies a prominent spot just East off Exit 19 of the Adirondack Northway (I-87) on former Howard Johnson hallowed ground. What a disappointment! Built to look like a modern version of the silver diners of
old, it offers a varied menu of overpriced and lackluster selections. Skip it and drive a couple of miles farther to the Harvest Restaurant (below)!

Antonios (8/13 $36.10)**
122 Bay Street, Glens Falls, NY 12801 (518) 793-5522
Baked ziti, Pasta dinner, wine. Served with soup or salad and bread.
Lackluster flavor in both dishes. Pasta sauce nothing special.

China Buffet (5/14 $23.16)**
Queensbury Plaza, Upper Glen St, Queensbury, NY 12804
Quality varies from visit to visit. Early bird special pricing. We find the Chinese Buffet in South Glens Falls to be of better selection and quality.

China Buffet (8/14 $26.502wq1ww)***
38 Main Street, South Glens Falls, NY 12803
Phone:(518) 793-5728
This is by far the better of the 2 China Buffets in Queensbury. The atmosphere is bright and cheerful. The food is well prepared and a wide variety. The dining room and buffet lines are clean and attended too.

Chinatown Restaurant (7/13 $17.10)***
994 State Route 9, Queensbury, NY 12804 (518) 792-1800
Daily Early Bird pricing. Smaller selection than most in the area but good flavor in the items available. It is worth the price.

Dickeys Barbecue Pit (7/14 $19.62)*** 7500
We enjoy their pulled pork sandwich plates and salads. Though they have discontinued the free, serve-yourself dill pickles, they still have the free soft-serve ice cream cones or cups for after your meal. For a franchise -
Dickey's does do BBQ well.

Golden Corral #2590 (6/14 $28.21)***
75 Quaker Road, Queensbury, NY 12804 (518)636-3300
All Golden Corrals are not created equal! We have been to one or two exceptional Corrals and this is not one of them. With a couple of exceptions the help was more interested in talking with each other than assisting patrons. Food was just average.

Harvest Restaurant (7/15 $33.14)****
Bay Road, Queensbury, NY 12804 (518) 793-6233
Spaghetti/meat sauce & Spinach Salad, French onion soup, coffee and Bud Light. We are told by locals that it serves the best pizza in the city. From the number of people who came in for take-out pizza while we were there we knew it had to be something special and will have to try it on our next visit..

Mr. B's Best Beef & Subs (8/14 $18.04)****
833 State Route 9, Queensbury, NY 12804 (518) 793-5919
These people make a great sub that may well surpass Subway in the same vicinity. Live dangerous and give them a try - you may well find a new best Sub place.

Ninety Nine Restaurant (9/13 $39.03)***
Aviation Mall
578 Aviation Rd, Queensbury, NY 12804 (518) 798-0699
Daily specials which are quite good. Nice atmospere with friendly, smiling help.

Olive Garden, The (5/14 $16.65)**
756 Upper Glen St, Queensbury, NY 12804 (518) 743-9590
The endless Soup & SaladŁ "Specials". Typical fare. Decent green salad, watery soup, good breadsticks. Can't argue about the portions.

O'Toole's (8/12 $50.37)***
118 Quaker Road, Queensbury, New York 12804 518-793-3389
Restaurant and lively sports bar. Great burgers and sandwiches. Come for a casual lunch or a raucous happy hour and dinnertime.

Outback Steakhouse (6/14 $57.31)***
925 U.S. 9, Queensbury, NY 12804
Phone:(518) 792-4014 shared a slice of carrot cake for dessert.


Pizza Hut (7/13 14.02)***
863 State Route 9, Queensbury, NY 12804 (518) 793-8911
Quality varies with each visit. Big tourist area, slow service. Typical Pizza Hut.

The Silo Restaurant (7/13 $24.06)***
537 Aviation Rd, Queensbury, NY 12804 (518) 798-1900 reminds us of a Cracker Barrel.

Steve's Place (8/13 $32.03)****
194 Broad Street, Glens Falls, NY 12801 (518) 793-5855
We don't find the quality of the entrees a good value for the prices asked. Either lacking in flavor or sometimes overly seasoned.

Saratoga Springs, NY
Scallions Restaurant (6/12 $34.95)**
44 Lake Ave, Saratoga Springs, NY 12866 (518) 584-019
Interesting soups, wraps and sandwiches. A bit pricey for lunch but after all this is Saratoga!

Savona, NY
Mom's Savona Diner (9/13 $35.08)****
82 Main St, Savona, NY 14879 (607) 583-4735
Daily specials of very good home-cooked food. The place is mobbed by locals at mealtime which tells a lot. The service is friendly and attentive and the food is great.

Schroon Lake, NY
DeCesare's Pizzeria (8/15 $29.11)
938 State Route 9, Schroon Lake, NY 518-532-9200 their purpose is beyond chatting.

Pitkin's Restaurant (8/14 $41.91)****
1085 Main Street, Schroon Lake, NY 12870 (518) 532-7918 also exceptional.

Timber Wolf Pub (7/14 $42.79)**
Main Street (Rte 9) Schroon Lake, NY (518) 532-9586
Tuesday was "Pasta Night" and we were told expect huge servings of great food! It was neither. The portion was small, tasteless and not served with salad. The garlic bread was laughable. Jack loves his pasta and can guarantee that this is not the place to come for good spagheti. You dine adjacent to the bar so it may not be the best choice for family dining.

Ticonderoga, NY
Hot Biscuit Diner (6/14 $34.18)***

14 Montcalm St, Ticonderoga, NY 12883

(518) 585-3483

for (what else?) their large biscuits - one served with each meal or order some to take home though they are not as good warmed up. They do not accept credit cards but there is an ATM inside.

Wagon Wheel Restaurant (7/13 $30.51)****
1065 Wicker Street, Ticonderoga, NY (518) 585-7755
Small country diner. A favorite breakfast and lunch meeting place with the locals. Not an extensive menu but offerings are well prepared.

Tupper Lake, NY
Lumberjack Inn (9/13 $35.24)**
76 Main St, Tupper Lake, NY 12986 (518) 359-2910
Rustic, loud, and crowded at mealtimes. Food is average.

Warrensburg, NY
Brunetto's (7/12 $49.08)*
Rte 9, Warrensburg, NY 12886 (518) 623-1041
sides with the entree's. Our background is in customer service and if a place doesn't have it we don't return.

George Henry's (9/13 $31.08)***
3735 Main St, Warrensburg, NY 12885 (518) 623-5186
No atmosphere to speak of. Just a loud, well-attended bar with an extra room to serve food.

Lizzie Keays (7/14 $63.08)****
River Street Plaza, 89 River St, Warrensburg, NY 518-504-4043
Located in a historic Empire Shirt Factory building. Early Bird Senior Citizen discount nightly 4:30-5:30pm.
Appetizers under $10; Dinners under $20. Thursdays build your own pasta night specials.
We thoroughly enjoyed our meals here last year but found them somewhat lacking this year in favor and taste. The salad consisted of dried out baby spinach and the Fra Diavalo, one of our favorites, was filling but not satisfying. We rate it as not a great value for the prices charged.

The Luck E Star Cafe (7/13 $34.64)**
3982 Main St, Warrensburg, NY 12885 (518) 623-4069 forewarned.

Stewart's (9/12 $5.97)****
A gas and go ice cream shop you can find throughout Northern NY. Principally known for their ice cream and famous Make-your-own-sundaesŁ. We do wonder how their gas prices can vary so much from town to town that's serviced by the same tanker?

Whitehall, NY
Big Apple Diner (9/14 $43.38)***
11850 St Rte 4, Whitehall, NY 12887 (518) 282-9286 specials. Home cooking.

Patties Patch (6/14 $17)*****
12072 St Rte 4, Whitehall, NY 12837
A very large and inclusive farmstand. Local farm-fresh produce and baked goods. Friendly people and good prices. Definitely worth a visit.

Willsboro, NY
Johnny's Family Smokehouse & Sports Bar (8/15 $54.64) **
3873 State Rte 22, Willsboro, NY 518-963-7427
Better as a sports bar than a restaurant. Entree prices are high. Service was nearly non-existent on this day. For the price our meals consisted of Coffee, draught beer, honey BBQ chicken breasts (x2 and all tough), peach pie a la mode (the pie was colder than the ice cream) and German chocolate cake (which was dried out).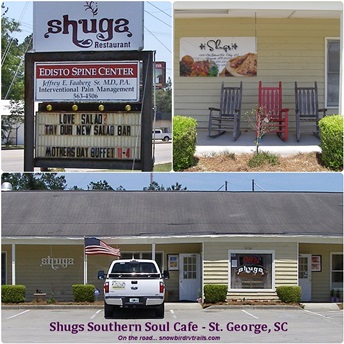 Shugs Southern Soul, St George, SC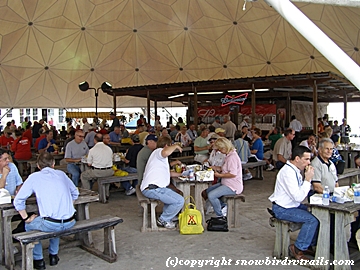 Florida RV Super Show, Tampa, FL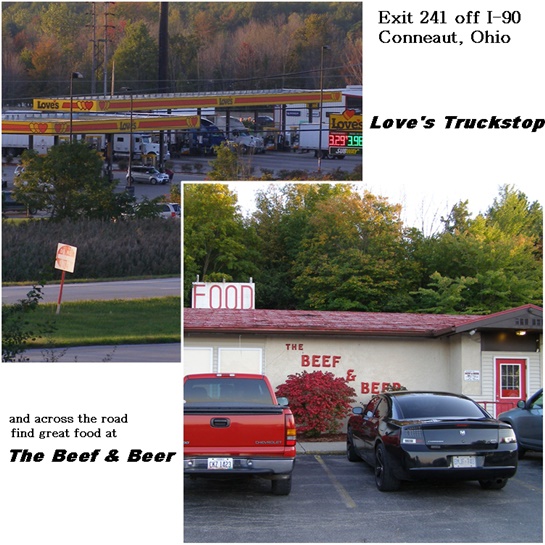 The Beef & Beer, Conneaut, OH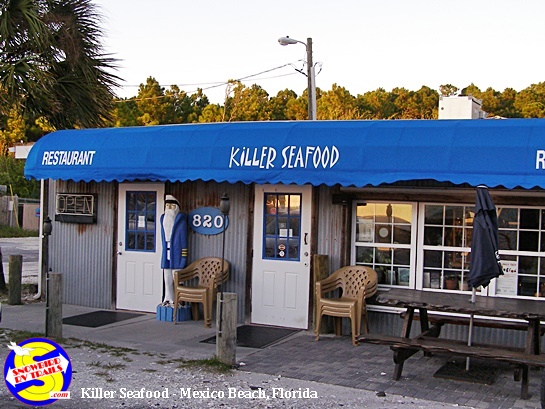 Killer Seafood, Mexico Beach, FL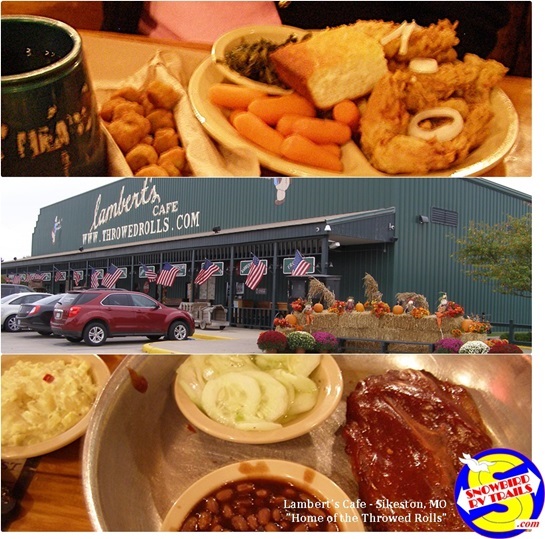 Lambert's Cafe, Sikeston, MO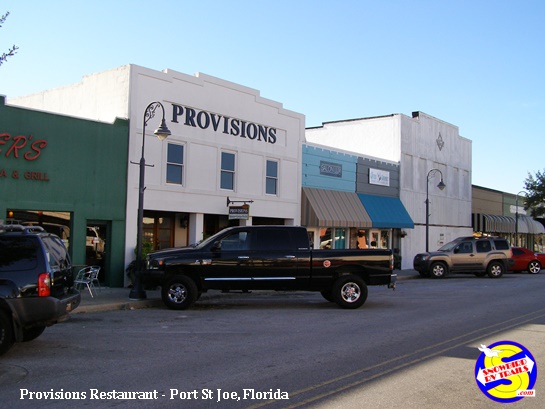 Provisions, Port St Joe, FL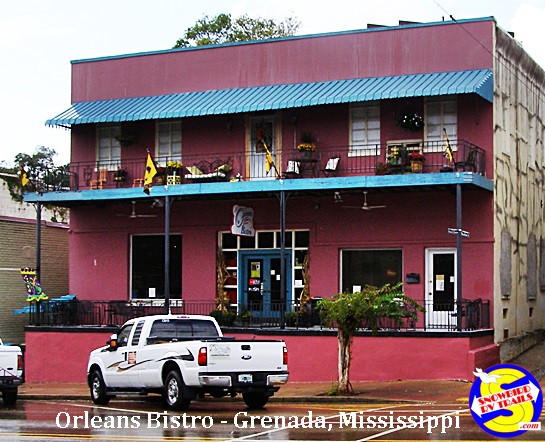 Orleans Bistro, Grenada, MS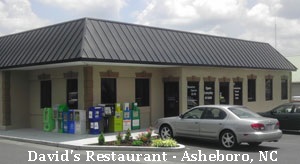 David's Restaurant, Asheboro, NC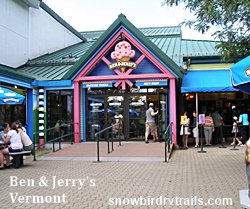 Ben & Jerry's Factory, Waterbury, VT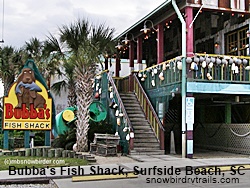 Bubba's Fish Shack, Surfside Beach, SC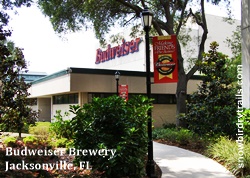 Budweiser Brewery Tour, Jacksonville, FL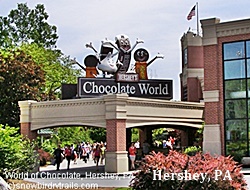 Chocolate World, Hershey, PA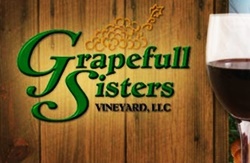 Grapefull Sisters Winery, Tabor City, NC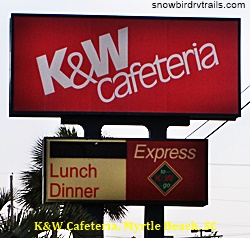 K&W Cafeteria, Myrtle Beach, SC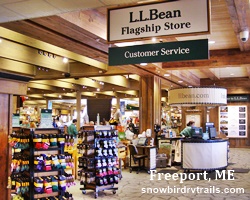 L.L. Bean Flagship Store, Freeport, ME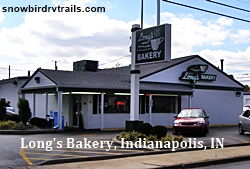 Long's Bakery, Indianapolis, IN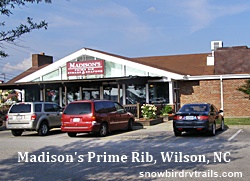 Madison's Prime Rib, Wilson, NC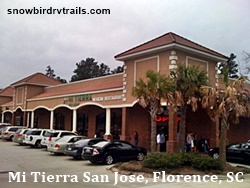 Mi Tierra San Jose, Florence, SC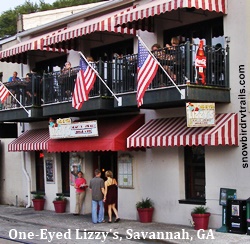 One-Eyed Lizzy's, Savannah, GA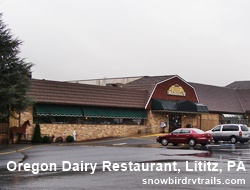 Oregon Dairy Restaurant, Lititz, PA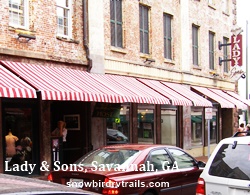 Paula Deen's, Savannah, GA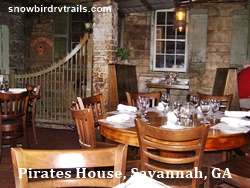 Pirates House, Savannah, GA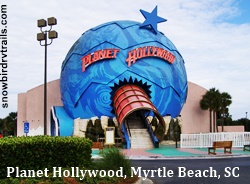 Planet Hollywood, Myrtle Beach, SC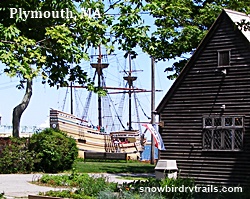 The Mayflower, Plymouth, MA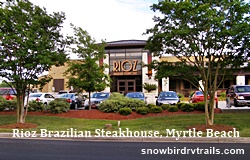 Rioz Brazilian, Myrtle Beach, SC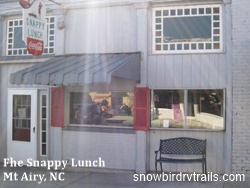 Snappy Lunch, Mayberry, NC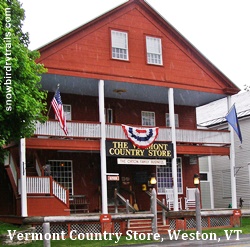 Vermont Country Store, Weston, VT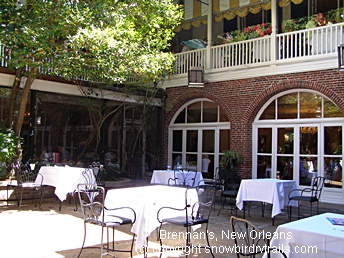 Brennan's, New Orleans, LA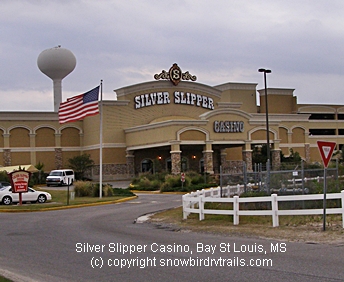 Silver Slipper, Bay St Louis, MS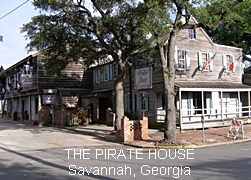 The Pirate House, Savannah, GA