Bonifay, FL
Mustang Grill (10/12 $27.38)**
90 Son-in-Law Rd, Bonifay, FL 32425 (850) 547-9022
Located in Florida Springs RV Resort and Campground just off I-10. A
nice little menu with steaks and specials. Nothing too fancy and the locals seem to like it.

Bradenton, FL
Miller's Dutch Kitchen (2/14 $33.61)***
3401 14th St W, Bradenton, FL 34205 (941) 746-8253
Atmosphere of a Yoder's but with mixed reviews. Some of the food is
good, some bland and some appears to be right out of a can. We liked the sauerkraut, baked chicken, and dressing on the buffet. One older waitress does nothing for their reputation.

Brandon, FL
Bonefish Grill (1/13 $49.45)****
1015 Providence Rd, Brandon, FL 33511 (813) 571-5553
Can always count on Bonefish for great seafood.

Golden Corral***
815 Providence Road, Brandon, FL (813)689-0470
Biggest buffet selection at the best price. This may be the best GC in the Tampa area. Save $3 at lunch before 4pm.

Mimi's Cafe (12/12 $23.08 )****
804 Providence Rd, Brandon, FL 33511 Brandon (813) 684-1184
We actually booked Christmas dinner here and though the waitress
qualified as a space cadet, no complaints about the fodo. It was turkey, dressing, and all of the trimmings. The price was reasonable compared to other Holiday dining in the Tampa area. We are told the Mimosa Fights
are something to consider if that's your drink. Mimi's is a division of Bob Evans.

Olive Garden (1/12 $22.91)***
(Brandon Mall) 2602 West Brandon Blvd (813) 685-5900
How can you beat endless Soup, Salad, & Breadsticks (Until 4pm daily)
for $6.95 (though the soups seems to be watered down).

Sweet Tomatoes (04/14 $19.89)****
10017 Adamo Dr., Brandon, FL 813-661-0803
All-You-Can-Eat Senior Special w/Drink (2-5pm, Mon-Thurs) $6.99 Healthy alternative to other buffets. We do enjoy dining at Sweet Tomatoes

Top's China Buffet (12/13 $36.23)***
1528 W. Brandon Blvd, Brandon, FL 33511 813-655-6888
One of the better Chinese buffets. Good selection and all tasted good. Our main peeve is with the parents who let their children run wild once inside the door.

Bushnell, FL
Sonny's Barbecue (4/14 $31.84)***
2684 E C 48, Bushnell FL 33513 (352) 569-0200br>Just off I-75, FL
Exit 93. Good BBQ and sides and convenient to the Interstate. It's our
BBQ choice if we can't find a Dickey's.

Clearwater, FL
Angie's Grill (11/13 $20.02)*
1732 Drew St, Clearwater, FL 33755 (727) 441-2644
Our table was dirty, the floor was dirty, the food was bland and cold. The new waitress tried to be apologetic and we wish her well with this job. We won't return.

Bahama Breeze (2/12) $16.11)***
3045 N Rocky Point Dr. East, Tampa, FL 33607 813-289-7922
20 lunch entrees under $10. Known for tropical drinks, food was okay but be prepared for a loud atmosphere. Best part was the pre-dinner chips.
Live Island music most evenings from 4:30pm.

Bar Louie (11/13 $36.66)****
27001 US Highway 19, Clearwater, FL 33761 (727) 450-1600
Great menu, good service. Sandwiches, burgers, drinks. Tuesday nights for $1 burgers and chicken sandwiches after 5pm. Tuesdays are also $6 night
at the Cinema in the same Countryside Mall (Cobb Theater Countryside
12).

Bob Evans (1/13 $13.34)*
29335 US Hwy 19N, Clearwater (727) 787-3359
10 family sized meals under $20 Includes a Large Side & Fresh Bread. We have had problems with the staff here every-time we have eaten at this BE.

Bob Evans (02/14 $11.63 Breakfast BOGO) ****
3335 Ulmerton Road, (State Routes 688 & 686), (727) 573-2929
Best BE in the St Pete/Clearwater area. Good food prepared well. Good value for your money. Be sure to sign up in their Club and receive coupons nearly every week. We observed the management taking an active role here on more than one ocassion.

Carrabba's Italian Grill (01/14 $20.57)***
2680 Gulf-to-Bay Blvd, Clearwater, FL, 33759 (727) 712-0844
If you enjoy the Carrabba's franchise, this is as good as they come. Good service and reliable recipes.

Cheese-ZZZ!!! Pizza Buffet & Games (11/13 $11.49)**
2440 State Rd 580, Clearwater, FL 3376
Formerly a CiCi's franchise. Pretty much the same fare with a couple of additions like BBQ chicken which was pretty good. Big electronic game room for the kids.

Chopstix Super Buffet, Clearwater (2/12 $27.80)*
2543 Countryside Blvd., Ste 1, Clearwater, FL 33761 (727) 726-2171
We expected great things when this buffet opened but were disappointed with the service and the food. Hopefully they have improved but we
probably won't be back.

CiCi's (3/14 $11.98)**** (Now Closed)
5178 E Bay Dr, Clearwater, FL 33764 (727) 538-2424
All-You-Can-Eat Pasta/Salad/Pizza Bar w/Drink. Ask for the Senior Discount. The food is made fresh and constantly rotated. We enjoy having a quick bite here.

Country Pizza Italian Grill (1/13 $27.01)***
25856 U.S. 19, Clearwater, FL 33763 (727) 796-2318
Lunch Specials w/Soup of the Day & Greek Salad (until 4pm) $6.95
Also in - Largo, FL 727-524-9700 and New Port Richey, FL 727-848-1601. Small but nice lunch buffet and a good value.

Cracker Barrel****
4011 Ulmerton Road, (Ulmerton Road/SR 686), (727) 572-8685
Hard to say anything bad about any Cracker Barrel. The food and service is comparable at any we have stopped at and it is a favorite stop for Niki.
Weekday Lunch Specials $5.99. Mon-Fri 11am while they last.

Ed Fletcher's Early Bird Dinner Theater (3/12 $50.00)****
13355 49th Street North, Clearwater, Florida 33762 727-446-5898
Live professional theater and a very well prepared buffet dinner. The plays are good and the food surpasses expectations! Normal price $29.90 + tax.

Farmer Boy Family Restaurant (4/14 $25.65)*****
2129 Drew St, Clearwater, FL 33765 (727) 447-1733
Niki loves their Chicken Lemon Rice soup served only 2 days each weeks (while the supply lasts) and their Spanakopita. Jack feels they have the best spaghetti in the area with a touch of sweetness in their sauce just like his Mother used to make. Specials every day of the month.

First Watch (2/14 $26.86)****
2569 Countryside Blvd, Clearwater, FL 33761 (727) 712-8769
Open 7am til 2:30pm for breakfast and lunch. Quick, friendly service. A favorite with the older set around Clearwater. No extra charge to share a plate nor an automatic tip added for large groups.Niki had the omelet which she enjoyed. Jack had the "Trifecta" with egg, flapjack, and sausage. Not the best pancakes nor the worst.

Five Guys Burgers And Fries (3/13 $17.71)**
2689 Gulf To Bay Blvd Ste 1820, Clearwater, FL 727-726-0100
Home of the really good $5 hamburger but maybe think twice before you order the greasy fries.

Gattitown (1/12 $17.85)** (Now Closed)
1560 N McMullen Booth Rd, Clearwater (727) 753-9982
Pizza, pasta, salad buffet, games, arcade, bumper cars, theater. Great for
the kids, very loud for adults! $3.99 to 5.99 + drink.

Golden Coin Restaurant (4/13 $20.30)**
1844 N Highland Ave, (Just South of Sunset Point Rd.) Clearwater, FL 33755 (727) 443-6157
Lunch Specials $3.99. Dinner Specials 2 for $11.99. Breakfast $1.99.

Island Way Grill (12/13 $36)****
20 Island Way, Clearwater, FL 33767 (727) 461-6617
Beside the Clearwater Aquarium. All about fresh fish. Their own boats
make daily trips to the middle grounds and bring back fresh tuna, mahi, snapper and other local fish for the table.

Johnny's Italian (1/28 $16.21)****
2907 Florida 590, (Coachman Rd), Clearwater, FL 33759 (727) 797-
2940 Ten daily Lunch Specials w/Salad & Johnny Bread under $6. The baskets of warm "Johnny bread"¯ served with all meals are a real treat.
Jack doesn't care for their marinara sauce but there are plenty of other selections on the menu. Nice atmosphere.

Macaroni Grill (12/12 $79.73)***
28795 US-19 N, Clearwater, FL (727) 726-6676
This Macaroni Grill is now closed and occupied by a pizza place.

Olive Garden (1/13 $21.67)**
29461 US Hwy 19N, Clearwater (727) 787-3988
Endless Soup, Salad, & Breadsticks (Until 4pm daily) $6.95We prefer our soup thicker and do think Bob Evans soups are better.

Oriental Super Buffet (12/13 $25.50)**
2456 Gulf to Bay Blvd, Clearwater, FL 33765 (727) 725-2083
Newly renovated and very nice interior. There is a large selection to choose from including sushi and a hibachi but the food varies in quality and the place has received numerous bad reviews but we enjoyed our last visit.

Smokey Bones Bar & Fire Grill (1/14 $39.73)****
2693 Gulf to Bay Blvd, Clearwater, FL 33759 (727) 712-1930|
Nice atmosphere, good service, and really good BBQ. We like it a lot!

Steak & Shake (01/14 $14.74)**
2490 Sr-580, Clearwater, FL (727) 796-1648
Located across from the Countryside Mall. It's always crowded and the service is super slow BUT using the drive-thru for one of their specialty milkshakes or items on their $4 menu makes it a worthwhile stop.

Subway (10/13 $10.70)***
1444 S Belcher Rd, Clearwater (727) 538-9998
3753 Ulmerton Rd, Clearwater (727) 572-9388
2790 Gulf to Bay Blvd, Clearwater (727) 791-6292
The help is not always the most customer friendly but the ingredients are
fresh and they do it right before your eyes. The price is right for a good
fresh sub so not much to complain about.

Sunset Grill (1/13 $24.40)***
2328 Sunset Point Rd, Clearwater, FL 33765 (727) 723-2346
Early Bird Specials 2-5pm everyday. 16 items under $7. A favorite with the locals. 7:30am-9pm. Very popular with the locals and Snowbirds. Good food, good service, good prices.

Clearwater Beach, FL
Clear Sky (11/13 $56.66)*****
490 Mandalay Ave, Clearwater Beach, FL 33767 (727) 442-3684
Awesome French toast, Key Lime pie and Bloody Mary Bar! You think small cafe, a joint on the beach, but the food is exceptional. Their dinners on the holidays are superb.

Crabby Bill's (1/13 $49.48)*
37 Causeway Blvd, Clearwater Beach, FL 33767 (727) 210-1313
Expensive and the quality does not match the price. Skip it and go to Frenchy's down the block.

Frenchy's Original Cafe (3/12 $26.33)***

41 Baymont St, Clearwater Beach, FL 33767 (727) 446-3607
Seafood, daily specials and beer of the month. Burgers, wraps and what you could expect in a beach cafe. We don't necessarily recommend the deep fried hamburger (bun and all), otherwise a fun spot at the beach.

IHop (01/14 $29.20)**

22996 US Hwy 19, Clearwater, FL (727) 725-8821


Stick with breakfast for best results! We tried a quick dinner and were not impressed with the choices or the preparation. Greasy and overcooked chicken.

Palm Pavilion Beachside Grill & Bar (12/13 $36.80)*****
10 Bay Esplanade, Clearwater Beach, FL 33767 (727) 446-2642
Enjoy waterfront dining at the Palm Pavilion Beachside Grill & Bar on north Clearwater Beach directly on the beach and Gulf of Mexico. Fantastic beach view, tasty burgers, sandwiches and wraps and they make a mighty fine lobster roll in Season. Live musician most afternoons.

Panera Bread (02/14 $22.59)****
2679 Gulf to Bay Blvd, Clearwater, FL 33759 (727) 723-9495
Very good soup and sandwich combos. Also good specials on desserts towards the end of the day. Yum!

Dunedin, FL
China Taste Restaurant (4/13 $16.76)***
1539 Main Street, Dunedin, FL 34698 727-736-6663
A small carry-out restaurant. Excellent food made fresh while you wait or call-in. Limited seating.

Country Boy Italian Grill (5/13 $24.92)**
1353 Main St, Dunedin, FL 34698 (727) 734-9108
Greek, Italian and American food. Very popular lunch place. We found it cramped, noisy, and the food was just average.

Hungry Howie's (12/12 $12.74)****
2109-D Main Street, Dunedin, FL, 34698 (727) 734-8800
Many locations. Call ahead to pick up your pizza, salad, sub, ziti, wings.
We love the pizzas with stuffed crusts, baked ziti, and the Howie bread.
We have found the same quality at all of the outlets,

Ivory Mandarin Bistro (3/13 $12.56)***
(Coastal Plaza) 2192 Main St, Dunedin, FL 34698 (727) 734-3998
Authentic Chinese dishes. Choose from 18 Lunch combos: $5.25 or $5.60. A big favorite with the locals.

Julian's (1/12 $41.55)*
916 Patricia Ave, Dunedin, FL 34698 (727) 734-8989
We were not happy with the food, service or prices but are told it is now Julian's Little Italy¯, under new management and a much better place. We
will have to try it again. Let us know what you think.

Norton's Diner (04/14 $22.70)**
1822 Main St, Dunedin, FL 34698 (727) 733-184
A casual place that used to have very good food and the prices are reasonable. They offer sandwiches, soups, salads, wraps, burgers, wings,
fish fry baskets,? fries and seafood, as well as good quality homemade dinners. Dinner specials every night, which includes a free glass of house wine. The food has become bland and the service inattentive. Hopefully management can restore what it once was.

Pete's Restaurant (2/13 )$19.56**
2140 Main St, Dunedin, FL 34698 (727) 734-0855
If you're looking for a cheap place to eat this is the place! You can sit at the counter or at a booth or table. The staff is very friendly and the food is okay but nothing fancy.

Floral City, FL

OLD WORLD RESTAURANT (03/14 $47.23)**

8370 S. Florida Ave, Floral City, FL34436
A big favorite with the local Snowbirds but on the other hand there is not a lot to choose from. We have stopped here 3 times over the years and each time our meal has been less enjoyable. This will be our last stop. The food and service is not worth the prices charged.

Lake City, FL
Country Buffet (10/12 $24.38)****
2469 W US Hwy 90, (Lake City Mall), Lake City, FL (386) 752-1670
Located 1 mile off I-75 Exit 427. The selection is huge, service is good, and the atmosphere is inviting (for a buffet). We enjoyed the selection and return when in the area.

Huddle House (10/13 $13.10)*
3320 Hwy 441 N, Lake City, FL
Very conveniently located just off I-10, Florida Exit 303. That's the only good thing we can say about it. We are no strangers to greasy spoons as
we love to stop at a Waffle House from time to time but this Huddle House
gives greasy spoons a worse name, The waitress was unfriendly to the point of rude. The food was served cold and tasteless. The truckers seemed to enjoy their meals but personally we will give this pothole in life's road a wide berth from now forward.r>
Texas Roadhouse (10/13 40.71)****
3039 W US Highway 90, Lake City, FL 3205
We like this place, they serve a great steak done the way you ask for it.
Niki enjoys the Dallas Filet and Jack likes the BBQ ribs. Fortunately
we pass by this way quite often.

Largo, FL
Country Super Buffet (2/13 $17.73)**
5010 E. Bay Drive, Largo, FL 33764 (727) 535-9990
Just okay for the price and nothing special. We prefer CiCi's just around the corner.

Longhorn Steakhouse (02/14 $52.70)****
5375 E Bay Dr, Largo, FL 33764 (727) 539-1536

Decent steaks but we don't feel they compare to Texas Roadhouse. Good service here.

Olive Garden (02/14 $22.23)***

10500 Ulmerton Rd #470, Largo, FL 33771(727) 584-8066

You may know our take on OG? Watered down soups but the unlimited salad and breadsticks that come with it are first rate. All for $6.99. Reliable meals at all locations with usually very good service. Prices aren't
outrageous.


Sweet Tomatoes (02/14 $19.25)***

13101 Seminole Blvd, Largo, FL 33778 (727) 584-9100
We have found all ST that we have visited so far to be consistently good. They are actually our favorites when it comes to a choice of franchises to dine at. They have healthy choices, plenty of greens in the build-your-own-salad department and the price is reasonable. If you need a buffet, choose
a Sweet Tomatoes.

Oldsmar, FL
Pollo Tropical (4/13 $10.69)****
3134 Tampa Road, Oldsmar, FL 34677

727-784-8627


What began in Miami as a simple recipe for citrus-marinated grilled chicken has evolved into a world of tropical flavors¯. Great grilled chicken! Sandwich and wrap combos starting at $5.19. Good food, reasonably priced. Clean and modern atmosphere.

Salsas Mexican Restaurant
3970 Tampa Road, Suite M. (813) 749-7159
Lunch specials $4.50. 2 for 1 Happy Hour, all day every day.

Palm Harbor, FL
Outback Steakhouse (2/15 $45.)*
31988 US Highway 19 N, Palm Harbor, FL 34684 (727) 789-6283
When it comes to a steakhouse franchise we measure all we visit against our favorite which is Texas Roadhouse for flavor, service and value. That said this Outback is the worst we have visited. In our latest visit we waited 14 minutes for the young lady to arrive to welcome us and take a drink order. After I happened to mention I was worried we didn't have a waitress things went downhill. Niki was not given the traditional choice of salads with her steak order, her sweet potato came with roots still attached. The lemon chunks in our water glasses still had the stem. Jack's chops were quite fatty and we had to flag others down to request a coffee refill, bread and water. Just a totally poor experience and one also shared by a nearby table experiencing similar problems with the waitress. We hope you have better luck but we won't be returning.

Sweet Tomatoes (4/14 $16.98)****
31151 U.S. 19, Palm Harbor, FL 34684 (727) 786-2130
Offers a salad bar, specialty salads, soups, pasta, and breads. All-You-
Can-Eat Senior Special w/Drink (2-5pm, Mon-Thurs) $6.99. Several locations around Tampa Bay. It's a favorite of ours.

Tiffany's Family Restaurant (2/14 $27.00)****
35000 US Highway 19 N, Palm Harbor, FL 34684 (727) 785-9530
Hours of Operation. 6:30am-8:30pm Mon-Sat. 6:30am-2:30pm Sun. Great breakfasts (you might even hear the barbershop quartet warming up on a Friday morning), Sandwiches, Salads, Wine & Beer, Seafood. Daily specials. Soup & full sandwich 11:30-3:30 $4.99. Friendly people. It is one of our favorite places for breakfast or a quick lunch.
We thought we would try their Friday Night Fish Fry. Bad choice! The fish was overcooked and tasteless, the frys were melt-in-your-mouth un-delicious (obviously frozen), and the coffee was far from fresh, and whoever heard of Southern fish frys without hush puppies? The clam chowder was the only highlight. Their breakfasts are great but there are far better fish frys in the area.

Pinellas Park, FL
Egg Platter 3/12 $23.35)*
6767 U.S. 19, Pinellas Park, FL 33781 (727) 521-0111
Since our last visit we have since learned that temperature violations have been documented by the State fining the eatery over $5,150 over the past few years (per Tampa ABC News Investigations).

Parkside Cafe (3/12 $18.13)***
8180 49th St N, Pinellas Park, FL 33781 (727) 546-3600\
Monthly specials, great salads, paninis, sandwiches, wraps, dinners and classic cafe fare. Good food selection with good prices.

Plant City
Fred's Southern Kitchen (4/14 $27.14)*****
1401 W Dr Martin Luther King Jr Blvd, Plant City, FL 33563
A true Southern style buffet with good home cooked food and served with true Southern hospitality. From fried chicken to real BBQ and sides from tomato gravy to skillet cornbread. It is our favorite buffet within driving distance of Tampa.

Parkesdale Farm (4/14 $20.83)*****
3702 W Baker St, Plant City, FL 33563 (813) 752-0502
The largest family operated Strawberry & Citrus Market in Florida. People from all over the world stop by for their famous fresh strawberry shortcake (prepared in several optional, decadent ways!) available January through mid-April. This is truly a special treat destination.

Safety Harbor, FL
Bella Kouzina, Safety Harbor (12/12 $29.56)** (Now Closed)
3101 State Road 580, Safety Harbor, FL 34695 (727) 797-266
Pizza, pasta, chicken dishes, salads, Greek dishes. Good food but lousy service. It may have changed (hopefully) but we will not return.

Safety Harbor Grill & Bar (1/13 $24.29)***
970 Main St, Safety Harbor, FL 34695 (727) 412-8053
Serving breakfast, lunch and dinner daily. Daily specials. Menu selections include spaghetti and meatballs, chicken quesadilla, blackened sirloin steak and eggplant parmigiana. Karaoke and live music is available some nights of the week.

St. Petersburg
Stone Soup Cafe (3/12 $20.84)****
4122 16th St N, St Petersburg, FL 33703 (727) 526-2975
Specials of the day like turkey cranberry wrap or quiche Lorraine, soups of the day like Italian wedding make this a self-termed best kept secret in St. Pete¯.

Sarasota
Columbia Restaurant (2/14 $$)****
411 St Armand's Circle, Sarasota, FL 34236 (941) 388-3987
Always a busy place at anytime but the seating is usually quick and the biggest problem is finding a parking place within hiking distance of the restaurant.
Once seated, the meal always begins with each place served a warm,
crusty loaf of Cuban bread to be slathered with butter and savored while
we peruse the large and varied menu offerings. Aromatic dishes on the
dinner menu feature traditional favorites of Spain and Cuba, offering tender pork, chicken and rice, fresh fish and shellfish. Entrees are served while still steaming and enhanced by overflowing pitchers of fresh, fruity sangria.
Of course we both had to sample the Sangria!
Niki ordered the "Gazpacho Andalucia", Spain's famous cold soup of puree of ripe tomatoes, green peppers, onions, cucumbers and garlic. Topped tableside with finely diced vegetables and toasted Cuban croutons. She also chose Columbia's legendary "1905 Salad" tossed at your table. Crisp Iceberg lettuce with julienne of baked ham, natural Swiss cheese, tomato, olives, grated Romano cheese and the famous garlic dressing. Niki thoroughly enjoyed the salad but said she has had better Gazpacho elsewhere. Jack chose the "Crab Enchilada" purported to be a Sunday favorite among Spain's young folk. It's a mildly spicy sauce of fresh lump blue crabmeat, tomatoes, onions, green peppers, garlic, oregano, white wine and chili peppers. Served over pasta. If it's pasta Jack has to try it wherever we visit and he proclaimed this pasta dish to be "delicioso".

Seffner, FL
Bob Evans (2/13 $25.64 )****
11720 Tampa Gateway Blvd, Seffner, FL
Previously closed due to a sinkhole, it has been rebuilt and open for business. Easy on/off access at I-4, Exit 10. Two truck stops and Lazy Days RV Center also at this exit.

Cracker Barrel (11/13 $21.79)***
6150 Lazy Days Blvd, Seffner, FL 33584 (813) 621-7323
Just off I-4, Exit 10. Always well prepared food at a good price. Always a crowd at mealtimes.

Hardee's, Seffner (12/12 $10.70)***
11705 E Us Highway 92, Seffner, FL 33584 (813) 620-0756
Just off Exit 10 of I-4. Friendly service. Drive-thru or sit-down. We like
their flame broiled burgers and platters.

Pizza Hut (3/12 $14.83)**
1809 S Parsons Ave, Seffner (813) 684-9001
11748 E Dr Martin Luther King Jr Blvd, Seffner (813) 651-9100
No worse, no better than other Pizza Huts. We just prefer Hungry Howie's for pizza.

Waffle House (2/13 $20.38)***
11244 Martin Luther King Drive, Seffner, FL
Every now and then you crave the good old days before we became so health-conscious and a little greasy spoon type place. Waffle House is the place. It's not a bad place at all (except to your arteries) and we do venture in now and then.

Tampa, FL
Busch Gardens All Day Dining (4/12 $58.00)****
10165 N Malcolm McKinley Dr, Tampa, Florida, 33612
They do serve some excellent food at Busch! Being yearly Busch Passport members we had to try the All Day Dining. Bring your appetite. Participating Restaurants include: Zagora Cafe, Crown Colony Cafe, Bengal Bistro, Zambia Smokehouse (excludes baby back ribs), and Desert Grill (excludes baby back ribs). Each restaurant has a variety of foods to choose from that will sure to satisfy anyone's appetite. Make it easy! Pay once and never have to take out your wallet for the rest of the day. We always treat ourselves to a couple of the huge blueberry muffins whenever we visit.

Chart House (01/14 $33.14)****
7616 W Courtney Campbell Causeway, Tampa, FL 33607 (813) 289-
7773

Great food with a beautiful view and daily specials! What more could a diner ask for. Niki loves their Gazpacho soup. Price reflects a coupon special.

China Buffet (4/12 $26.44)**


1245 E Fowler Ave, Tampa, FL 33612 (813) 615-1310

The food is hot and fresh, good but not great. Not the best value.

Maggiano's Little Italy (01/14 $39.95)****

203 Westshore Plaza, Tampa, Florida 33609 813-288-9000

Italian done right! We came on a special 2-4-1 coupon and were mightily impressed. Great pasta cooked right and sauce to match. Busy place but service was excellent as was the food.

Nicki's Omelette & Grill (12/12 $22.86)*

6805 W Hillsborough Ave Tampa, FL 33634 (813) 884-3447

Long wait, close, cramped tables, and extremely rude service for average quality food.

Sweet Tomatoes (1/14 $19.48)****

10017 E Adamo Dr, Tampa, FL 33619 (813) 661-0803

Offers a salad bar, specialty salads, soups, pasta, and breads at locations across the United States. We love to have lunch at Sweet Tomatoes.

T

arpon Springs, FL

Taste of Greece (03/14 $11.45)****
709 Dodecanese Blvd, Tarpon Springs, FL 34689 (727) 938-0088

Truly decadent desserts of Greece! The ladies behind the counter could be more sociable and friendly but the delicacies they dish up speaks for itself.

Temple Terrace, FL

Bob Evans (04/14 $22.42)***
12272 Morris Bridge Rd, Temple Terrace, FL (813) 988-4749
Great value! Good food and fair prices. One of our favorite franchise restaurants in the area. Join the BE Club for weekly coupons and specials. We used to do Denny's on the road but now we search out the Bob Evans for a reliable meal when traveling.

IHOP (4/14 $26.72)***

11710 Morris Bridge Rd, Temple Terrace, FL 33637b> (813) 983-0125

The place to get a great breakfast any time of the day or night.

Lupton's (4/14 $26.52)***

5299 E Busch Blvd, Temple Terrace, FL 33617 (813) 985-4423br>Breakfast. Lunch & dinner buffets. BBQ Beef, Pork, Ribs, Chicken, Fried Chicken, Smoked Ham, Baked Beans, Potato Salad, Crisp Cole Slaw, Collard Greens, Mashed Potatoes, Brown Gravy, Green Beans, Biscuits, Daily Special, Salad Bar, Fruit Bar, Cobbler Bar, Dessert Bar, Iced Tea, Coffee & Much More! Like Brunswick stew? Theirs is delicious!

Thonotosassa, FL

Hungry Howie's (03/14 $13.80)****

9517 E. Fowler, Thonotosassa, FL (813) 986-7822

Order online or by phone an pick it up or have it delivered. Great stuffed crust pizza and we like their ziti and Howie Bread. You won't be disappointed.

Wesley Chapel, FL

Dickey's Barbecue Pit (01/14 $15.78)***
2653 Bruce B. Downs Blvd, Ste. 101, Wesley Chapel, FL 33544
(813) 406-4473

Everybody makes BBQ right? No, a lot of places make it wrong. Dickey's makes good, fresh BBQ with a choices of sauces and sides with a Southern twang. Free ice cream too! We've visited them in the South and the North and we think it's about as good as it gets for a franchise.

Zephyr Hills, FL

Two Minutes (3/12 $9.48)***

4447 Gall Boulevard, Zephyrhills, FL 33542 (813) 780-7200

Call it home-cooking that's fast, hot and plentiful. Great food at great prices. Always a crowd of regulars. Oh, and they are BIG John Wayne fans.

Village Inn (11/12 $23.83)****

5214 Gall Blvd., Zephyrhills, FL 33542 (813) 782-9556

There are many locations around the area and they do vary in quality. We thoroughly enjoyed the service, our sandwiches and the pie at this location. Enjoy a FREE Slice of double crust fruit pie or feature pie with any dine-in purchase, from 10:00am until 10:00 p.m. on Wednesday!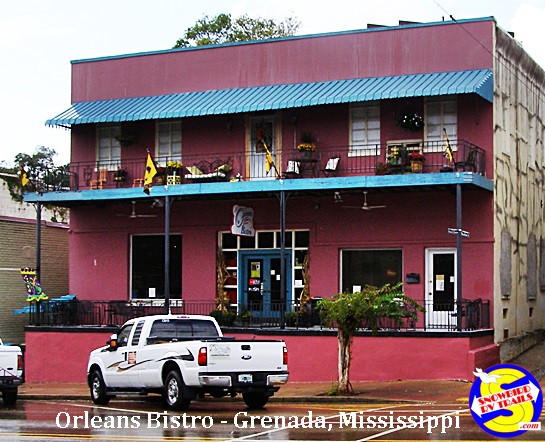 Orleans Bistro, Grenada, MS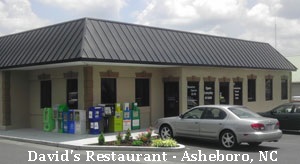 David's Restaurant, Asheboro, NC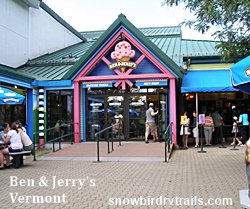 Ben & Jerry's Factory, Waterbury, VT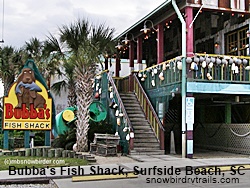 Bubba's Fish Shack, Surfside Beach, SC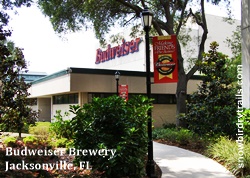 Budweiser Brewery Tour, Jacksonville, FL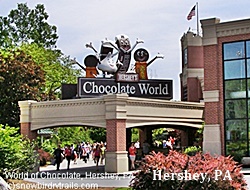 Chocolate World, Hershey, PA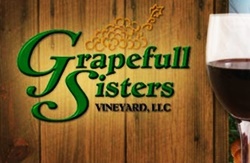 Grapefull Sisters Winery, Tabor City, NC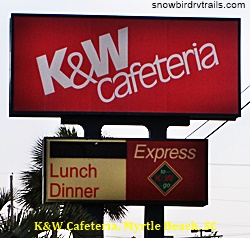 K&W Cafeteria, Myrtle Beach, SC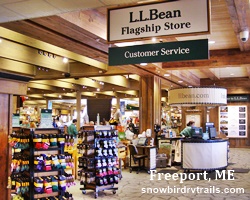 L.L. Bean Flagship Store, Freeport, ME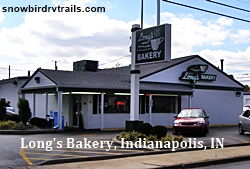 Long's Bakery, Indianapolis, IN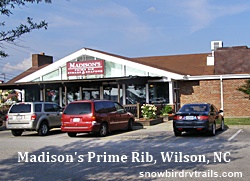 Madison's Prime Rib, Wilson, NC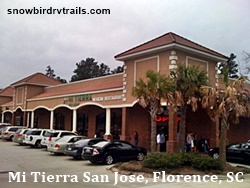 Mi Tierra San Jose, Florence, SC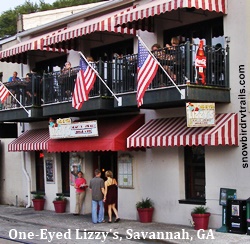 One-Eyed Lizzy's, Savannah, GA