Mayberry Campground
114 Bunker Rd
Mount Airy NC, 27030
336-789-6199
I-74, Exit 11
Open Year-round

253 miles from *Stop #3 Mt. Jackson, VA
266 miles to *Stop #5 St. George, SC

Mayberry Campground is located on a part of the former 2,000 acre farm belonging to Chang and Eng Bunker, famous Siamese twins of the 1800's. The twins – forever conjoined – had a prosperous farm as well as 2 separate and prosperous families. They married 2 sisters and had 21 children between them. They kept 2 separate homes, alternating 3 days at each at each home.

Mayberry Campground is a Passport America campground and has over 100 gravel sites with both back-ins and pull-throughs, full hook-ups, 30 and 50 Amp, free WiFi and free TV cable at every site. There are 2 catch-and-release ponds (no fishing license needed) and a Bunker homestead on the property that features tours on some weekends.

We had dinner one evening at "The Copper Pot". We have eaten there in the past and enjoyed it. Real Southern home-cooking served by cheerful ladies with North Carolina accents so thick you almost need an interpreter. Good food and Great people – the feeling is real hometown friendliness.

We also tried a new lunch spot suggested by the campground and backed by many good reviews on the Net. It's called "Little Richard's Smokehouse BBQ". We like BBQ and have sampled it in about every State East of the Mississippi. This place is our new favorite for BBQ done right. Tender and juicy – slow cooked over hickory coals for 16 hours and truly finger lickin' good. The sides are homemade as well. For sides we both tried the mac & cheese and turnip greens accompanied by a large basket of hush puppies. They have a soft drink – new to us – called "Cheerwine" which is cherry flavored and also tasty as were the warm blackberry cobblers we had for dessert with vanilla ice cream (of course!).

We can also recommend Tlaquepaque Mexican Restaurant & Grill at 2123 Rockford Street. It's a small restaurant with a talented chef. Both of our meals, traditional Mexican combos, were really delicious.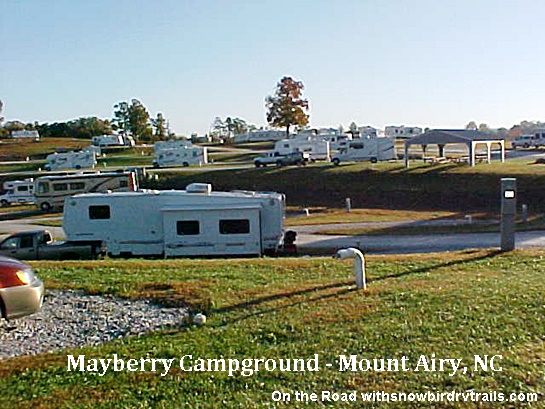 Mayberry Campground is on the outskirts of the small City of Mt Airy North Carolina. The campground has a nice layout. They have both back-in and pull-thru sites and most have FHU.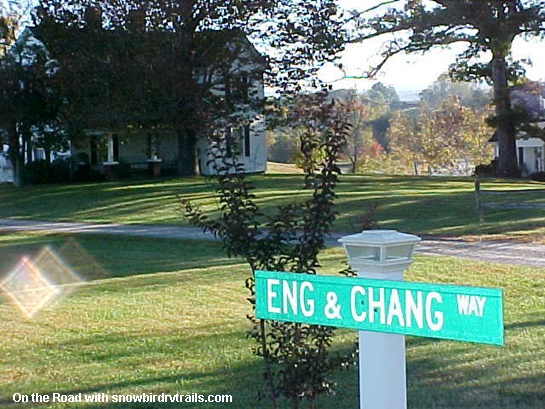 The campground is located on land that once was owned and farmed by Eng and Chang Bunker famous Siamese twins of the 19th Century.

THINGS TO DO IN MT AIRY:
Visit Andy Griffith's "homeplace" at 711 East Haymore Street. Less than a mile away you'll find "The Snappy Lunch" still making the "famous pork chop sandwiches". It's next door to "Floyd's Barbershop" and "Opie's Candy Store". Just a little farther down Main Street you'll find "Wally's Garage" and "The Courthouse" with a recreation of the jail set office and cells we remember from The Andy Griffith Show. That's also the place to sign-up for an "Andy Griffith Squad Car Tour" of Town in a vintage Mayberry Police Car like Barney and Andy drove.
Not far away you'll find the "Andy Griffith Theatre" and the Andy Griffith Museum where they have hundreds (perhaps thousands) of artifacts and memorabilia from Andy's career on stage, TV and in the movies and as a singer and comedian. The Museum's lower level has an exhibition of material from Eng and Chang's life as well. A great value for the admission price of $3.21.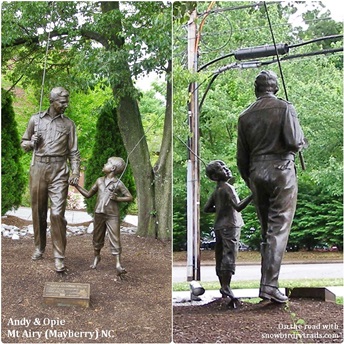 Outside the Theatre and Museum you'll see the life-sized statues of Andy and Opie headed for the Fishin' hole.

We found 2 really good restaurants in "Mayberry" not far from the campground.
The Copper Pot is located at 123 Scenic Outlet Lane. They have daily specials and the entire menu is priced reasonably.
On day 2 we had a late lunch at Tlaquepaque Mexican Restaurant & Grill at 2123 Rockford Street. It's a small restaurant with a talented chef. Both of our meals, traditional Mexican combos, were really delicious.

Mount Airy is a fun, lighthearted place with friendly people.


Passport America
Park Website

Campground Video

Return to the

*Best East Coast RV Route South Page

or our


HOME PAGE