On the Snowbird RV Trail-
Florida to Indianapolis
Stopover #3

Holiday Travel Park of Chattanooga
1709 S Mack Smith Rd, Chattanooga, TN 37412
Phone: (706) 891-9766
(Mailing address is actually Rossville, Georgia)

Rate: $39. with -10% Good Sam.

Amenities: Most of the 170 campsites are pull-through, graveled and level with water, sewer, 30/50 amp electric, cable TV connections and can accomodate up to 70′ big rigs.
Directions:
Northbound on I-75 take TN Exit 1B, (Southbound on I-75 take TN Exit 1), In either case, go right at top of ramp, then turn left at light at Mack Smith Rd. & go for 1/2 mile (see signs). Holiday Travel Park of Chattanooga is on the right.
Website:
Holiday Travel Park
Reviews:
RV Park Reviews
Our Previous Visit:
Holiday Travel Park

Notes:
The RV Park is actually where an Indiana Regiment bivouacked before some fierce fighting on Lookout Mountain and Missionary Ridge back in 1863. There is a path to the stone marker proclaiming such within the Park.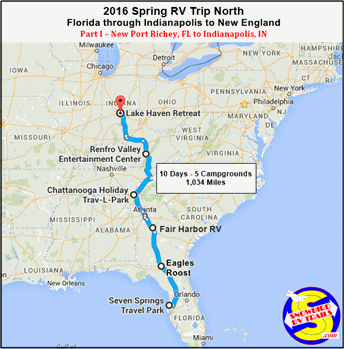 Chattanooga, Tennessee is
221 Miles from Perry, Georgia
222 Miles to Mount Vernon, Kentucky
Things We Found to Do & See
Around Chattanooga, Tennessee

There is much to see and do in Chattanooga, from Civil War Battlefields, to Lookout Mountain, Rock City, Tennessee River cruises on the Southern Belle, and we bet you didn't know Chattanooga is also home for the International Towing and Recovery Museum?
.
International Towing & Recovery Museum
3315 Broad Street, Chattanooga
They have 15 wreckers on display from the earliest Model T to a behemoth truck that can easily handle 70 tons. We also found the wrecker that set a World's record for speed and even one of the big green monsters that followed our guys to the Front in WWII. They also have hundreds of old and newer toy trucks. (More photos)

Tennessee Riverfront
201 Riverfront Parkway Chattanooga
Take a trip on the Tennessee River aboard the Southern Belle paddle wheeler or when in port come onboard and visit the beer and burger grill up on the 3rd deck and watch the river traffic float by.

Good Places to Eat in
Chattanooga, Tennessee

Jenkins Buffet
4134 Ringgold Road
Fried chicken, ham, chopped steak and a great selection of all the Southern style veggies like boiled cabbage, fried okra, mashed potatoes, mac & cheese, field, green and black-eyed peas,showpeg corn and home-made salads you've been craving. Save some room for the dessert table!

Portofino's Italian Restaurant
6407 Ringgold Rd, East Ridge, TN
Just a short distance from the RV park. The last visit we had the entrees which were very good. This visit we both chose the salad bar which looked delicious. Looks can be deceiving and this salad bar lacked taste in almost every item. They use very little sauce on the salad bar pizza selections and were not up to par either.

Can't forget that there is also a Sara Lee Outlet store directly across from the entrance to the Holiday Travel Park. The place to stock up on bread products and other unhealthy snacks for the road.