On the Snowbird RV Trail-
Florida to Indianapolis
Stopover #4

*Renfro Valley RV Park
2380 Richmond St., Mount Vernon, KY 40456
Toll Free: (800) 765-7464
Local: (606) 256-2638
606-256-2638

Rate: *PA $14.98-$18.98/night. Not valid Thurs, Fri, Sat or holiday weekends.

Amenities: 130 sites. FHU, PT, WiFi, Cable, EZ . Highlights: Country Music Entertainment Park with live shows several nights each week, Historic Renfro Valley Restaurant, Lake Linville.
Directions: Right off Interstate 75 at KY Exit 62 then North on Old 25. Park is on the right but check-in up the hill on the left. (0.68 miles from KY Exit 62 from I-75)
Website:
Renfro Valley RV Park
Reviews:
RV Park Reviews
Passport America

Comments:
Be sure to get the Passport America discount. The campground is not worth the full price of $45+.

Note: There is also a small colonial village showing how life was lived in Kentucky's earliest days, along with a turn of the century "Main Street" with a grist mill, general store and other shops selling ice cream and today-type items.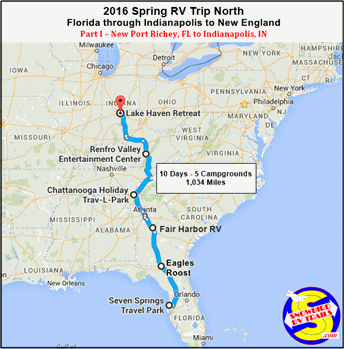 This campground is
222 Miles from Chattanooga, Tennessee
239 Miles to Indianapolis, Indiana
Things We Found to Do & See
Around Mount Vernon, Kentucky
Renfro Valley Entertainment Center is a combination RV Park, motel, Historic Lodge Restaurant, Country Music Hall, and a line of shops with country "stuff" for sale.

There's a different music show nightly Wednesday through Saturday, and 5 different shows spread out through Saturday afternoons/evenings.

Last night, Wednesday, was "Renfro Valley Country Style"; tonight is the Renfro Valley 50's Show.
Adjacent to and across the creek from the RV Park are the huge barns that hold the music shows. Many top Country performers have engagements here during the Summer and the local talent are regulars in the weekly and special Christmas shows.
Good Places to Eat in
Mount Vernon, Kentucky
Back Porch Smokehouse, 1797 Lake Linville rd, Mount Vernon Kentucky

Located overlooking the lake near the boat launch. This is clearly a favorite with the locals and a good find for us.
A number of combination plates available with homemade sides and tempting desserts.
The prices were reasonable and they even have a pretty good guitar picker/singer that sits in during the dinner time.