On the Snowbird RV Trail-
Florida to Indianapolis
Stopover #2

*Fair Harbor RV Park & Campground
515 Marshallville Rd., Perry, Ga. 31069
Phone: 877-988-8844

Rate: *PA $19.50-24.50/night –
Good Sam -10%/$35

Amenities: Full Hook-Up Pull Thrus, Full Service-20/30/50 Amp, FREE WiFi & Cable TV, Walking/Biking/Nature Trails, 24 Hour Laundry, Free Saturday Breakfast, Stocked Fishing Lake (no license required), Campground Store/RV Supplies/Ice/Ice Cream.
Directions:
Take exit 135 for US 41/Georgia 127 0.2 mi.
Turn left onto US-41 S/Marshallville Rd 0.2 mi.
Continue straight onto Marshallville Rd 0.1 mi.
Turn right into campground 52 ft.
Website:
Fair Harbor RV
Reviews:
RV Park Review
Comments: On a previous stopover we had a nice site toward the back of the campground with space for the camper and space between the campers. This time they put us in the front section and it was a very close fit all the way around. In fact we could have passed drinks out of out window to the neighbors seated at their picnic table beside us. It was a holiday weekend and they were fairly well booked up. Still I would ask for a site in the back near the pond that would fit your rig.

They will not honor Passport America if you make a reservation.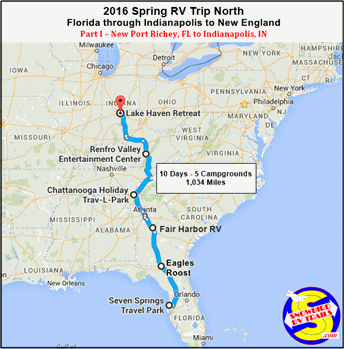 Perry, Georgia is
134 Miles from Lake Park, Georgia
221 Miles to Chattanooga, Tennessee