Shenandoah Valley Family Campground
168 Industrial Park Road
Mt. Jackson, Virginia 22842
(540) 477-3080
I-81, Exit 269
Open Year-round

185 Miles from Jonestown, PA
253 miles to Mount Airy (Mayberry), NC

PT, 20/30/50Amp, FHU, Free WiFi & Cable. 43 total RV sites, can accommodate RV's up to 70ft, 30/50 amp, dump station, back-ins, pull-thrus, full hookups, tent sites, Cable TV, Wi-Fi, restrooms, showers, laundry, handicap accessible, swimming pool, playground, BBQ, fire rings, picnic tables, horseshoes, recycling, security, restaurant, store, propane and ice.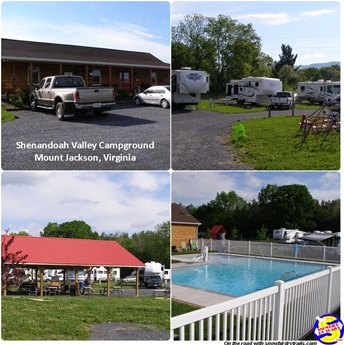 This stopover deserves a little more attention than just a quick night off the road. To begin with the Town of New Market is the next Exit South and an easy drive to visit the well known site of the Battle of New Market during the War between the States. In fact on this particular weekend they were having a reenactment of the battle. There were hundreds of the small white tents set up in various areas of the Park and blue and gray uniforms everywhere.

We stayed an extra day to visit one of the other big area attractions and that is the Shenandoah National Park and a drive along the Blue Ridge Parkway. This most Northern section of the Parkway runs for 30 miles along the crest from the Thornton Gap Entrance near our campground to the Northern Entrance at Front Royal, Virginia.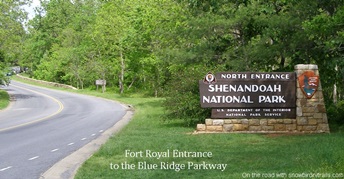 Admission is free with an America the Beautiful or Senior National Park Pass.

We were fortunate in that it was one of those beautiful sunny days when you can see forever. There are wide, paved "pull-offs" at regular intervals with names like Jeremys Run Overlook at 2,410 ft that we stopped at along the way.

We stopped at "Elk Wallow" where they have a large picnic area, gift shop, and snack bar. We had lunch there and we have to say that the hot dog and grilled chicken sandwich were prepared fresh and were quite good. I might mention that if you are on a tight budget you may want to bring your own picnic lunch. Same goes for the souvenirs and camping supplies. They are the only source for miles around and the prices reflect this.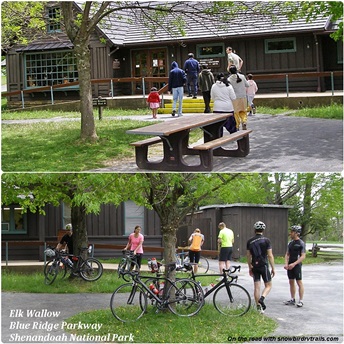 We did enjoy sitting and watching the crowd. This is a junction in the Appalachian Trail as well and there were hikers and bikers and tourists from all over the World. The bikers were talking about a wildcat and a bear cub they had seen on their journey.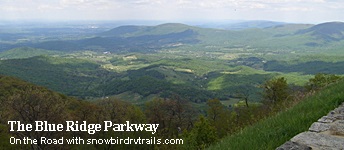 On our way down toward the Front Royal Northern exit/entrance we stopped at the Dickey Ridge Visitor Center (1,940ft) where Rangers are on hand to answer questions and, of course, there's another gift/souvenir shop. This was perhaps the most relaxing place to view the Shenandoah Valley.
The campground is convenient to Shenandoah Caverns, a local weekend flea market and the Route 11 Potato Chip Factory which we enjoyed visiting.
Park Website

Campground Video

Return to the

Best East Coast RV Route South Page

Best East Coast RV Route North Page

or our

HOME PAGE