Mayberry Campground is on the outskirts of the small City of Mt Airy North Carolina. The campground has a nice layout. They have both back-in and pull-thru sites and most have FHU.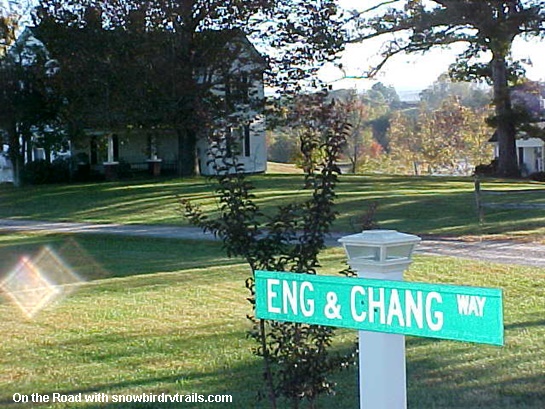 The campground is located on land that once was owned and farmed by Eng and Chang Bunker famous Siamese twins of the 19th Century.

THINGS TO DO IN MT AIRY:
Visit Andy Griffith's "homeplace" at 711 East Haymore Street. Less than a mile away you'll find "The Snappy Lunch" still making the "famous pork chop sandwiches". It's next door to "Floyd's Barbershop" and "Opie's Candy Store". Just a little farther down Main Street you'll find "Wally's Garage" and "The Courthouse" with a recreation of the jail set office and cells we remember from The Andy Griffith Show. That's also the place to sign-up for an "Andy Griffith Squad Car Tour" of Town in a vintage Mayberry Police Car like Barney and Andy drove.
Not far away you'll find the "Andy Griffith Theatre" and the Andy Griffith Museum where they have hundreds (perhaps thousands) of artifacts and memorabilia from Andy's career on stage, TV and in the movies and as a singer and comedian. The Museum's lower level has an exhibition of material from Eng and Chang's life as well. A great value for the admission price of $3.21.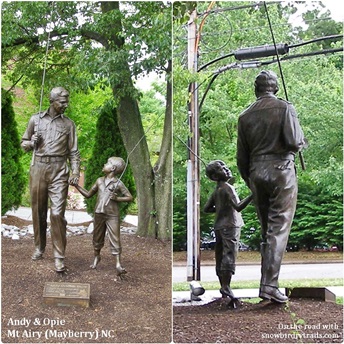 Outside the Theatre and Museum you'll see the life-sized statues of Andy and Opie headed for the Fishin' hole.

We found 2 really good restaurants in "Mayberry" not far from the campground.
The Copper Pot is located at 123 Scenic Outlet Lane. They have daily specials and the entire menu is priced reasonably.
On day 2 we had a late lunch at Tlaquepaque Mexican Restaurant & Grill at 2123 Rockford Street. It's a small restaurant with a talented chef. Both of our meals, traditional Mexican combos, were really delicious.
Mount Airy is a fun, lighthearted place with friendly people.