Rustic Sands RV Resort
800 North 15th St, Mexico Beach FL, 32410
(850) 648-5229
($24.53/Night Passport America)

Mexico Beach is located in the Panhandle of Florida, on the Gulf - between Panama City and Port St. Joe. This part is known as the "Forgotten Coast".

Our friendly GPS lady, "Thomasina", ran us through Panama City to get here, much to Niki's dismay. Niki does not like us to pull the trailer through cities and other high traffic areas when it can be avoided. There has been a history of dissent between Niki and Thomasina from the get-go. Our GPS lady is forever interrupting Niki when she is trying to say something. Thomasina may end up in the Gulf before this trip is over.

Great amenities at Rustic Sands including Pull-thrus, FHU, a Tiki Bar, and a swimming pool. The sites are sandy, fairly level, and are located among the palm and magnolia trees. It's quiet, shady, and only a short distance from the beach and tourist areas.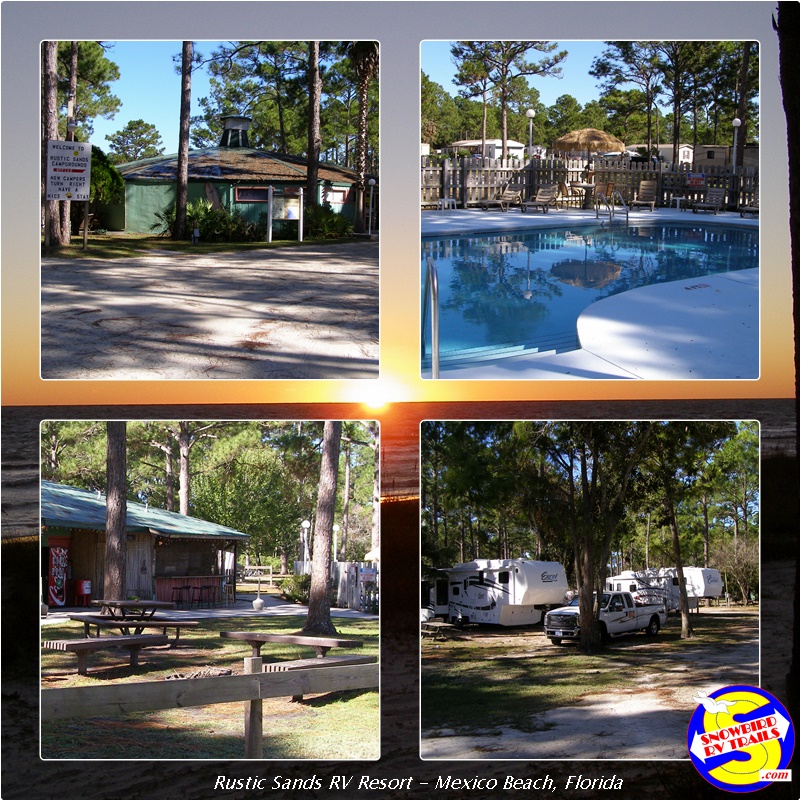 Rustic Sands RV Resort in Mexico Beach, Florida

We went to dinner the first evening at a restaurant recommended to us by our campground hosts. "Killer Seafood" was far from the best we have ever had. (Perhaps it was named "Killer" for another reason?) We both chose the crab-cake basket which came with slaw and FF or hush puppies. Everything was heavy with grease and caused a lot of heartburn throughout the night for Niki.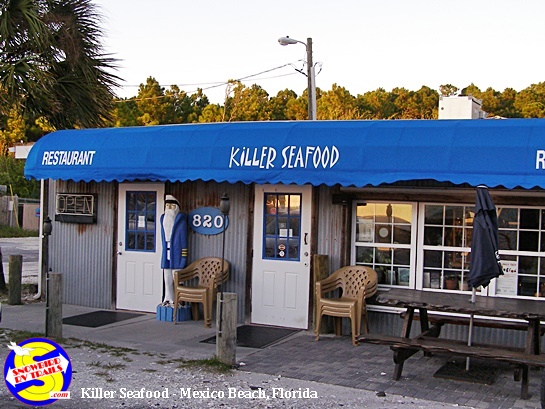 Killer Seafood in Mexico Beach, Florida

After dinner we stopped to take some pictures of the sunset on the Gulf. There is free access to the beaches along much of the Panhandle in between the condos, hotels and other high rises. I talked with a lady who ventures down about every evening to see the sunset. She said the days having a few clouds make the sunset really spectacular.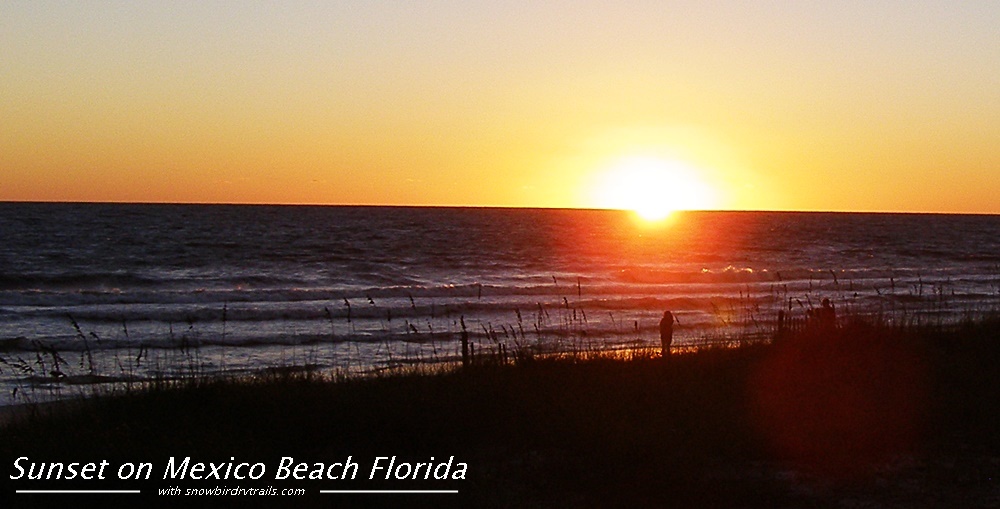 Gulf Coast Sunset in Mexico City, Florida

We were both pretty tired and turned in early. This morning we heard that we had "missed all of the excitement"! It seems a black bear had taken its time ambling through the campground. Probably just Yogi looking for what the pic-a-nickers were having. No trouble - he/she took its time and left after having a look around.

Today we took a trip over to Port St Joe for a better coastal restaurant (or so the reviews had claimed) and this time we did agree! We enjoyed a visit to a small restaurant named Provisions. We thoroughly enjoyed Chicken Piccata and Betty Spaghetti. (How come no one has ever told me about Betty Spaghetti before?)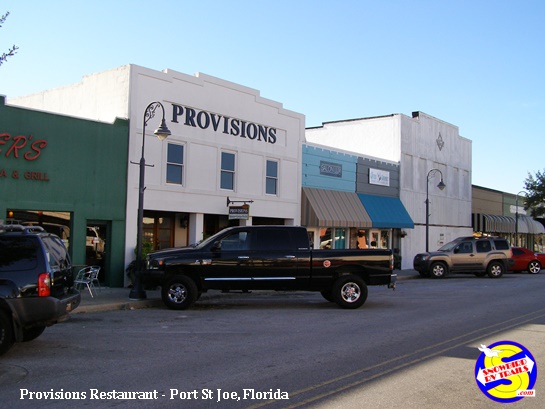 Provisions Restaurant in Port St Joe, Florida

Rustic Sands Campground Information:
97 RV sites, all with full hookups including free Cable and Wi-Fi. Accommodate RV's up to 45', air conditioned bath house and recreation hall, WiFi, shuffleboard, tiki hut & snack bar, horseshoes, basketball, heated swimming pool, kids fishing pond, playground, campstore. LP gas available, planned activities, game room. Only 1/2 mile to beautiful white beaches. Located 22 miles from Panama City and 10 miles from Port St Joe.