Cape Camping & RV Park
1900 N. Kingshighway, Cape Girardeau, Missouri 63701
Phone: 573-332-8888 Toll Free: 1-800-335-1178
($34/night w/Good Sam discount. Pull-thru, FHU, 50Amp, Cable, WiFi)
Visited 10/5-10/6/2014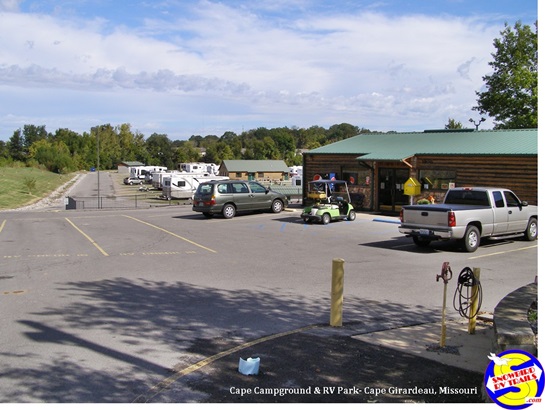 Cape Camping & RV Park - Cape Girardeau, Missouri
The town of Cape Girardeau was incorporated in 1808, prior to Missouri statehood, and was reincorporated as a city in 1843. The advent of the steamboat in 1835 led it to become the biggest port on the Mississippi River between St. Louis and Memphis. The Civil War Battle of Cape Girardeau took place April 26, 1863. The Union and Confederate armies collided in a fierce, four-hour artillery barrage on this day in which 23 Union and 30 Confederate soldiers were killed.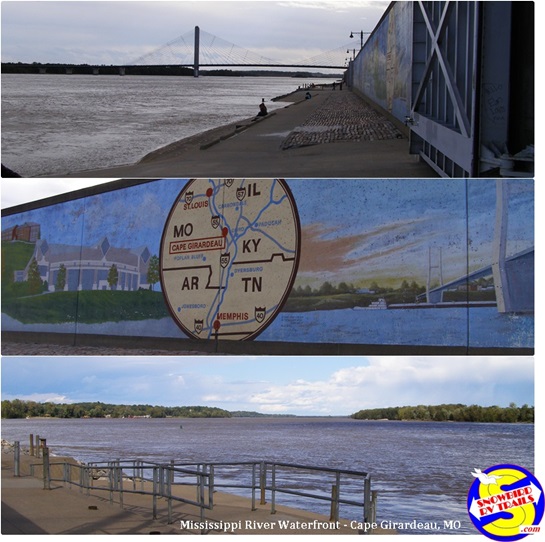 Cape Girardeau Waterfront
In December 2003, a new four-lane cable-stay bridge crossing the Mississippi River at Cape Girardeau was opened. Its official name is "The Bill Emerson Memorial Bridge." The two towers of the bridge reach a height of approximately 298'.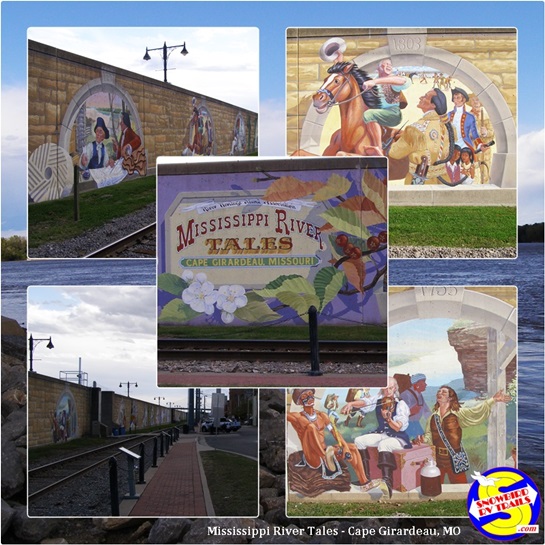 Mississippi River Tales - Cape Girardeau, Missouri
Also known as "Cape Girardeau: Where the River Turns a Thousand Tales," due to the history of the town and the bend in the Mississippi River. Beautiful portrait paintings span the seawall along the river walk.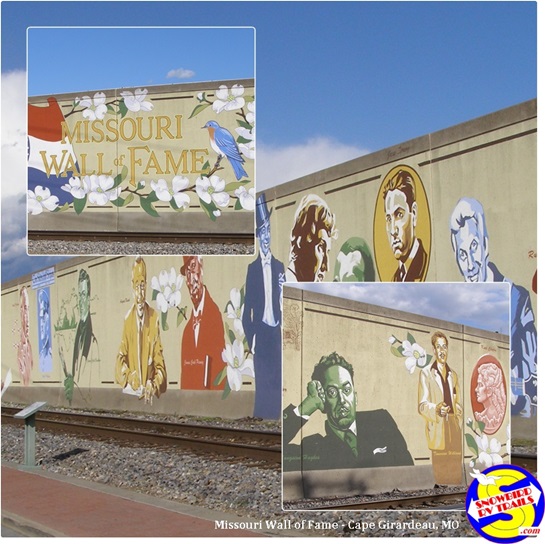 Missouri Wall of Fame - Cape Girardeau, Missouri
Another section of the seawall holds portraits of the famous people who are either from Missouri or who have lived in Missouri.
We noted a lot of construction and refurbishing going on near the waterfront to revitalize this beautiful area they have.
The recent movie "Gone Girl" with Ben Affleck and Rosamund Pike, was filmed in Cape Girardeau.
A visit to this area would not be complete without a visit to Lambert's Cafe, "Home of the Throwed Rolls" and "pass-arounds." Very much a fun atmosphere and a full-house. You can order a sandwich or an entree' from off the menu with as many as 3 sides. Niki ordered the deep-fried frogs legs with turnip greens and carrots. I ordered the BBQ pork steak with baked beans, marinated cucumbers & onions, and potato salad. Then the fun began when a particularly accurate roll pitcher comes out of the kitchen and throws a huge roll to anyone with their hand up. The rolls are huge, hot from the oven, and delicious. Ace catcher Niki caught 4 for us during our meal.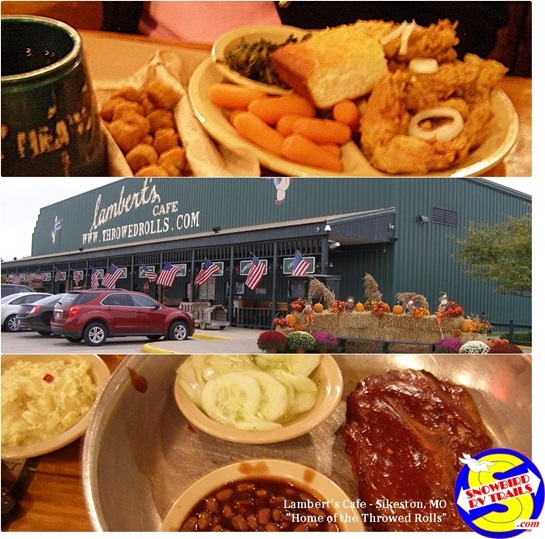 Other employees circulate around the room and spoon out the "pass-arounds" like macaroni & tomatoes, fried okra, fried potatoes with onions, black-eyed peas and even sorghum & molasses. You can have as much or none at all - whatever you like.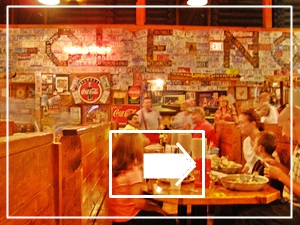 Catch your hot roll here!
They only have one dessert on the menu, banana pudding, and we soon knew why. If you have room left for dessert at the end of the meal, you've done something wrong. The young lady who took care of our table couldn't remember the last time she had a customer order dessert!
Cape Girardeau, both the campground and the area, is a great stopover which we would recommend on your way up or down I-55.
Cape Camping & RV Park
90 Pull Thru Sites (75x24 with full hookups) - 50/30/20 amps w/CATV, picnic table, and fire ring, Wireless Internet at all sites is included, Handicap Sites, Laundromat, LP Tank Refills, Walking Trail, 2 Acre Fishing Pond, Open All Year.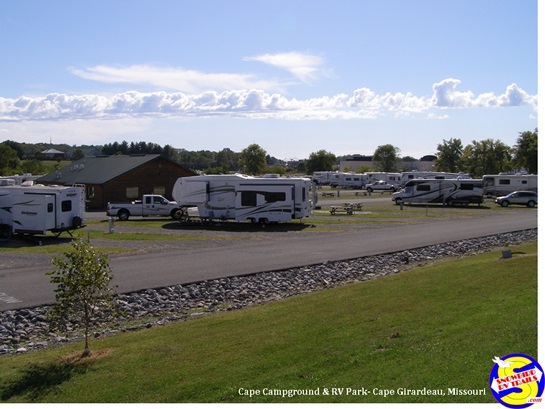 Cape Camping & RV Park - long & level pull-thrus
This campground is located minutes from the center of Cape Girardeau and Southeast Missouri State University, Isle Casino, Riverfront Bridge Park, Cape Rock Park, and the River Walk.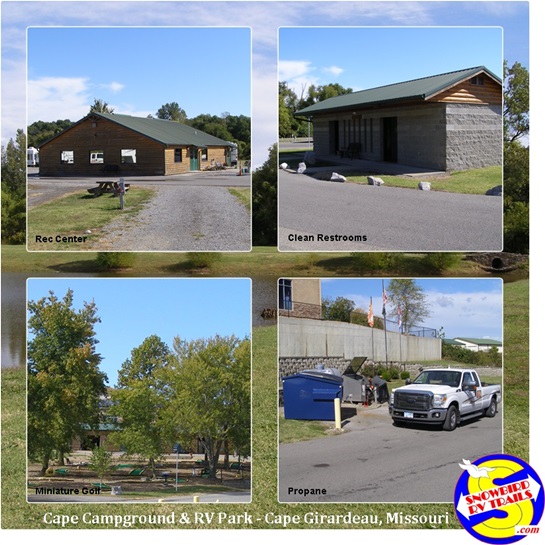 Great facilities at Cape Camping & RV Park