On the Snowbird RV Trail-

2010 Tampa Florida to Hegins, Pennsylvania
and beyond

This route takes us on
I-275, I-75, US-301, I-10, I-95, US-17, I-66 & I-81.
Through Florida, Georgia, South Carolina, North Carolina, Virginia, West Virginia, Maryland and Pennsylvania.

* Indicates Passport America Member Campgrounds and our pricing reflects this.
Abbreviations: FHU- Full Hook-Ups, PT- Pull Thru Sites, EZ- Easy off/on main route. DS- Dump Station.

Updated with 2016 prices.

Starting: Tampa, Florida to
A. Brunswick, Georgia - 276 miles
*Golden Isles RV Park
7445 Blythe Island Highway
Brunswick, GA 31523-6258
(912) 261-1025
I-95 to GA Exit 29, .5 mile from the Exit.
(Flying J Truckstop at this Exit also.)
$20/night.

This Passport America Park has135 total RV sites accommodating RV's up to 70 ft. 20/30/50 amp service. Pull-thrus and full hookups. Free cable, dump station, TV lounge, cable TV, free WI-FI, tent camping allowed, showers and restrooms, laundry room, fire rings, playground, swimming pool, picnic tables, phone, handicap access, ice, propane, and movie rentals. Covered cook shed, restaurant. Located 20 miles from Darien, GA and 30 miles from Kingsland, GA and only 7 miles to the Atlantic Ocean.
Georgia Rest Areas:
Northbound - Exit 1
Southbound - Exits 111 & 40

B. Florence, South Carolina - 240 miles
*Swamp Fox Campground
1600 Gateway Road
Florence, South Carolina
(843) 665-9430
SC Exit 157 off I-95, .17 mile from Exit.
$24/night
Just a convenient and pleasant stopover, just off I-95. All pull-thru sites, full hook-ups, but mostly 30amp. Friendly and helpful management, will also guide you to your site. It is beside the Interstate but the noise is livable.
Ramada Inn & Restaurant is next door and within walking distance through the back gate.
South Carolina Rest Areas by mile marker:
Northbound - 5,17,47,99,139,172
Southbound - 105,17,47,99,139,172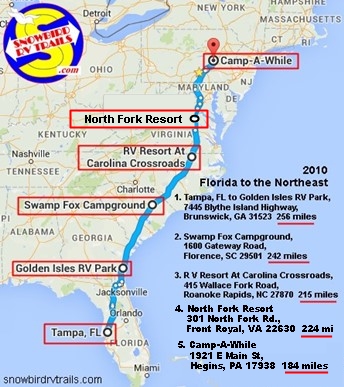 .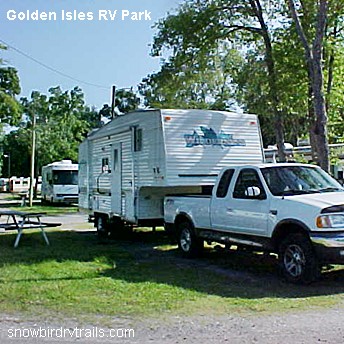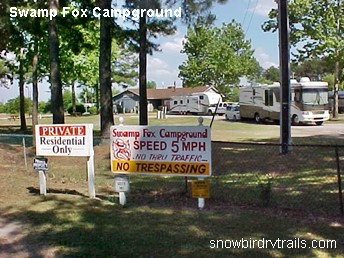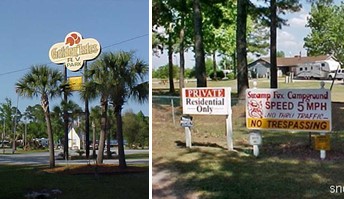 C. Roanoke Rapids, North Carolina - 215 miles
*RV Resort at Carolina Crossroads
415 Wallace Fork Rd,
Roanoke Rapids, NC 27870
252-538-9776
$21.25/night
Take NC Exit 171 off I-95.
The RV Resort at Carolina Crossroads is a brand new rv park / campground located less than a mile from I-95, just south of the Virginia border. All sites are pull-thrus, full-hookups with 50/30 amps, 65 to 70 feet long and 35 feet wide. We offer cable and WIFI at most all sites. We pride ourselves on being the cleanest and most well maintained park off I-95. Pet and people friendly!
$30. overnight, express pull-thru with full hookup.
North Carolina Rest Areas

by mile marker

:
North - 5,48,99,142
South - 181,48,99,142

D. Front Royal, Virginia - 224 miles
*North Fork Resort
301 North Fork Rd., Front Royal, VA 22630
540-636-2995
$21/PA.
I-66, VA Exit 6
"Open year round.

480 total RV sites, can accommodate RVs up to 40 ft, 30/50 amp, pull through, 5 comfort stations, propane, visitor mail, outdoor pool, Wi-Fi access ($), playground, fishing, shuffleboard, hiking, horseshoes, recreation hall, mini golf, basketball, tennis, volleyball, game room, tubing, laundry facilities, hot showers, picnic tables, rental units, billiards, fitness room, firewood, ice, seasonal camp store and cafe. Near Skyline Drive and Civil War Battlefields. Located 20 miles from WInchester and 69 miles from Washington, DC."



E. Hegins, Pennsylvania - 185 miles
Camp-A-While
1921 E Main St,
Hegins, PA 17938
570-682-8696
$36/night
PA Exit 112 off I-81 onto PA-25W, 1 mile to camp.
"We have 136 RV sites with water, sewer and electric and 28 tent sites each with barbeques. All our sites are equipped with a fire ring and a picnic table. We have on-site events every weekend of the season and are located near 25 major attractions."