On the Snowbird RV Trail- this route we took in the Fall of 2010.

From Schroon Lake in the Adirondack Mountains of Upstate New York to Florida and the Gulf Coast

This route takes us on
I-87, I-88, I-81, I-66, US-17 and I-95 through NY, Pennsylvania, Virginia, North Carolina, South Carolina, Georgia, into Florida with 5 days in Myrtle Beach..

* Indicates half-price Passport America Member Campgrounds

Abbreviations: FHU- Full Hook-Ups, PT- Pull Thru Sites, EZ- Easy off/on main route. DS- Dump Station.
Prices are subject to change and campgrounds change hands so always phone ahead to any of the campgrounds we mention.
1st Stopover 10/9/2010
CAMP-A-WHILE
($34-$36/Night - FHU, PT, EZ)
1921 E Main St, Hegins, PA 17938
570-682-8696
Visit Website
(355.3 miles from Schroon Lake, NY)
PA Exit 112 off I-81 onto PA-25W, 1 mile to camp.
"We have 136 RV sites and 28 tent sites each with barbeques. All our sites are equipped with a fire ring and a picnic table. We have on-site events every weekend of the season and are located near 25 major attractions."
Pros: Easy off/on I-81, nice peple.
Cons: Campground built on a hillside

(Alternate)
Flying J Travel Plaza
1623 Oliver Road, New Milford, PA 18834
(570) 465-2974
I-81/Exit 219
245 Miles from Schroon Lake

2nd Stopover (10/10)
Kings Dominion Campground
($38/Night - FHU, PT, Free WiFi, EZ)
10061 Kings Dominion Boulevard, Doswell, Virginia 23047
1-800-922-6710/804-876-5355
Visit Website
(385 Miles from Hegins, PA)
I-95, VA Exit 98.
RV sites can accommodate everything from pop-ups to big rigs. Many feature water, electric (50 and 30 amp) and/or sewer hook ups. In addition, select sites feature access to DirecTV services. Sites are available in both back-in and pull-through configurations. Sites have picnic tables and fire rings.
Check 10% Good Sam, AARP Discount
Pros: Shuttle to theme park and restaurant.
Cons:

3rd Stopover (10/11-10/12)
Lazy Acres Campground
($32/Night - FHU, PT, Cable, Free WiFi )
821 Lazy Acres St, Fayetteville, NC 28306
(910) 425-9218
Visit Website
(243 Miles from Doswell, VA)
I-95/NC Exit 44
Pool, horseshoes, propane, fishing pond.
Check 10% Good Sam, AARP Discount
Pros: Near Fort Bragg and many museums.
Cons:

4th Stopover (5 nights for us)
Myrtle Beach State Park Campground ($38-$42/Night - Water, 30A. WiFi)
4401 S Kings Hwy, Myrtle Beach, SC 29575-4936
(843) 238-0107
Visit Website
(113 Miles from Fayetteville, NC)
US Business 17 - 4 miles South of Myrtle Beach.
Camping reservation, call toll-free 1-866-345-PARK
No Sewer Connections.
"WI-FI! We now have complimentary wi-fi in the campground! Located in the heart of the Grand Strand, Myrtle Beach State Park is one of the most popular public beaches along South Carolina's coast. The park includes a campground, cabins, nearly a mile of beach, picnic areas, a fishing pier and a nature center. This park is a "DiscoverCarolina Site", which provides curriculum-based science education programs for South Carolina school children. Due to heavy visitation on Saturdays and Sundays, expect long lines when entering the park, especially from 11am to 4pm. We appreciate your patience in advance!"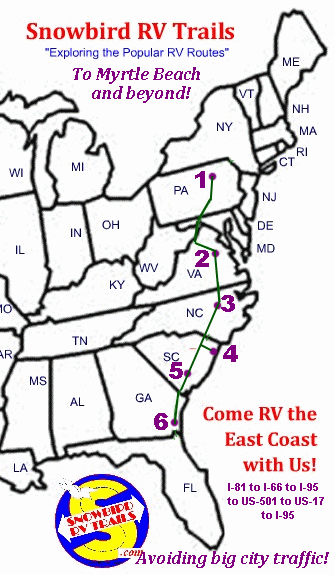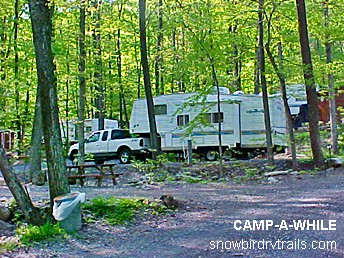 Camp-A-While in Hegins, Pennsylvania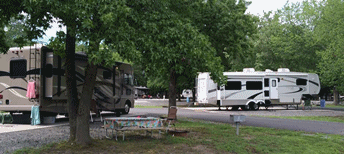 King's Dominion in Doswell, Virginia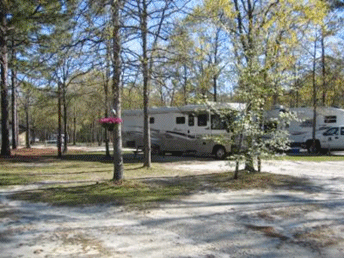 Lazy Acres in Fayetteville, North Carolina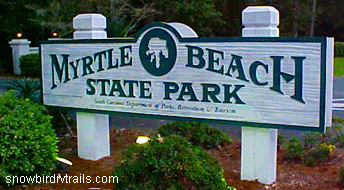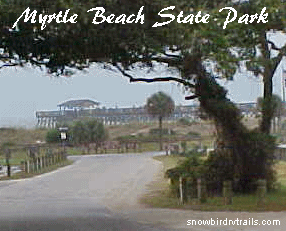 Myrtle Beach State Park in South Carolina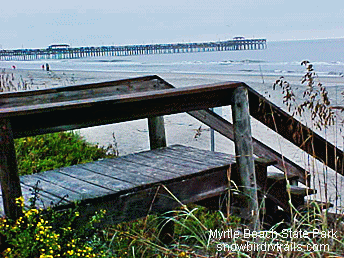 5th Stopover
The New Green Acres RV Park (Passport-$30-$32/Night - FHU, PT, Cable, 30/50A, WiFi)
396 Campground Road, Walterboro, SC 29488
800-474-3450, 843-538-3450
Visit Website
(160 Miles from Myrtle Beach)
I-95/Exit 53
106 sites. The Longest & widest pull-thrus East of the Mississippi. Pool, playground, dog park. Very clean and well maintained campground.

6th Stopover
Country Oaks Campground
($30/Night - FHU, 30/50A, PT, WiFi)
6 Carlton Cemetery Rd, Kingsland, GA 31548
912-729-6212
Visit Website
(166 Miles from Walterboro, SC)
I-95/Exit 1
43 sites.
Laundry, propane, firewood, ice, self-service RV wash, escort to site, fishing pond and nature trails.
(Alternate)
Waldo Rolling Villas RV Park ($30/Night)
17254 NE US Hwy 301, Waldo, FL 32694
Phone: (877) 301-7878
Visit Website
249 Miles from Walterboro, SC & 141 Miles to Tampa
All Pull-Thrus
Weekend Flea Market
Gator Nationals

New Green Acres in Walterboro, South Carolina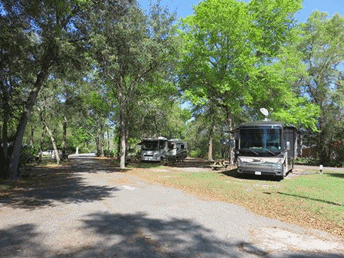 Country Oaks in Kingsland, Georgia
Trip Summary:
Days: 10
Trip Mileage: 1,912.6
Campgrounds: 9 / $
(Passport Savings: $)
Restaurants/Sightseeing: $
Gasoline $
Total Trip Cost: $

Continuing on:
36 Miles to Jacksonville
131 Miles to Daytona Beach
177 Miles to Orlando
225 Miles to Tampa