Swamp Fox Campground
1600 Gateway Road
Florence, South Carolina
(843) 665-9430
(877) 251-2251
.Passport America
**Not in May during Mother's Day weekend NASCAR
at Darlington (18 miles away).

(161 miles from Hardeesville, SC -9)
(86 mi to Tabor City/Carrollwoods Campgrnd -6)
(88 miles to Myrtle Beach)
(161 mi to Sims, NC -5)

Just a convenient and pleasant stopover, just off I-95. All pull-thru sites, full hook-ups, but mostly 30amp. Friendly and helpful management, will also guide you to your site. It is beside the Interstate but the noise is livable.

Ramada Inn & Restaurant is next door and within walking distance through the back gate.
Restaurant suggestion:
Mi Tierra San Jose (Mexican restaurant) on
Palmetto St (3 miles straight East down Rt 76).
We rate it as one of the best Mexican restaurants we have visited ("Everything Dinners" - $9.50/ea.)
Directions to Swamp Fox Campground:
Beware of your GPS settings. Ours took us to the back, locked gate on our first visit. (If it tells you to turn right into the motel parking lot, don't do it!)

Coming North, take Exit 157 off I-95. Turn left/West on US76 for less than a half mile, then turn right on Meadors Road/SC-S-21-545. After the entrances to the motel and back parking lot, the road sweeps left, you take the first sharp right (Gateway Rd), and it will take you right in the front gate.

When you pull out in the morning, there is a convenient Sunoco gas station on the main road, across from the motel, and before you turn back onto I-95.

Pricing subject to change,
always call ahead

For more Info:

Passport America

Reviews

Return to the HOME PAGE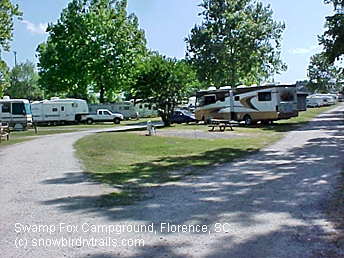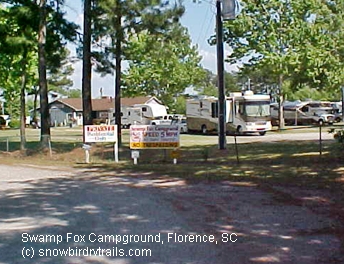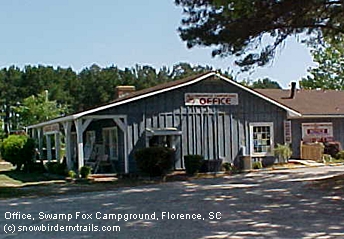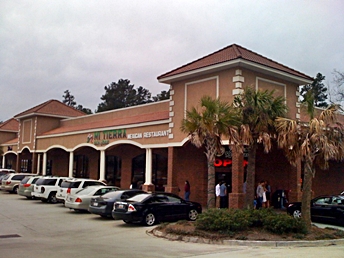 Mi Tierra San Jose Restaurant