---
---

---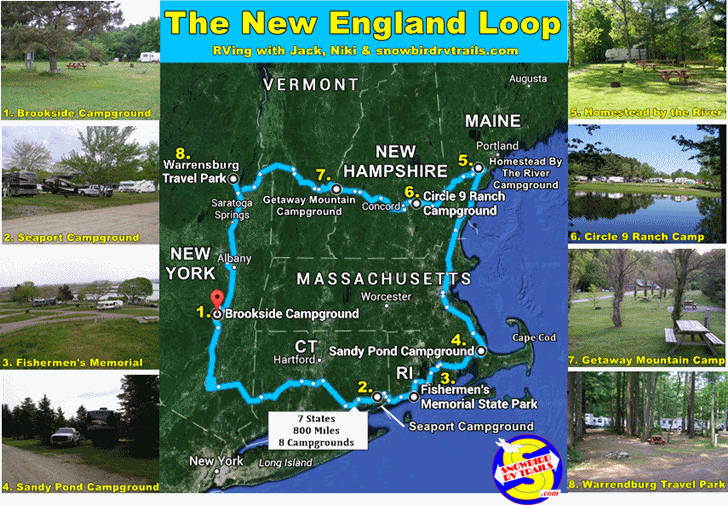 Click a campground below for our information page
MILEAGE FROM EACH CAMPGROUND
TO NEARBY ATTRACTIONS

1. Brookside Campground
Hunter Mountain 15 miles

2. Seaport Campground
Foxwoods Casino 6

3. Fisherman's State Park
Newport/Block Isle Ferrys 2
Scarborough Beach 1.2

4. Sandy Pond Campground
Plymouth Rock, Mayflower,
Plimoth Plantation 12 & 15
Cape Cod Seashore 44

5. Homestead By The River
Old Orchard Beach 13
L.L. Bean 40

6. Circle 9 Campground

7 Getaway Mountain Campground
VT Country Store 30

8 Warrensburg Travel Park
Lake George 6
Gore Mtn Skiing 22
Saratoga Springs 32

We wanted to visit each of the New England States on one of our Snowbird trips North. We planned this trip to include a stopover in each NE State, take our time to complete the loop and end up in our Summer Workamping comittment near Lake George, NY.

We normally try for 200 - 250 miles a day on our trips but this one had special goals so some hops were quite short from one State to the next.

First we decided on a route to take us near the places we wanted to see, checked it for low bridges in our Trucker's Atlas and then found suitable campgrounds through rvparkreviews.com and our membership in passportamerica.com.

You'll find photos and other info by clicking the campground pages.
MILEAGE FROM EACH
CAMPGROUND TO THE NEXT

1. Catskill, NY
To Old Mystic, CT 181

2. Old Mystic, CT
To Narragansett, RI 39

3. Narragansett, RI
To Plymouth, MA 91

4. Plymouth, MA
To Dayton/Saco, ME 187

5. Dayton/Saco, ME
To Epsom, NH 79

6. Epsom, NH
To Ascutney, VT 108

7. Ascutney, VT
To Warrensburg, NY 127

8. Warrensburg, NY
To Canada 118
To Catskill, NY 106

East Coast Cross Reference Travel Chart
by State - Attraction - RV Park/Campground
Find an attraction or city by State you want to visit - then "Click" on our economical RV Park suggestion.
We have personally visited and stayed, at least one night, in each of these locations.
We check them out and let you know what to expect, before you get there.

East Coast Travel Chart
---
Just send us a note if you have any questions about the areas we are covering, or,
good places to dine, discount coupons, best routes, or travel tips.

We also welcome any comments about your
own experiences on the road

snowbirdrvtrails@gmail.com

When you need a safer, overnight, or short term, low costt
alternative to a Walmart or truck stop parking lot . . .

When you want an economical, RV Park or
Campground near your vacation destination . . .




Entire Contents
(c) Copyright Snowbird RV Trails 2012
All Rights Reserved


"Just can't wait to get on the road again . . . "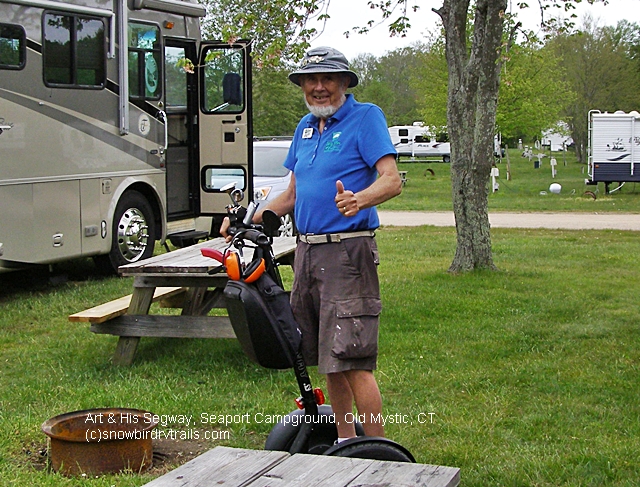 Return to our:

MAPS PAGE

HOME PAGE

INDEX PAGE