On the Snowbird RV Trail-
Indianapolis to New England
Stopover #3

*Camp Bell Campground
8700 SR 415, Campbell, NY 14821
(800) 587-3301 Local: (607) 527-3301
*PA $16./night.
Mention PA when making reservation.
Cash only.

Amenities: 30Amp, PT, WiFi, Cable/$3, Dump Station, Honey Wagon available, EZ off/on the Interstate.

Directions: Take Exit 41 off Route 17 (I-86). Go east on Route 333 for 1/4 mile, and go north (turn left) on route 415. The park is located approximately 1/2 mile on the left (look for the sign).

Nice, level, grassy pull-thrus with plenty of space. Dump station, no sewer connection, though they do have a honey wagon if needed. Limited, free wi-fi connection.

Conveniently close to the Corning Museum of Glass, The Rockwell Museum of Western Art, and the Keuka Lake Wine Trail.

The Finger Lakes are noted for some of the Country's finest wines (and food!). We suggest stopping at the Bully Hill Vineyard for lunch. Their crab cakes are superb, though their wines are very sweet. There are 12 wineries around the lake, and you can make the circuit in a day. Wine tastings vary in price from free to $5. Try them all, you will surely find some you like! Fantastic scenery all along the Wine Trail.

While here, be sure to visit Spencer's Restaurant & Mercantile, 359 Market St Ext, Corning, for dinner:
"We serve real mashed potatoes, homemade soups and desserts and have the largest seafood menu in the area. Steamed clams are on our menu year round and our famous fish fry is available every day. Prime rib is offered Wednesday through Saturday, slow roasted, succulent and served au jus. Pasta is a very important element on our menu and we are proud to serve all pasta cooked to order and served with homemade meatballs and sauce made daily from my Grandmother Quattrini's family recipe."
Need to stock up on groceries? Another treat is a visit to Wegman's Supermarket, (24 South Bridge St, Corning), for a true "super" grocery buying experience. .

Try the "Sweet Shoppe" near the campground for really good ice cream treats.

Take it from us, you can skip "Champs Restaurant" just down the road from the campground.
Pricing always subject to change,
always call ahead

For more Info:

Passport America

Camp Bell Campground Website

Go to the
HOME PAGE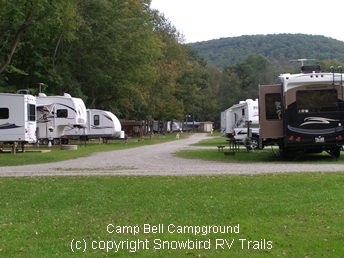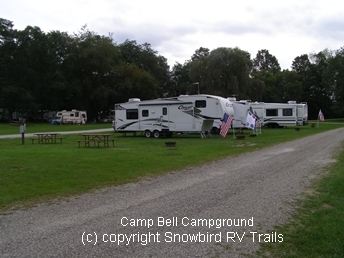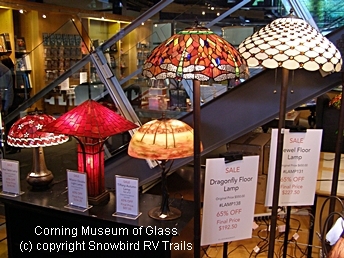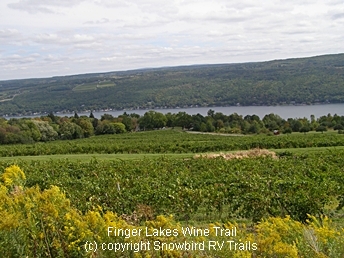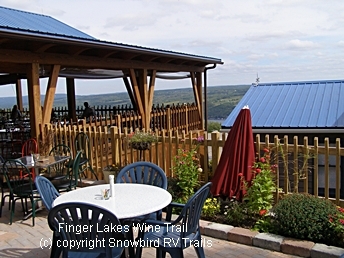 Camp Bell Campground is

164 miles from Conneaut, Ohio

157 miles to our Next Stop Oneonta, NY