Snowbird Trip Diary:
RV Trail New York to Florida
Day 20 - 22 - On the Road in Mississippi
Day 20, Memphis South Campground & RV Park, 256 Campground Dr, Coldwater, MS 38618 (662) 622-0056 (I-55, MS Exit 271, 195 miles from Dickson, TN) $20/Passport America - FHU/50AMP Pull-thrus, WIFI.
(Map II - Point D)
Beautiful campground, EZ off/on the Interstate. Shell fuel station at entrance to the camp. Gravel roads and sites, fairly level. Subway within walking distance. Quite a bit of road noise because it is beside the Interstate. A very busy railroad track is also within hearing distance but doesn't shake the immediate ground beneath you.. Great for a one or two night stopover. Very friendly people. Full hook-ups, pull-thrus, and big rig friendly. We would stay here again absolutely.
Day 21, Movietown RV Park & Mini-Storage, 109 Movietown Dr, Canton, MS 39046 (601) 859-7990 (I-55, MS Exit 119, 153 miles from Coldwater, MS) $26 - FHU/50amp, Pull-thrus, WIFI, I-55, Exit 119 - Good Sam Club $25/night
(Map II - Point E)
This is middle Mississippi and not many campgrounds to choose from. There are two within a mile of each other. We tried the other one last year and you can read about the "fun" at (
http://www.snowbirdrvtrails.com/canton.htm
). This year we said, this one has to be better, right? First off, MovieTown RV Park is hard put to take reservations, they prefer a first come, first served approach, and their webpage is a joke with very little information. We like a challenge! So, we pulled in, went to the office, and found it locked, with a big "No Vacancy" sign on the door. Another posted sign nearby read. "Choose any empty site, put your money in the envelope provided and slide it in the mail slot". Living dangerously, we pulled Bertha into the Park and actually found 3 empty sites among the 200+ in the Park. We selected one and hooked everything up. I then placed my money in said envelope, printed out info on the outside, walked back and slid it into the mail slot in the door. I always have my camera with me, and proceeded to take a shot of the entrance sign, when out of the corner of my eye, I saw a young lady step out of a side door, open the office door, grab my envelope and dart back in the first door. I thought I must be in a skit from SNL, or at least on Candid Camera! Interesting place. The sites are all pull-thru gravel pads, with 15-20' grass strips between sites. They also have some very nice rental cabins. If you don't mind a little drama, it is more than satisfactory for an overnight stop. One of these trips we may stay a couple of days to look the town over. They have made 9 movies here, so I am sure it must be very picturesque. There is also a huge Nissan plant that we are told offers tours from time to time.
(There are several Service Stations at this Exit 119.)
Day 22 - Bay Hide Away, Lakeshore Rd, Bay St Louis, MS 39520 (228) 466-0959 (I-10, MS Exit 2, to US-90, 226 miles from Canton, MS) $20/Passport America/Week Nights, FHU/50amp, WIFI, Pull-thrus.
(Map II - Point F)
One of our favorite campgrounds in the South. Read our last year's write-up at:
http://www.snowbirdrvtrails.com/baysaintlouis.htm
. Very friendly owners. Super nice amenities, clean facilities, all pull-thru, level gravel pads, free wifi, and only a mile or so from both the Gulf and the Silver Slipper Casino. We arrived here late this afternoon. Only two other rigs inhabited in the campground. We took the owner's advice, after setting up, and drove to a nearby restaurant that the locals like. It's called Tony's and has homemade Southern specials daily. Today it was a shrimp gumbo that was a tad spicy but delicious. Niki had the grilled shrimp PoBoy, and declared it excellent. We will be staying here for 3 nights to rest a bit, catch up with some laundry, and perhaps visit that glittering, Silver Slipper place down the road! We'll report back on our findings.
On the Road in the Magnolia State,
Niki, Jack, and K.C.
(NEXT PAGE)
Return HOME
Coldwater, Mississippi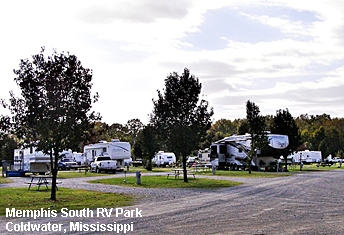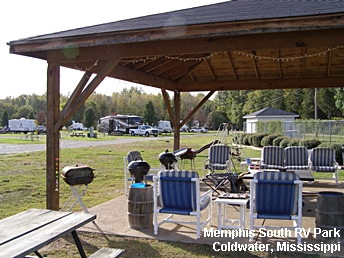 Canton, Mississippi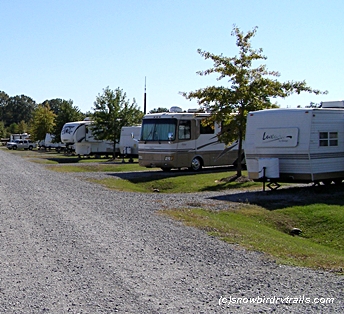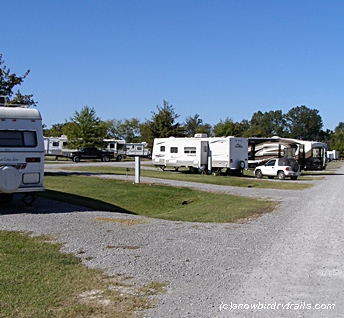 ___________________________________